Linda Grasso: Combining Emerging Technologies and Engineering Doctrine in the World of Digital Transformation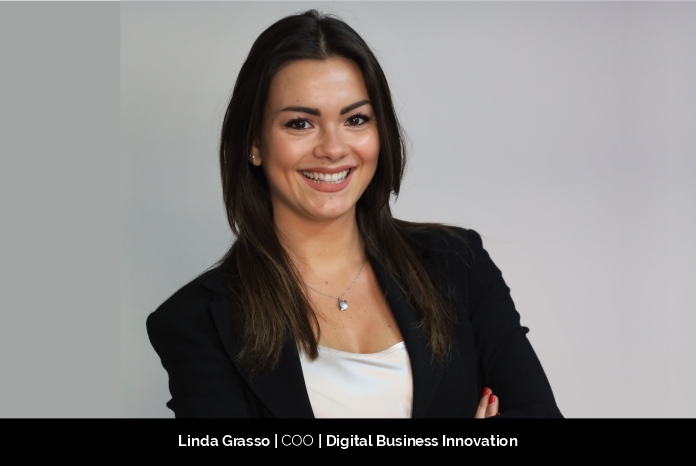 Linda Grasso is Chief Operating Officer at Digital Business Innovation, an Italian Innovative Startup active in the world of R&D Consulting. Linda strongly believes in empowering Women in Tech. She is an experienced Management Engineer in the world of digital transformation. She has always been passionate about this innovative phenomenon and started by pursuing a career that combines emerging technologies and engineering doctrine. In an interview with Beyond Exclamation, Linda shares her journey through the years.
Were you always passionate about digital transformation? Tell us what led you into this field?
Since I was a child, I have always enjoyed doing activities that required ingenuity, challenging myself and discovering new things. When it came to choose which university path I should take, I had no doubts: engineering was the right one. After getting a master's degree with honors, I started pursuing a business career where I could do something exciting, something I was passionate about. And so, here I am! Working as COO at Digital Business Innovation, an innovative consulting company active in the field of digital transformation.
Setbacks are a part of every growing business. Tell us about a few roadblocks and learning lessons that helped you and the company grow through the years?
My motto is "Never Stop Learning" – indeed, having an open mind is crucial to survive in an ever-evolving world forged by the paradigm shift of digital transformation. I enjoy finding out the disruptive applications of emerging technologies in several industry verticals and the benefits they can bring in business processes. However, the digital shift is a great challenge, and it is not only about leveraging technologies – If businesses want to thrive, they also must adopt the right strategy and the right culture for change. And this is a key awareness to grow over time.
Explain the services of DBI in brief.
At Digital Business Innovation, we focus on three main digital consulting pillars
· Strategy: every transformation project needs a strategy, and we work with our customers to meet their performance goals and turn their vision into reality.
· Technology: to put their digital strategy into action, we help our customers harnessing the power of the latest technologies and software engineering.
· Influence: we collaborate with our customers to develop a bespoke B2B influencer marketing campaign which can raise brand profile and boost conversion rate.
How do you ensure a culture of integrity and innovation at DBI?
There must be a synergy between digital transformation and sustainability. During the disruptive path, we do not have to focus only on technology as a tool to gain more profit from the market, but we should also care about how to build a sustainable future. In my company, we give priority to the SDGs, in particular
· Social: diversity and inclusion are the key, we cannot leave no one behind and we must guarantee everyone an equal access to knowledge and resources.
· Environmental: we are living in a world where global warming is getting more and more looming, and it is our duty to reduce emissions of carbon dioxide in the atmosphere by adopting green energies to save the planet.
Tell us your views on how has the digital industry changed over the years?
I like to explain the innovative journey happened over the years through what we call "The Three Amigos"
· Digitization: the conversion of products to digital format and the concomitant inventions that ensure.
· Digitalization: the innovation of business models and processes that exploit digital opportunities.
· Digital Transformation: the systems-level restructuring of economies, institutions, and society that occurs through digital diffusion.
As a technology professional, tell us about your vision for the company.
My mission is project management in different areas from Artificial Intelligence applied in Healthcare to Internet of Things applied in Automotive, passing through Insurtech with Cloud SaaS and Building Engineering with Machine Learning. What I see is, technology has plenty of potential to unleash. Thus, my vision is an increasing trend for businesses to embark on this amazing journey, and we are here to accompany them!
What marked the beginning of your career? What do you regard as your greatest achievements?
Rather than thinking about a single episode, I prefer to make every business day valuable. Seizing every opportunity offered and knowing how to make the most of it is the secret. And… when you get positive feedback from people, that is the moment you understand you are doing right and can achieve great heights.
As the COO of DBI, what are your major roles and responsibilities? Also tell us what inspires you and your employees to innovate?
Working as an executive certainly involves lots of responsibilities. You need to manage different aspects and do your best to reach high performances, optimize time and cost, and coordinate the pieces of the puzzle so that they can fit together. But I really like my job, it is very inspiring. Everything that deals with innovation fascinates me and the amazing people of the DBI team, we try to always do better. And whenever desired results are achieved, we feel highly satisfied.
What is your message to the aspiring businesswomen?
I really care about empowering women in business. Despite the progress made over the years, gender equality is sadly far away in the workplace and we must advocate for change. Women are at the heart of development, and it is a matter of fact they would bring greater advantages within companies if given more representation. My message to the aspiring businesswomen is following what really fascinates them, and never stop in front of bias. We need more inspiring women leaders, and I am committed to do my best to encourage them. Let's make a difference!
What does the roadmap of DBI look like, for the future? What are your goals for the next few years and how does DBI plan to extend its services, globally?
I live my life day by day and set no limits. Who knows what the future holds for us? I hope something surprising, however I am already grateful for what we have at DBI. Besides managing technological projects, I am highly active on social media professionally and particularly I like to share insightful content on Twitter and LinkedIn. When I find something juicy about my key topics, I try to deepen and enrich my knowledge. However, in today's interconnected world we have powerful tools not only to acquire knowledge but also to spread it with other people. And that is what I do with my audience. Followers notice the quality of your content and, if you want to keep them engaged, you need to reach their interest by conveying useful notions and giving a unique value. I am glad when people appreciate my commitment and I enjoy being recognized as an influencer in my business field. Influence is the new paradigm in the enterprise communication strategy and leveraging thought leadership will be particularly important in the near future.