Karen Englert: Supporting Youth to Get a Safe Place where they can Learn and Grow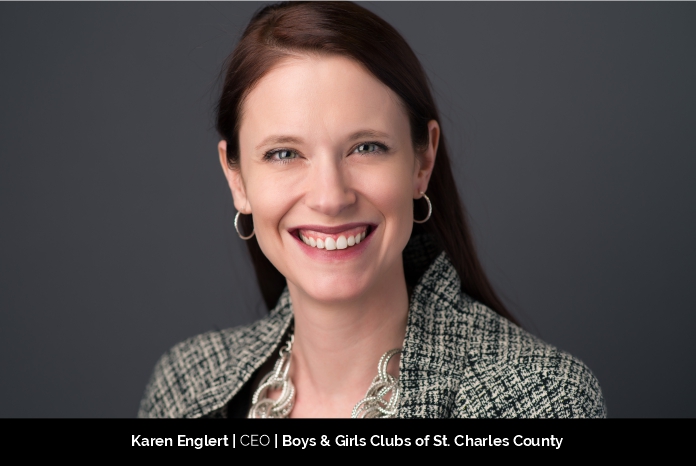 The Boys & Girls Clubs of St. Charles County (BGCSTC) has a 70-year history, and while much has changed throughout the years, its core values have stayed constant. The founders felt every child deserved a secure environment where they could grow into productive, compassionate, and responsible citizens with the help of helpful adult mentors. Two sites, an administrative office, a fleet of club vehicles for transportation, academic and preventative programs for children ages 6-18, daily meals, athletics, and mentorship are currently demonstrating the actual implementation of this idea.
Karen Englert is the Chief Executive Officer at Boys & Girls Clubs of St. Charles County. What started out as an after-school program has evolved into a multi-disciplinary provider of nationally renowned programs and services. The purpose has stayed consistent throughout the years, although the sponsors and financing sources have shifted considerably. Karen aspires to build and grow a nonprofit that helps children and families while also acknowledging she operates a business that needs investment to maintain strong services. She says, "Staying relevant to current donor trends, grant opportunities, tax law, accounting principles, and the like is a major focus." In addition, the teams at clubs have made significant strides in the last two years to improve and increase brand awareness. Karen asserts, "This is not just marketing but rather the concept of people understanding who we are, what we do, the essential role we play in responding to need, the impact of our work, and how they play a part."
Her vision for the Clubs has been strengthened by the many viewpoints offered and discussed at the table as she works with the BGCSTC board and staff on an updated strategic plan. She sees the next phase of BGCSTC's development as a deliberate, collaborative effort that includes expansion westward, greater corporate partnerships and an investment in the continuity and effectiveness of workforce development, STEM, and preventive programs. The path of Club members from participant to advocate binds the community together and will continue to do so for future generations.
Boys & Girls Clubs of St. Charles County
The Boys & Girls Clubs of St. Charles County's (BGCSTC) main goal is to serve as a light of hope and support for the next generation in the community. For some, this means having access to and opportunities through activities they would not otherwise pursue; for others, it means having a physical place that encourages belonging and gives a respite from life's stresses. The Clubs, which have two campuses in St. Charles County, collaborate with nineteen local schools to give children opportunities for engagement and support outside the school day.
The Clubs promote academic performance, healthy habits, and character development by providing diverse extracurricular activities. In BGCSTC's after-school programs, students receive a daily meal as well as mentorship. Club members participate in excursions, hands-on learning opportunities with community speakers and volunteers, gardening programs, athletics, and daily meals and snacks during the annual summer camp. The Clubs are fostering the abilities of youngsters who need to thrive beyond the classroom, from a knock-out game on the basketball court with its Youth Development Professionals to volunteer-led ACT test prep.
Maintaining Healthy Boundaries and Expectations
Work-life integration is a challenge Karen is not immune to but makes a conscious effort to be aware of for her overall health. She says, " While the mission of BGCSTC is both a personal and professional passion, it requires a vast amount of intentionality and preparation."
Karen starts her day with a cup of coffee and work emails before the sun rises. Her tactical job and employee management become clearer during these undisturbed times of her day. Regular board and committee meetings, weekly one-on-ones with her direct reports, spontaneous donor conversations, visits with community partners and stakeholders, and the more mundane responsibilities of budget supervision, policy reviews, and general business are all part of a typical day for her. She also serves as the volunteer Board President of ATHENA Leadership Foundation of St. Charles County, a non-profit dedicated to empowering and promoting women in leadership, since she believes firmly in the benefits of creating a community in which one can contribute and grow. Karen can be found at late-afternoon gatherings with like-minded women who are working to hone their strengths and harness their drive for a greater good or serving on event planning committees and advisory boards for other community organizations.
"To round out my day, I enjoy quiet evenings at home with my number one fan, my husband, Jeff," says Karen. She adds, "From his impeccable culinary skills to his sense of humor, he keeps me grounded." For Karen, maintaining healthy boundaries and expectations is of utmost importance to her in achieving a sustainable work-life blend.
Success for Karen is Collective Growth
Karen finds that success is defined by the growth of a leader's followers, rather than stats and outcomes. Early in her professional career, she defined success by the amount of money raised, awards won, KPI's, and win-loss records. While metrics and accolades have their place, these are no longer the key indications of her version of success.
Now Karen's success is measured by the moments when her team and she, together:
Choose courage over comfort,
Strike the harmony between our personal and professional values,
Step into change with curiosity,
Redirect privilege toward the service of others,
Extend grace to others, and
Demonstrate compassion toward ourselves.
She sees herself an advocate for people to set the bar higher and keep themselves challenged. The actions the team takes collectively in both obvious and subtle ways are what all add up to the culture they share as a team. Karen opines, "How we serve our families and community models behavior and intentionality for our children to embrace as their own."
Compassion for those in Need
Karen's educational background and interests focus on special education, marginalized groups, and the need for early-childhood literacy. She comes to the Clubs with a history in education and non-profit leadership. Karen's most recent employment allowed her to work as the Statewide Director of Government Relations for a health-focused nonprofit organization.
For Karen, "service in and for your community" was a mindset established at a young age. Her mother instilled a love for volunteering to raise those in need, regardless of whether that need was physical, mental, or emotional. Serving alongside her still brings a great sense of joy and purpose, the same feelings she experiences in her professional roles.
A Note from a Female CEO to Others Involved in the Process
As a female CEO, Karen derives great satisfaction from empowering other women leaders. She is humbled by the job she gets to accomplish in each area when she considers her entire effect as an executive, advocate, mother, wife, and valued community voice. She considers it a blessing to be able to expand and multiply other women and she is passionate about leveraging her experience, privilege, education, and contacts to mentor the next generation of female leaders.
The Proudest Moments
Karen began her new role as CEO just two days before COVID-19 closed the Clubs in March 2020. She went into action right away, in the absence of a typical transition time, to keep the kids fed and the staff meaningfully employed. This entailed taking substantial chances in prescribing new service models, getting increased funds, and re-establishing a transparent business culture. Karen had to extend herself in new ways to maintain her positivity in the face of hardship. It was a test of willpower for her, and the entire crew rose to the situation.
Karen put the needs and appreciation of the front-line workers first throughout this period. They were dedicated to delivering critical services, and she was dedicated to recognizing their importance to the organization, purpose, and children. One of Karen's biggest achievements in 2020, according to Karen, was securing funding and support to offer all front-line employees well-deserved pay increases and demonstrate the team's unwavering commitment to fulfilling their needs.
Future Roadmap for BGCSTC
Karen's two major aims at BGCSTC are expanding services across the county and eliminating debt, which may not always be mentioned in the same phrase. She inherited a sizable facility debt when she became CEO. While the board of directors and administrative staff has made great progress in reducing financial constraints and securing prudent investments, more work remains. The BGCSTC team is dedicated to developing a lucrative yearly partnership program and moving through with the naming-rights campaign in order to maintain financial stability for years to come. This fast-paced yet timely expansion must also focus on maximizing resources through strategic hiring and staff retention. "After all, our people are our most valuable resource," says Karen.
According to Karen, the county's high-need areas lack access to quality wrap-around programs that meet families where they are and empower children. She says, "I am hopeful we will see a new Club site in the western region within the next few years. While the impact of local nonprofits has been historically undervalued, I argue that the 501 (c) (3)s with boots on the ground in St. Charles County are the best equipped means for achieving meaningful change. Our work during COVID-19 announced BGCSTC's continued presence in the community and commitment to advocating for our youth. "