Kim Sian: An Ordinary Woman with Extraordinary Desire to See People Healthy, Fit and Happy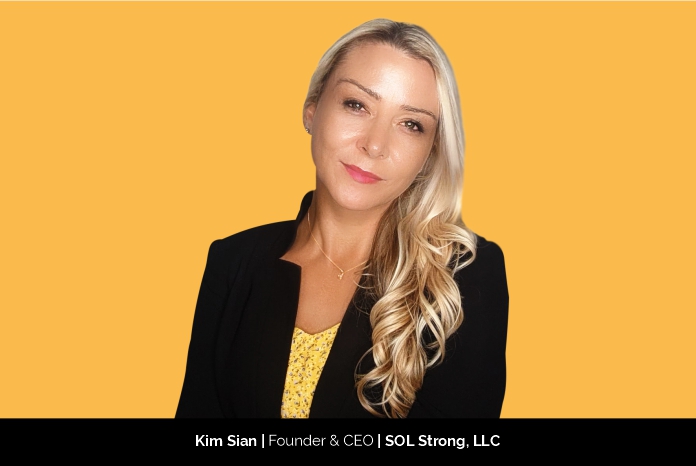 Kim Sian, Founder and CEO of SOL Strong, LLC, is an ordinary woman with an extraordinary desire to make a difference. And she always goes the extra mile to make sure that others breathe easier, live better, stronger, healthier lives, and with better mindsets. Kim believes that true success is when someone succeeds and then gives back to their community and helps others succeed.
Kim and her husband, Anthony, have the habit of brainstorming business concepts in nature. So, one day, while climbing a hill, they began to discuss a business idea and a symbol. Their idea had the potential to develop into something meaningful for them as well as for a vast majority of people. And that day's discussion led to the creation of SOL Strong. It is a provider of natural products that have the ingredients needed to make people strong and healthy.
An athlete since her primary school days, Kim has always lived a healthy life. She believes that a happy life is a healthy one. "I've kept a fitness level throughout my life," she says. Along with doing physical exercise, Kim also looks for gadgets and supplements that can make staying fit and healthy easy and fun. And it is her interest in them that gave her the idea to introduce it through SOL Strong. She thought why not build a company offering these products in the industry, where others can benefit from them too.
Meaning of SOL
SOL has multiple meanings. It is an acronym for 'Season of Love', we have had enough hate, it's time to love one another. Kim says. Some people also interpret it as Soul. So, keep your Soul Strong. And it also means Sun in several different languages. "Nothing can survive on this planet without the sun," Kim says. "It is essential and the key to living a healthy life."
And, when designing the logo for SOL, they thought of creating something that would remind people that they need to spend more time in nature, Kim says. It may make them want to reconnect with Earth. Kim says that such a connection can help them stay healthy and fit. It also provides them the opportunity to spend time with others.
A Small Business That Sells Products on Amazon
Sol Strong is a small business that primarily sells its products on Amazon. "We offer products that fill a specific need while supporting different charities," Kim says. "Our first product is one of the essential supplements, collagen peptides."
A person's connective tissue, bones, teeth, ligaments, hair, and skin are all made of various amounts of collagen. And after the age of 30 or to 35, not enough collagen gets produced in the human body. "So, we should be supplementing our diets with extra collagen," Kim says. But, it is hard to create a diet that has the right amount of collagen. And not all collagens available online or in stores are of top quality.
"Our collagen peptides are without doubt the best available on the market," Kim says. An ideal collagen product is the cleanest, has good taste, and gets mixed easily in cold liquid. "Sounds simple, but only a few companies have achieved this," she adds. "Our collagen has the best of these and also the most claims."
Before bringing a product to the market, the company always searches the ends of the Earth to find the absolute, best-proven standards and class, Kim says. The company also studies its competitors and checks their product range. It also evaluates the best-selling products of other brands to see if it can introduce an improved version of the product in the market.
Umair Farrukh, originally from Lahore, Pakistan, is the general and operations manager at SOL Strong. A huge asset to the company, he constantly finds new ways to enhance the company's sales and its business. "He manages all our teams of people and is excellent at multi-tasking, he is also an amazon product launch trainer" Kim says. And New Delhi-based Paramjeet Nanda heads the team that supports the company on Amazon. Kim points out that he is an ex-Amazon employee, so he knows the ins and outs of Amazon processes and is very efficient in everything he does. "He has supported both buyers and sellers for over four and a half years," Kim says. Paramjeet and the digital marketing agency Tech2Globe's team have strengthened SOL Strong's overall brand and improved marketing effectiveness.
The company does not want to limit its production line. It is, therefore, always looking for new developments in other areas. Along with regularly testing its products, SOL Strong also taps into innovation. It believes in inventing new products that can fulfill needs effectively. One of the company's most advanced products is its hands-free toothbrush.
"Together with our partner in China, our engineers and scientists are constantly finding ways to improve, give a better experience, and get better results to keep satisfying our customer's needs," Kim says.
SOL Strong Only Offers the Best Products
SOL Strong's R&D department has a strict product development policy. "No product is launched without testing it against competitors' products," Kim says. The department makes sure that the company's products are the best in their respective categories. For example, the company's ultrasonic toothbrush is a much better product compared to its rivals in the market.
"Many competitors have various types of ultrasonic toothbrushes. However, our patented electric toothbrush surpasses them all," Kim says. "What sets us apart in this category is our replacement head is more advanced than any other ultrasonic toothbrush, as well as our black light technology. Its battery life and high powerful VPM (vibrations per minute) are better than all others." She points out that the ultrasonic toothbrush has helped hundreds of people maintain excellent oral health – especially when people were afraid to visit a dentist during COVID-19. And it has also helped people who have lost the use of their hands and arms. "Dentists who have not seen their patients for a while are astonished at the effectiveness of our toothbrush and how it has enhanced their overall mouth health," Kim says.
SOL Strong believes in improving its products so that they become more advanced. "We have the most advanced technology available," Kim says. "That is why our product was voted the best ultrasonic toothbrush." She informs that after launching the fifth-generation edition, they are now working on the sixth-generation version of the toothbrush. "We are constantly working with our team of engineers to enhance, evolve, and improve," Kim says.
Leads with a Carrot Instead of a Stick
Kim oozes positive energy. She does not let the opinions of other people disturb her and focuses her energy on finding a need and filling it. And an opportunity to serve is what makes her excited and happy.
As Kim grew up without a mother and father, she learned quite early in her life to not stay in a comfort zone for too long. And it has also made her open to change. Kim says that various people have influenced her, which is why her worldview is different from most people's. "It taught me a higher degree of compassion and understanding of different values and beliefs," Kim says. "It also forced me to constantly find ways to encourage myself in many ways, including reading books and enrolling in courses." Therefore, she is now committed to encouraging and inspiring others, especially those from similar backgrounds.
Kim recalls that when she was working in the oil industry, she met some of the brightest minds in the world. She got to learn from world leaders and directors of large multinational conglomerates. "I was privileged to call them [directors] my partners, and they helped me grow as a leader," Kim says.
"They had huge visions, and their focus was on helping those in need in disadvantaged countries with major projects. These projects were capable of helping people on a massive scale," Kim says. Their efforts to make people's lives better left a huge impression on her, and it also elevated her thinking. She is now selflessly working towards filling a need.
Kim's selflessness and the deep desire to help others naturally attract the right people. "To lead, you need people to be enthusiastic about what they are doing and find purpose and confidence within themselves," Kim says. And she prefers to lead with a carrot rather than a stick.
Kim believes that Johann Wolfgang von Goethe's famous line 'Boldness has genius, power, and magic in it' is true. And she adds, "Be bold, but not for self-gratification, more to help others reach within themselves to do a little more."
For instance, she says that if she were on a dance floor and wanted others to dance, she would dance wildly, freely, and without a care. It would encourage the person sitting in a corner who was too scared to get up and dance and not to worry about what other people would think."
It's the same in business," Kim says. "I want to make a loud noise and achieve what some may see as impossible, so that one day, I can inspire others to reach deep down within themselves and find the strength they need to achieve their goals and make a difference."
Proud Moments as CEO
Kim is dedicated to serving her community. Along with that, she also believes in serving her team. And she experiences moments of pride whenever her team attain their goals and realize their potential. "I push them and constantly remind them of what they can achieve," Kim says. "And, they do the same for me,"
"When we hear from our customers and get feedback on how our products have changed their lives or how their lives have improved, these are also proud moments for us," Kim adds. "Every time we launch a product and see it filling a need and selling well is a proud moment too."
Kim experiences plenty of proud moments every day. But, she gives more importance to the immense satisfaction and happiness that she feels when she and her company succeed in giving back to those in need and donating to Foster care facilities and suicide prevention.
Vision for Future of SOL Strong
SOL Strong is continuously expanding. It wants to develop products for different areas. "We started in the nutritional, health, and wellness space," Kim says. "Our future developments are going to introduce enhanced products for each of these areas, and bring an advanced line of workout gear designed specifically for the athlete."
Kim is very excited about their advanced workout gear line, which has been designed for maximum comfort that compliments the figure. "You can enjoy being out in the heat and do your outside activities with ease," Kim says. "You can carry your essentials easier and with the highest quality materials." In addition, the company is also invested in light. It intends to introduce all kinds of fun lights. Kim says that they will enable people to enjoy the outdoors with extraordinary lighting and make every occasion special.
"Our goal is to maximize your outdoor workout and lifestyle experience while feeling good and being the best you, you can be," Kim says. "Human beings need to spend more time outdoors for better vitality and life enjoyment. COVID-19 has forced natural introverts to be even more withdrawn. It's time to reconnect with your communities and friends, embrace life, and be healthy in mind and spirit."
Advice to Younger Self
If she gets to travel back in time, she would like to tell her younger self that she needs to spend more time studying and making company business plans and profit and loss statements. "Keep these constantly at the forefront of your daily tasks," she wants to tell her younger self. "And, don't take everything so personally and laugh more. Life is too short to be too serious all the time."
Message to Aspiring Businesswomen
Kim wants aspiring businesswomen to believe in themselves and their abilities. They need to believe that their plans will work out. "Understand that you don't have to do everything yourself," Kim tells businesswomen. "Don't be scared to ask for help.
She also tells them that they need to build a strong team of people who are better than themselves on things they are not good at, as well as, find people who are the best in their field and then let them shine. Don't settle for second best or good enough, when it comes to your power team. "Find what you are good at and focus on that, while learning the things you need to improve," Kim adds.
"Always stay up to date on your books and business plans because a goal without a plan is just a wish. So plan for your future, write it down, and check it daily, weekly, and monthly until you attain your goals," Kim tells aspiring businesswomen.