Leveling the playing field: Leading the Fight Against Workplace Discrimination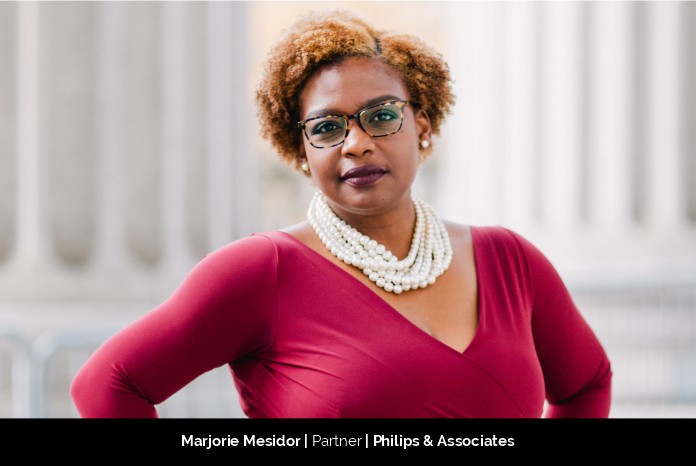 At age 13 at a department store, a young girl of immigrant parents witnessed a store associate being unkind as her mother was making a return. This associate was rude dismissive and in effect, discriminatory. This young girl watched as her mother recoiled as the associate repeatedly commented that she "couldn't understand" what was being said. That memory of her mother repeating and enunciating her words slowly and deliberately to compensate for her heavy accent while the store Associate made no effort to try- remained with Marjorie Mesidor, Partner of Phillips & Associates. With it, a vivid reminder of the kind of indignity suffered by victims of discrimination. "As long as I can remember, I've wanted to be an attorney. There's actually a family video of me at the age of about 11 years old claiming that by the time I'm 45, I'll be the most famous attorney in New York." With a commitment to stand those who have suffered from employment discrimination or sexual harassment, she has dedicated her life to bringing a radical change in people's lives.
She even got admitted to practice in several federal courts at the United States District Court of the Southern District of New York, the United States District Court of the Eastern District of New York, the Second Circuit Court of Appeals, and the United States Supreme Court. Not just this, she learned about the inner functioning of the judicial system while she clerked for the Honorable Torkwasé Y. Sekou in the Superior Court of New Jersey in the early years of her career.
Inspiration for becoming an Attorney
Being the only Black student at school, Marjorie was often the target of racial discrimination owing to her different accent, braids, and ethnic food. She adds, "Teachers did not help, and I was left to defend myself against the inevitable teasing and bullying that came with uniqueness. This made me sensitive to those who are left to fight alone- against all odds who are still fighting."
Facing all these differentiation issues boldly, she completed her Honors Regents Diploma from Sacred Heart Academy. Subsequently, she pursued an International Relations and Economics degree from Franklin University Switzerland. Later, she finished her Juris Doctorate from Touro College Jacob D. Fuchsberg Law Center with flying colors. Marjorie was later admitted to the Connecticut and New York Bars in 2004 and 2005 respectively.
With a passion for fixing problems, she is primed to act whenever someone calls or walks through her door with a dilemma. Relentless in her focus, she has a strong desire to change lives. She shares, "Seeing clients find their voice, courage to rage against their tormentor, seeing their life evolve and change into a new job or new chapter free of discrimination, or in a better position financially than when they started- it's a beautiful thing to watch. I'd like to develop an army of attorney advocates that wipe out discrimination in the workplace."
Before Phillips & Associates
Prior to becoming a part of Phillips & Associates, Marjorie had practiced in various other areas including criminal defense and not for profit law. Notwithstanding, she connected with her employment discrimination in a different way. Her time as Chief Counsel to Project Hope, an organization that offered antiviolence and educational workshops and programs services to underserved youth in South Queens, offered her the first opportunity to help employees navigate the workplace.
Emphasizing her commitment to employees, she says, "Employers forget to take care of their employees. They forget to make the workplace safe- to meet their employees' needs. They forget that if they create environments and dedicate resources for spaces that foster inclusivity it will help their employees perform their best work." Protecting those spaces is what she views as essential. Thus, she assures her clients of getting justice and supports them in every way possible. Doing that, she maintains her confidence as a forceful advocate at the negotiating table and a formidable opponent in the courtroom.
Exhaustive Services of Phillips & Associates
Phillips & Associates is known to be one of the largest plaintiff-side law practices situated in New York. The company aims to keep the ground leveled and ensure that all their clients are well represented when they come up against their employers' white show law firm counsel.
She shares, "We are 100% contingency-based and don't take a dime from our clients for our services unless we recover a settlement or award. We make it as easy as possible to get the help, attention, and resources needed to right the wrong of discrimination." This style of working has kept them client-focused and strengthened the good will with the public.
Responsibilities at Phillips & Associates
Being the partner in the Long Island office, she is renowned for her firm grasp on cutting edge legal issues and service to clients. She plays a pivotal role in regularly prosecuting the Firm's employment actions against Fortune 500 companies and smaller organizations that get accused of discrimination, including claims of sexual misconduct.
Owing to her untiring will and desire to witness a change in people's lives, she has achieved huge success in her career and got good settlements for her clients. She handles Associate Development in the company too.
She shares, "All of my past experiences have in some way prepared me for what I am doing now. I lean a lot on my common sense and my past work experiences to guide me in my representation of my clients. My international education makes it easy for me to interact with individuals of various walks of life and backgrounds. At the same time, I'm not out of touch with working paycheck to paycheck and having every dollar come from the sweat of your brow."
She feels that she has 3 pillar qualities that keep her strong and confident in every case:
Passion: Her passion is the fuel of how she got her career going. It actually made all the difference and set her apart from others as she was never afraid to connect with her audience to make them see her client.
Memory: She remembers who she is, where she is from, and that the things she does every day are life-changing for her clients, this keeps her mentally strong for every next move.
Drive: She only focuses on one direction only, which is 'forward.' She understands that each case has its own pace, some faster than others; however, there shouldn't be any room for roadblocks that can hinder the path to the finish line.
For all the aspiring and young enthusiastic law students, she has only 3 golden pieces of advice, "Learn your craft. Pick what you like and get really good at it. Remain teachable."
Although she still feels that she hasn't achieved everything that she dreamt of, she is happy with the journey and is positive that she will definitely reach her zenith. For that, her clients are her ultimate strength, and their bravery and courage inspire her every day.
Sharing fondly of her time with the Firm she states, "The first year at the [Phillips & Associates], I knew that I was home. I was getting a lot of referrals from friends, family, and colleagues- we were getting great results, and I was still home in time for dinner. I suddenly realized that I had found the sweet spot between purpose/happiness/prosperity. "
Awards and Accolades
Owing to her sharp research and analytical skills, she is considered quick-witted and has received a myriad of awards and distinctions. She received the Exceptional Service to the Public and Community Award, Service to the Bar Award, and a Merit Award for Franklin College Switzerland. In addition, she was a Scholarship Recipient from the Suffolk County Women's Bar Association in 2004 and a Minority Fellow of the Association of the Bar of the City of New York as well.
Further, she is recognized as one of the National Black Lawyers' Top 100 Black Lawyers, a "Rising Star" and "Top Woman Attorney" by New York Super Lawyers every year since 2013. Due to this, she gained opportunities of becoming the Guest Legal Correspondent appearing on WBLS "Cafe Mocha," WPIX Morning News, and 103.9 Long Island News Radio "On the Docket."
Some of her noteworthy cases include:
Johnson v. STRIVE (in 2013) was a pillar case that mainly settled the issue of whether those of the same race can discriminate against one another. For that, she received a unanimous jury award for her commendable efforts in handling the issue.
Sooroojballie v. Port Authority of New York and New Jersey (in 2018) got her 2.31 Million dollars award for a race and national origin-based hostile work environment claim.
Moreover, the Office of the Public Advocate regarded her work against the disparate impact of "poor door" policies on rent-stabilized tenants as an outstanding job.
The list doesn't end here! In 2018, she was one of CRAIN Magazine's Top Women Attorneys in New York City. Moreover, she even wrote an op-ed article which got published in the online publication, Motto, by the editors of Time Magazine. She has been a consistent legal education panelist for the National Bar Association's Labor and Employment Section and NELA NY on a plethora of topics, be it in punitive damages, trial advocacy, as well as jury awards.
Managing Work-life Balance with finesse
Marjorie starts her day at 6 am performing her daily workout and meditation sessions. She does not leaver her home without playing with her daughter while getting ready for work. On a typical day, her commute is spent listening to spiritual audio books. Once at the office, she runs through the prior night's emails and messages and goes through the day's deadlines. She then follows up with her team with the status of anything that needs to be done as per the schedule.
Once this is done, she runs through her case list and makes calls, and/or sends emails to push the case to the next stage. Then, she proceeds to do her midday meditation after which she spends her afternoon time in meetings with different Associate Attorneys to provide guidance and direction on the next steps in cases. She even uses this time to get recognizance on Defendants in impending cases.
After that, she coordinates with NELA/NY Board members on various projects and initiatives. Following this, she leaves the office between 6 pm and 7:30 pm. She spends her commute home catching up with some family or friends. Then, she spends her night-time with her family: spouse and daughter. Then, she goes on the 'Do Not Disturb' at 9 pm.
For Marjorie, balance is everything. She strongly believes that anything done to the extreme is error. To make her point clear, she shares, "I achieve balance by prioritizing first the things that are most important to me and plan everything else around them. By way of example, every Friday night is date night with my spouse- no matter what. Everything is scheduled around it. Sunday is family day- no matter what, everything is scheduled around it. If there is a trial, I block out additional time to prepare to make sure that I can still have this time with my family." In this way, she keeps her life balanced with her work perfectly.
Charting the Future Roadmap
She has plans to do more community outreach and employee education about their rights. As for the company's growth trajectory, she says, "We have a great team without whom none of the success we have enjoyed would be possible. We would like to continue to build on the reputation we have established for ourselves in New York to be duplicated in every state in which we practice. We have established wonderful relationships over time with employment attorneys that practice nationally- as local counsel."
As for future plans, Mesidor and the firm plan to grow and continue the fight, case by case, client by client- until every workplace is freed of discrimination.