Janice L. Quigg: Exploring new heights at Dependable Group of Companies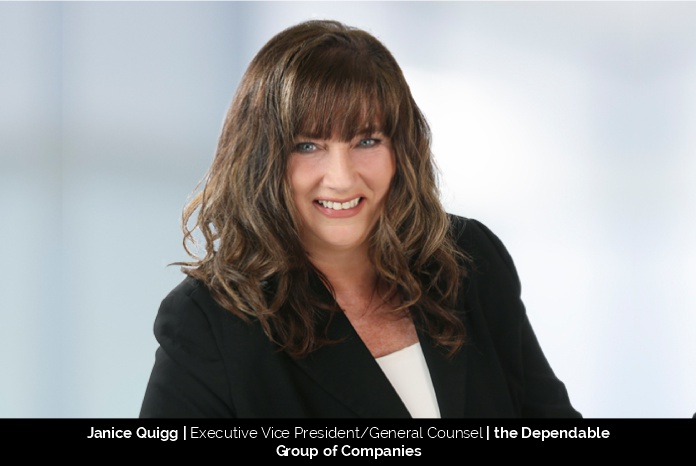 Long gone are the days when women were only seen as the to handle household chores. Today, women are leading several sectors and industries to the top with their hard work and dedication. With a passion for helping others resolve the conflicts in their lives, Janice L. Quigg, Executive VP/General Counsel at the Dependable Group of Companies chose a career in law and is a living inspiration for the women's community.
Ladder to success
Janice adds, "When I was just 12 years old, I knew that I wanted to become a lawyer. I never wavered from this goal. Each step forward was methodical and laser-focused on being admitted to law school, which was extremely competitive when I applied years ago as there were very few spots relative to the number of applicants."
She completed her education in the domain and expanded her skill set. She gained a Mediation Certificate (ADR) from Harvard Law School, which in itself is a significant achievement. She states, "I have always been a highly motivated person. I'm a life-long learner, always looking for my next challenge. I'm most excited about continuously setting new goals for myself and taking intentional steps to achieve these goals."
In her professional career, she always focused on helping others around her with her knowledge base and experience. She expresses, "My biggest passion is helping others become successful in life and helping others resolve conflict in their lives, hence the law career."
Janice has explored different roles in the law domain. She has worked as a construction lawyer for many years and is the founder and CEO of Janice Quigg International Inc. which provides leadership training to the corporate world.
Many businesses fail due to inner conflicts in the working environment. Conflicts give rise to a toxic corporate culture which is a productivity killer. Janice helps businesses recognize the problem and resolve it, thus increasing productivity.
With proper assistance from Janice, many businesses have elevated customer satisfaction and explored new heights in their respective domains. She has studied Leadership Coaching Strategies at Harvard, Division of Continuing Education Professional Development Programs and is a global speaker on conflict and leadership issues.
Janice is a firm believer in spreading awareness to others with her experience. To fulfill this aim, she became a TEDx speaker and a member of the Women Speakers Association and Global Speakers Federation.
Then she stepped into the role of Executive VP/General Counsel at the Dependable Group of Companies. She states, "My current focus is helping the Dependable Group, an already very successful company, reach new heights, alongside its President, Rajesh Ahuja."
Janice is a living inspiration for everyone, especially women, to dream big. With hard work, perseverance and believing in oneself, anyone can realize their dreams. Janice firmly believes that one of the keys to success is building strong relationships and helping others achieve success.
Journey with the Dependable Group of Companies
Janice states, "The Dependable Group of Companies had humble beginnings as a mechanical contracting firm which was started from Mr. Ahuja's home office. Through much hard work, the company experienced explosive growth and has expanded into many sectors, including the Industrial, Commercial, Institutional (ICI), and Residential Low and Hi-Rise sectors in Ontario. The Dependable Group specializes in the design, installation, and service of plumbing, heating, process piping, HVAC, electrical, high voltage systems, communications, energy management, and building automation systems. The Dependable Group is now comprised of Dependable Mechanical Systems Inc., Dependable Electrical Services Inc., Dependable Energy Storage Solutions Inc., Dependable Service Solutions Inc., and 4R HVAC Inc."
Having the skills to deal with complex conflicts in an effective manner along with her extensive experience as a construction lawyer and leadership expert, Janice is helping the company rise to a new level.
Wearing the hat of Executive VP/General Counsel at the Dependable Group of Companies
Janice states, "I was initially hired by the Dependable Group as its legal counsel. However, given my extensive experience as a construction litigator and as a leadership trainer, my role has quickly expanded, and I have just been appointed Executive Vice President/General Counsel of the Dependable Group."
Her past experience and hard work allow her to deal with challenging situations calmly. Janice approaches issues with a positive attitude and always with a view to increasing the growth of the company.
Janice has a passion for consistently expanding her skill set. She adds, "I have an insatiable appetite for learning, I am constantly striving to improve, and I have a real passion for helping others succeed."
She believes that curiosity is the key to explore new heights professionally. Being driven and determined, she motivates others around her to stay focused on their goals and is always willing to help them achieve those goals.
She adds, "I will never achieve all that I have desired because I am always thinking about my next challenge in life. This drive to continuously achieve new goals keeps me motivated and happy. While I am always seeking new challenges, I am also a huge believer in celebrating every small success along the way!"
Achieving balance in professional and personal life
While she is highly motivated in terms of her career, Janice's first priority has always been her family. She is an enthusiastic hockey mom to 13-year old Ryan and can be found at the hockey arena when not at work.
Janice believes that a healthy balance between personal and professional time is critical to happiness. She quotes, "While I am a highly motivated professional, my first priority has always been my family. I have been fortunate to work at firms where the hours are reasonable so that I am able to spend a lot of quality time with my family. Luckily, I am a night owl, so I'm able to get some extra work done after my family has gone to sleep!"
Future plans for the company
Janice states, "The Dependable Group has some exciting new projects on the horizon, so we will be busy preparing for this expansion. We are also undertaking some new branding and a concerted effort to continuously improve our corporate culture, which can be described as 'dedicated, diverse and dependable'".