Corinne Symietz: Rising the overall economy of Haiti with Les Chocolateries Askanya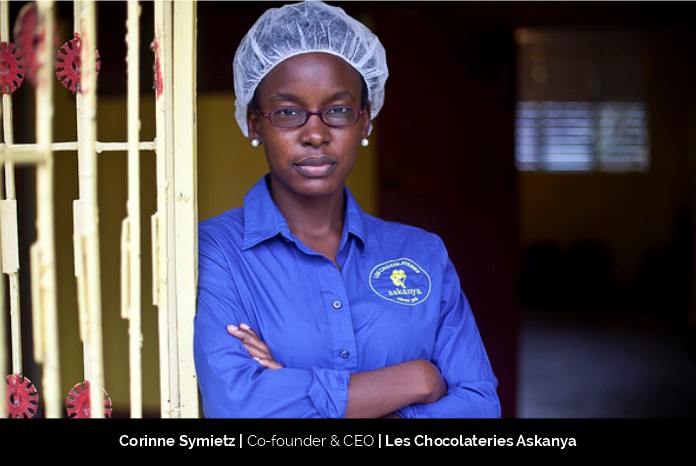 Raised in Port-au-Prince, Haiti, Corinne was familiar with the economic struggle of the country. To pave to way for her hometown to develop, Corinne Symietz, Co-founder and CEO of Les Chocolateries Askanya, is creating new opportunities for the community. Being driven and visionary helps her to plan for the future and take optimum decisions to move the company on the right path towards development. Having a good team at her disposal, she puts her trust in them to do the given job and produce the best results for the company.
Climbing the ladder of success
Corinne was born in the US but raised in Port-au-Prince, Haiti. She has witnessed the issue of poverty closely. She states, "Growing up in Haiti, I was always aware of the poverty surrounding me; my middle-class family would often support the housekeeping staff with medical bills or education fees for their children. As a 14-year-old kid, I told myself, "when I grow up, I would create jobs, and not just give charity – or more likely – if you want money from you, come work for me."
Growing up, she realized that she needs to expand her knowledge base to climb the ladder of success. So, she completed her Bachelor of Science in Industrial and Operations Engineering from the University of Michigan in 2006. Then she progressed to attain her Master of Business Administration degree in Entrepreneurship/Entrepreneurial Studies from the University of Pennsylvania – The Wharton School in 2011.
Corinne worked for RTX in 2007 as an analyst, rejoined the company in 2011 as a consultant and worked her way up to become Senior Strategy & Technology Consultant. She traveled to gain experience and dug deep to get proper market insights. At the age of 30, she backed her skills and marked the dawn of Les Chocolateries Askanya to take the first step towards developing her hometown.
Foundation of Les Chocolateries Askanya
When launching Les Chocolateries Askanya, Corinne wanted to have three impacts on the Haitian economy/population. She states, "First, I wanted to create revenues for farmers. The majority of Haitian farmers are "subsistence farmers" who make little revenues. Therefore, I wanted to transform a crop – any Haitian crop – to create revenue outlets for farmers. Second, I wanted to create blue-collar jobs in Haiti, as less than 40% of the population obtained a High School diploma. And finally, I wanted to decentralize and created opportunities outside of Port-au-Prince, the capital where most jobs/activities are concentrated."
While researching Haitian crops, she looked into mango, orange, vetiver, coffee, cacao. When she got to cacao, she realized that Haitian fermented and dried cacao was very well regarded in the world and used in very high-end bean-to-bar chocolates produced in French by companies such as Bonnat and Valrhona.
This sparked a new idea in her mind. She decided to create a full-end product in Haiti which was totally from Haiti.
Bringing new opportunities with Les Chocolateries Askanya
Founded in 2015, Les Chocolateries Askanya is Haiti's first premium bean-to-bar chocolate company. The chocolate bars are exclusively made with locally-grown Haitian cacao, Haitian unrefined whole cane sugar, and other ingredients without preservatives at the colorful factory located in Ouanaminthe, Haiti. Besides, all the chocolate makers are women.
She adds, "Askanya chocolate bars are currently available in Milk, Brown Sugar, Dark, Extra Dark, and Lime (and Orange – coming in June 2021) flavors in the regular bar (2oz) bite-size bars, block for baking and seasonal gifts." Corinne built the company from scratch with her mind and soul, and today the facility in Haiti has the capacity to produce 10,000 (as of March 2021) 2oz-chocolate bars/monthly.
Life as Co-founder and CEO of Les Chocolateries Askanya
Wearing the hat of co-founder and CEO of the company, she plays a crucial role in the development of the company, especially in the facility development and technical department. Being a team player, she understands the importance of a good team.
She very well understands the aspect where she excels and always asks for help in matters where others have mastery over her. She is responsible for taking care of all the departments. So, to ease the work, she hired consultants who would advise her on machinery selection, factory layout, employee hiring, and team training.
Her solid academic background has helped her to manage the responsibilities properly. She states, "My industrial engineer background was very helpful in setting up an ergonomic facility and efficient production methods. My MBA knowledge has mostly been useful in the financing, marketing, and cost management."
Resourceful, Driven, Trusty and Visionary are the four excellent traits in her personality that help her pave her business to the top. Whenever an option does not work for her, she has different plans to counter the problem and reach the end result. She adds, "Now, almost 6 years later, I am not involved in the production, I mostly oversaw reporting, sales, and business development."
Thoughts on balancing the professional and personal life
With the company's production settling down and gaining the full support of her excellent team, she spends a lot less time at their production facility and works mostly from her home office.
COVID-19 came with some issues for everyone. However, Corinne saw towards the bright side. She states, "The silver lining from the pandemic is that now both my husband and I are working from home side by side. We get to see each other more, take all our meals together, and entertain each other at home. This is fantastic! In addition, since I am the boss, I get to schedule my hours on my terms. Sometimes, the starts are 4:00 AM (infrequent business trips or call with suppliers in Asia), and sometimes, I sleep in until 10:00 AM on weekdays. And I definitely take naps, three times a week."
Being good at management of time, she expresses, "I always make sure to compartmentalize and create personal time. I make sure to find time for my husband, keep in touch with friends and family; attend milestones events, get together and definitely travel the world."
Future plans for the company
The best known and oldest Haitian brand, the Rhum Barbancourt, started in 1862, reported sales of $18 – $25 million (2018 est). They are on track to reach their first million by their 10th anniversary and rival Barbancourt's current sales within their 15th anniversary.