Gina Rivera: Redressing the Salon to Create Opportunity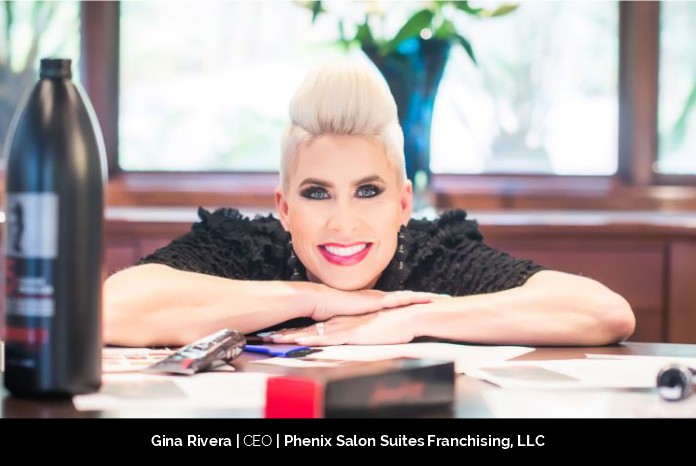 Gina Rivera who is the Founder of Phenix Suites Franchising, LLC states that success is not always about the end prize but rather, it's staying true to your passion and your goals. She further adds that persevering and falling in love with the process of venturing into a professional pursuit is an important thing. Success is much more about what you learn, what you endure, and the journey you undertake while on the road to success. Keeping your integrity and building the right culture is key to this process.
There are circumstances of the tradition that are transferred in most family businesses for generations that evolve into being extremely powerful, quite tangible, relevant, and of faith and dedication. This condemns the secrecy to let the succeeding generations unleash the tradition and not be unreasonably a burden to the preceding ones. Gina's family has been in the beauty industry since 1929 and has a long family tradition of prolonged businesses in the world of beauty. She also currently has over 25 hairstylists and barbers in her immediate family. As a small child, she grew up sweeping hair from the floors of her parent's salon. This is where she developed a deep passion and understanding of the industry. She began styling hair for clients when she was very young and attended beauty school at the age of 17. She developed a love for both the business side and the artistic side of the industry and was always aware that this would be her direction of professional pursuit. She further mentions that through the personal experiences she encountered as a booth/chair renter, she realized how important it was to be able to work for yourself in your own salon. She also was aware that many Salon Professionals lacked the financial resources to be able to commence a business on their own. Her focus was to develop a concept that would support Salon Professionals with realizing the goal of business ownership.
While encountering challenges in the professional pursuit of business, it is evident that luck is the methodology of preparation that meets an opportunity. Gina sites such a challenge in her venture wherein in 2012, the economy swirled and took a hit. She confessed that they have had just commenced upon expanding Phenix Salon Suites footprint nationally. At that time, she had to face her inner fears in order to create new strategies for elevating the company to the next level. Most recently, a similar incident again took place with the hit of a pandemic and the outgrow of the coronavirus across the globe. Her focus was directed into the addition of corporate stores as well as the launching of their presence in the United Kingdom (UK). Teamwork often fosters the dreams visualized by the entrepreneur and they act as an actualizer even when times are bad Gina says that during the recent setbacks, they have continued as a company to remain focused on their goals of expansion and development while reinforcing their primary principles of providing the highest quality services possible to their franchisees and salon professionals. To encounter the challenge brought by the pandemic, Gina and her organization have had created a blueprint to provide a new array of virtual services and they have had also identified items for elimination to reduce spending while still expanding the company at a rapid pace. They have strived throughout to be very creative in terms of marketing and allocating resources wisely. Gina further added that instead of focusing on fears during challenging periods, they have a laser focus on their strategy for success. This remains their hardcore approach today.
The ground shakers and day makers:
An anonymous artist once said that one shall either place their culture in such a manner that it might act as a reflection to modify their dreams or they shall magnify their skills if they are on the parallel edge of the knife. Gina, when reflecting upon the corporate culture quickly confesses that her philosophy is the key to Phenix Salon Suites' professional identity as a company. Her heritage has been succeeding by the later generations and dates back to 1929. As a stylist herself, Gina has an in-depth understanding of what a Salon Professional requires to become a successful business owner. She has applied these methodologies to her business model daily in an agile manner. Her vision includes exceeding the Salon Professionals' expectations on a larger margin. She is in a unique position to anticipate their needs and she strongly believes that this spectrum sets her above others in this space. Further, she adds that this vision includes keeping Salon Professionals at the center of her decision-making process because she realizes that without their success, no one is successful in her company. Upon reminiscing about her integrity and values, she knows that teamwork is very important to her venture, she adds that her corporate vision also includes a very strong foundation provided by her executive team. Her present team members consist of experts who are positioned to support the vision and mission. The areas of expertise include real estate development, site selection process, marketing, and support functions which are best in class supported by the evidence that they have not closed a single location to date.
Upon sharing with us the future roadmap that has been penned for the venture, Gina quotes that there has been nothing more rewarding than being able to liberate salon professionals to own their own businesses. If she gets an opportunity to describe herself in one word, she would state that "she is a fighter." She has fought and overcame many fears and a lot of adversity along the way. She further mentions that she is also willing to go to the mat for things that she believes in, especially as they relate to rights for salon professionals and the wellness of the beauty industry as a whole. Her current focus includes corporate store development; meaning building and operating corporate stores on a larger dimension. In addition, she also mentions that she is developing new and existing multi-unit franchise opportunities. Along with that, her personal goals include continuing to push herself to step outside of the box and experiment with new things. She believes that this is the best opportunity for growth as a businesswoman. She would like to encourage other female entrepreneurs to always go after their dreams and to avoid listening to the naysayers. Being selective with who you surround yourself with is key. It's important to be with people who are positive and like-minded if you would like to be successful.