Josh Streets: Leveraging Grit and Integrity to Lead, Inspire and Drive Performance Results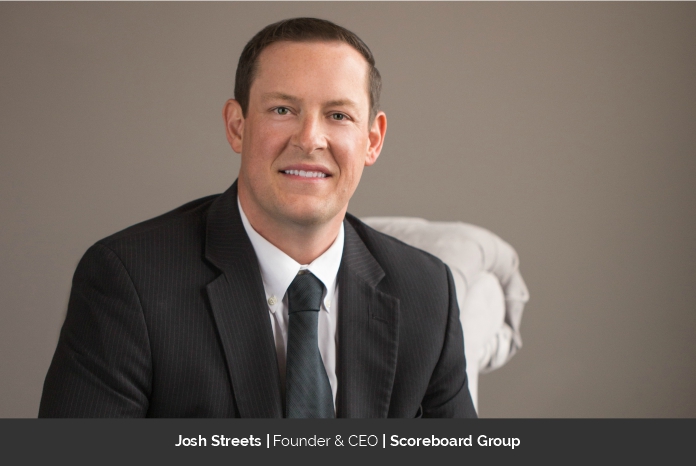 Almost 25 years ago, Josh Streets was in a leadership role as a young professional, nearly right out of school. He led contact center teams. Flash forward to 2021, he is the Founder and CEO of Scoreboard Group Consulting, a growing and thriving company that strategizes, implements, and measures a client's business performance success, mostly for contact centers. They work with many major brands in the world today on customer and employee experience. "My journey to this point in my career has been a wild ride and there's not much I would change along the way," Josh says.
In the late 1990s or early 2000s, if somebody would have asked Josh whether he envisioned himself staying in contact centers, he would have quickly responded, "No." It is because at the time, Josh wanted to be a Doctor, as he was driven by a desire to help people. Now, he feels that he can accomplish that through his present profession as well.
"Every day we get to examine businesses symptoms, diseases and prescribe solutions to help turn around their performance," Josh says. He and his team also work with some major healthcare companies to resolve employee and patient experience issues. And they work directly with physicians as well.
"Life has a strange way of working out sometimes and my personal journey is one of those stories," Josh says.
Start of Scoreboard Group Consulting
Josh launched Scoreboard Group Consulting in 2015. He got the idea to start it when a few companies approached him for advisory level support for their contact center turnarounds or strategy. "I was employed at the time and decided to take a leap of faith once my client roster grew large enough," he remembers.
He started his company with just one person – himself. From a one-member team, Scoreboard Group Consulting has grown into a company of very talented people who share a similar set of values and skillsets. "We're all focused on leveraging people, process, and technology-related experience to help businesses and people move forward successfully," Josh says. "We do it in a way that's different than the Big 5 Consulting firms we compete against."
He had been consulting his entire career – internally for large companies in leadership positions. So Josh feels that it was a natural evolution and seamless transition from being a thought leader in those roles to building a group practice.
Services Offered by Scoreboard Group Consulting
Scoreboard Group Consulting has a group of professionals dedicated to people, process, and technology transformation for small to large enterprises, primarily in the performance improvement and contact center spaces.
"We partner daily with business leaders and executives to identify and quantify opportunities for improvement," Josh says. The company's expertise is in the technology, operations, strategy, leadership and innovation areas. "This comes to life in engagements like customer experience transformation, technology guidance, and the integration or implementation of artificial intelligence, cloud based communication systems, or operational strategy," Josh says. "I think of it as Customer Experience as a Service."
The company also focuses on Employee Experiences from a culture and systems standpoint, in addition to leadership advisory. Josh says that every day is something new and once the trust is built with clients, they tend to become an ongoing partner to perform due diligence, refine operations, improve digital strategy, and even facilitate learning and development opportunities for those who need a third party perspective. "We're not attempting to be all things to all people, but we tend to deliver exceptional results & get additional requests" he adds.
Always Trust People in Competitive Industry
Josh points out that there is a fair amount of competition in the industry. And, in recent years, a lot of professionals have moved out of the traditional space and adopted the gig economy. "We know there will be more making this move," Josh says. And, therefore, Scoreboard Group Consulting is setting itself up to acquire talent and give them a platform to start their own consulting practice if it fits under the company's performance consulting umbrella. "While we are a small band and must play many different instruments, it is an advantage over our competitors right now," Josh says.
"Our co-founder, Sr. Consultants and I are still doing some of the consulting," Josh adds. "If you choose us over some of the larger firms, you're not going to get a person with 2 years of experience telling you what you already know." When they join Scoreboard Group Consulting, they do not have to see their seniors repackaging their ideas as theirs.
"You get decades of deep knowledge, experience, guidance, relationships, and support," Josh says. "For a very reasonable price, considering we're ROI driven and like to measure everything to support our clients investments."
Josh believes that it is people who differentiate them. "Having hired and fired consultants and technology companies in our corporate careers, we've been in many of our clients' shoes before," he adds. "We're very relatable and will bend over backward to exceed expectations. You should never trust a strategy, but always trust the person or people leading it. We all bring large enterprise experience, so small and medium companies are blown away at our organization abilities, planning and agility".
Defining the Purpose
Josh did not get up one morning and decide to launch his company. And once he got the business idea, he did not immediately name his company, become a full-time entrepreneur, or set some long-term goals. "I had to get very self-aware and clear on what I was attempting to do," Josh says. "Leaving a great paying position, while trying to support a family and not go backward in terms of our standards of living took careful thought."
And his driving force behind it all was defining his purpose. He defined it as "bringing out the best in businesses and individuals while adding value and making a difference." After defining his purpose, he aligned all his decisions around that one vision. "From the name and logo of the company to where I choose to invest my time or money in venture capital opportunities, volunteering, friends and projects," Josh says.
"Does it help me fulfill my purpose? If the answer to the question is no, you won't see me waste my time, energy, or resources on it. I am hyper focused on performance & purpose."
Measures Success by Organic Growth
Earlier, Josh used to measure success based on his job title and salary. "I spent decades grinding, way over 40 hours a week with Holiday and weekend work to make a name for myself, and then I hit a breaking point," he says. Now, he measures success by organic growth of the company, mental health, physical health, free time for family, and liking what he does. "I also measure it by whether I'm making a difference in helping team members achieve their goals, as well as clients," he says.
An avid reader and learner, Josh has constant focus on improving himself. "I've used regular mental fitness to identify and overcome some personal blind spots, ways of thinking, limiting beliefs I'd had from childhood, and many other obstacles to get to this point," he says.
"Have I made it yet? Absolutely not," he adds. "Am I focused on improving and growing in a balanced way every single day? You bet."
Problems Lead to Dream Destinations
Josh firmly believes that problems really set someone up to learn how to get what they are asking for in life. He underlines that it does not make them easier, and he has had his fair share of such tough experiences. "Growing up without a father figure to learn from was one of the first challenges I experienced," Josh says. His father passed away when he was 8 years old.
"And coming from a blue-collar background and achieving success in a white-collar environment came down to what I call our 5 D's that form the foundation of our companies' values: Determination, Drive, Delivery, Diversity & Doing the Right Thing," Josh says.
He points out that he is "rarely" ever the smartest person in the room. He, however, has learned that grit, listening, integrity and caring make the best leaders. "I am thankful that through all the setbacks, I've had someone I could look to and learn these things," Josh says. "Whether it was a company executive where I was working and observing, in a book, or from a Coach somewhere along the way." And that is why he believes in giving back and aspires to make a difference for others as well.
Overview of a Day at Work
As the CEO of Scoreboard Group Consulting, Josh is primarily focused on growing and innovating daily. "I am focused on outcomes of all potential projects, open projects, working on many pieces of those projects myself, and identifying ways to refine what we do in the day to day," he says.
"While I am still working in the business more than I am working on the business, I am shifting toward making it to the level of growth where I get to do what I do best daily," Josh says. He prefers to lead, inspire, and drive performance results across the leadership team & company.
At work, Josh also spends a lot of time communicating with key business partners that have relied on the company to grow together. "We would not be anywhere near where we are today without the support of some key national and global partners that have placed an incredible amount of trust in us to deliver for clients like Hulu, Blue Cross Blue Shield, Stanford University, AmerisourceBergen, Galderma & other large enterprises," Josh says. "While we have some strong anchor clients regionally, it's these global brands that keep us on the bleeding edge of our space."
Josh and Technical Practice Co-Founder Jeremy Ward are very focused on the future of business and constantly sharing ideas back and forth. And as two early investors into decentralized finance, blockchain, crypto, and other metaverse-related projects, they are always looking for the next big idea to add to their portfolio, spin-off a sister company or to keep the growth skyrocketing.
Vision for the future of Scoreboard Group Consulting
Josh imagines Scoreboard Group Consulting as a larger, more innovative firm filled with the best and brightest minds of the future. "I believe we have the right foundation & people now in place to bring this vision to life," he says. "We have specific revenue targets and consulting practices he believes will need to be developed in the next 10 years."
He also points out they are a big fan of end goals versus means goals. "If we want to become a billion-dollar business in the next 20 years, that's a great end goal," Josh says, adding that as far as the means to get there, the annual goals, he knows they will work themselves out in the process and there will be pivots along the way.
Josh is focused on the long term, but he also ensures that his teams' personal goals – like buying a home in Portugal, or moving up to a Chief Operating Officer role – are realized along the way. "What you think about, you bring about, with the right actions and repetition. These are the types of thoughts that primarily fill my mind and our teams these days," he says.
Roadmap for Scoreboard Group Consulting
The company's roadmap is primarily growth and revenue-focused while adding the right people to support it through 2025. "Without a group of investors backing us, seed funding, or other growth vehicles, it's about bootstrapping even further and conserving cash to invest back in the business growth," Josh points out. For over six years now, it has worked so far for the company's balance sheet. And the company's other smart investments are keeping them beyond whole financially.
"While we move this baby company from toddler to pre-teen in the next few years, some of the difficulties will disappear and new ones will emerge," Josh says. "We're all self-aware, focused on the big picture and ready to do what it takes to continue helping executives and leaders win in their marketplace."
Message to Younger Self and Aspiring Business Leaders
Josh has the same message for his younger self and business leaders. And it is the message he has written in his book "Fix the Root & Get the Fruit" as well.
"I speak on it, and it's a personal project of mine to win others to this way of thinking. Its theme is about using nature to understand a lot of life's opportunities," Josh says. "Remember that the day you plant the seed is not the day you eat the fruit. You must get under the surface of what's holding you back before you can grow."
"And as you grow, take some advice from a tree," Josh adds. He also tells his younger-self and aspiring business leaders to stand tall and be proud, go out on a limb occasionally, remember their roots and enjoy the view along the way, while helping others around them.
"You first podcast will be awful," Josh adds. "Your first speech will likely be terrible. Your first article or book will suck. But you can't make your 50th one without making your first. So, get it over with, learn from it and move on."