Eric Hays: Leading with Vision, Passion and Infinite Dedication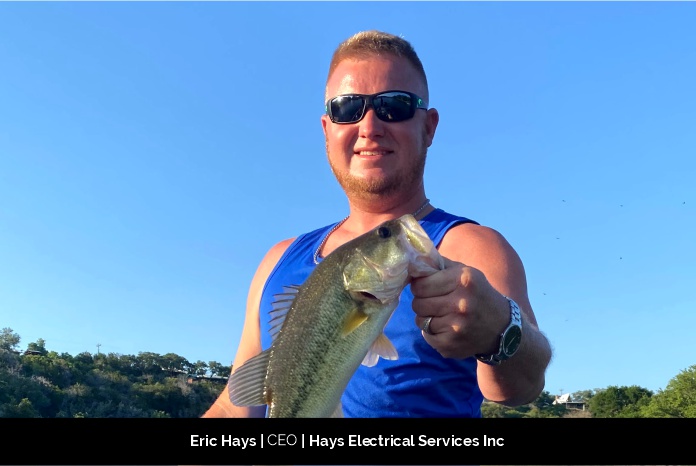 Not everyone has the bravery of taking the risks on their dreams and calling themselves entrepreneur. People are really different in characteristics and follow by a desire to start up their own businesses. These are the ones whose minds are filled with ideas and potential. But starting a business is a double edged sword in today's time as business world has become more competitive than ever. But still there is no barrier in the success if one has a great idea, dedication to change that idea into reality, and the vision to transform that reality into success.
Eric Hays is the man of vision who transformed his idea into a success story. In 2006, he founded Hays Electrical Services with the mission to provide electrical construction and maintenance services to businesses and homes throughout the US. Now it's been 13 Years and now Hays Electrical Services is a renowned name in providing excellent services to customers in industries hospitality, commercial and solar.
Once a Leader always a Leader
Eric has been a leader his whole life and it has always put him into a situation of controlling the outcome or scenario at hand. Every job he had while growing up he was promoted within months and most of the time being the youngest with that title or role. The first people he mentioned about his thoughts on becoming an entrepreneur was his In-laws. He says "sitting at the Kitchen table one afternoon with my In Laws talking about their daughters and my future, I mentioned that I would like to venture out and build my own business but that would take some sacrifices in the beginning." He further adds "they were on board with the risk and agreed to help him in any way they could." For Eric, thankfully, the company took off faster than expected and only moral support was needed.
Being the boss of own is not as easy as it sounds. For Eric, there were many late nights and long days of hard work. He started with a ladder, tool bag, and DeWalt drill and today, 14yrs later the company has over 165 employees and still growing.
Offering Quality, Commitment and Success
Hays Electrical Services specializes in Commercial and Hospitality renovations across the US being licensed in over 25 states. The company has always provided quality work on time with the goal to always exceed the expectations of its customers with completing the work on time with quality workmanship.
Power stability plays significant part in organization's growth and having an electrician with 24hrs support is the way to making sure that. At Hays Electrical Services, the services are provided by only skilled, licensed electricians who enjoy their profession and take pride in the quality of their work.
With years of experience and best technical skills, Hays Electrical Services first anticipates project challenges then develops a comprehensive solution that meet customer's objectives. This process allows the company to continue to meet the stringent standards of quality and integrity expected from the customers and the company itself.
Also, Hays Electrical Services intends to take each project with a cooperative mind-set, working with business owners, contractors and subcontractors toward the common goal; successful project delivery. The company states "Our diverse customer portfolio and specialized divisions ensure that each project is matched with appropriate resources and expertise."
The company's motto is "Stay Positive and Work Hard." Eric states "we have thrived on building a positive culture here at Hays. This has in return brought valuable employees to our work force and forced our success."
Standing together through Thick and Thin
Eric started his entrepreneurial journey at very young age. He says "having a young mind has brought many challenges to my journey. I have learned a lot just from trial and error but most importantly I have a very open mind and have always looked at my piers for advice and guidance." He recalls the time when he started Hays Electrical Services as there was always a financial struggle in the beginning. Being young forced him to operate on a cash basis only. He asserts "my wife "Candice" stood by me through some tough financial situations. We never had a big loan or credit to purchase materials or pay labor. We always had to do it with the capital we had at the moment."
An Ardent Leader and A Loving Father
As a founder and CEO of Hays Electrical Services, Eric understands every aspects of the business. He is collaborated with every team and their work of Hays from operations, accounting, to sales. He says "I stay involved and work with each employee here to guide our success."
Eric sees every employee as a family member and wishes to see them thrive in their life. He opines "It's a real joy to see our employees succeed in life whether that is starting a new family or buying their first Home or Boat. I love seeing our Hays family succeed in life".
Being a leader of a company is a different thing and being a father of 4 kids is different. Leading a company with maintaining a perfect work life balance is nearly impossible. Still Eric tries to maintain this balance as he states "this is always a struggle with 4 kids and 1 on the way. I must dedicate every minute away from my office to my wife and Kids; Family First."
Keeping Promises
Hays Electrical Services maintains long-standing relationship with its customers. For future, the company wants to lead by providing more value-added services, technical support and becoming more responsive. It plans to provide more comprehensive services that enhance customers' work quality, and intends to make available its electrical services to a larger number of customers. Eric says "I do not really know where I see Hays in 10-20yrs. I know I will still be here working as hard as I did the day I started the business because I love what I do and the people that help me do it."