Greg Smith & Josh Kaplan: Pushing the Boundaries by Creating Amazing Insurance Products that can Change People's Lives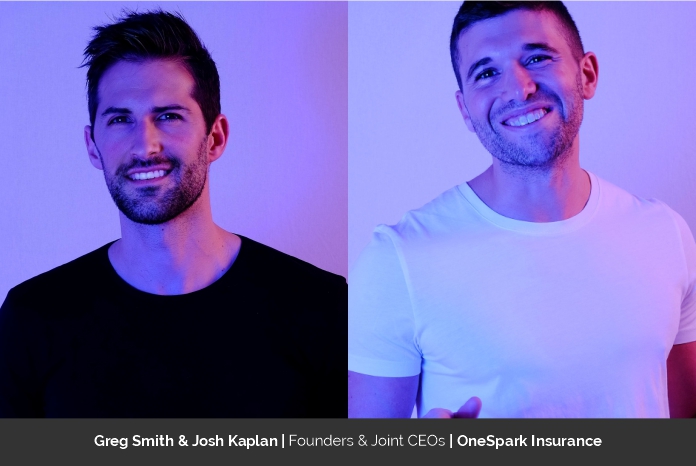 Traditional life insurers charge people extra each month for things they have no control over, like as other people cancelling, other people's claims, and future coverage for which they may never be present. They also overcharge clients for basic cover and hide behind complexity to eke out profit. 'It just doesn't make sense' right? OneSpark's co-founders Greg Smith and Josh Kaplan are challenging the current status quo and pushing the boundaries of what is possible by creating incredible insurance solutions that can transform people's lives, save money, and make the world a better place.
The duo feels deeply disappointed by the stagnant global life insurance market, where often profits are prioritised over clients. For years, there has been no genuine innovation in the life insurance industry, and in some cases, consumers are paying nearly twice as much today for the exact same amount of coverage as they did 20 or 30 years ago. In this sense, insurers appear to innovate for the sake of innovation, developing products that don't provide much value but allow them to charge more. Co-Founder Josh said 'We wanted to use our unique skillsets as actuaries to develop products and ideas that promote good societal change, in addition to putting our clients first.'
Greg and Josh have completely reinvented the life insurance concept with OneSpark Insurance, producing world-first Life, Group Life, and Funeral Insurance products for the South African market and soon the Canadian, UK and US markets.
The Joint CEOs of OneSpark
Greg Smith is in charge of OneSpark's Actuarial, R&D, and Operations departments, while Josh Tana Kaplan is in charge of Marketing, Distribution, and Technology.
Greg and Josh are driven by a common goal of a better South Africa and a better world. The pair states, "We motivate our people by reminding them of what we are building together, how we are pioneering a new path in insurance and how we are changing the global insurance landscape forever." It is also that shared passion that motivates both of them on a daily basis.
Pairing Intelligence and Vision Together
Greg and Josh are both qualified actuaries who formerly managed the Research & Development teams of a major global insurer. Before launching OneSpark, they developed some of the most creative insurance, wellness, and banking solutions that won awards on the global scale. They also collaborated with the South African government to assist in solving the country's higher education issues, creating one of Africa's first and largest social impact bonds, raising hundreds of millions of rands to help those less fortunate.
Challenges that Become Learnings for Life
As a start-up, one must be adaptable and agile, and one must do it faster than anyone expected. OneSpark is still a very new firm, having been founded just a few months ago. Greg and Josh have been quite active throughout that period, launching a number of world-first items. However, because of the rapid speed of innovation and the disruptive nature of it, it attracts a lot of attention, notably from rivals and regulatory authorities. As a consequence of regulatory restrictions, one of OneSpark's hallmark insurance products had to be pulled from the market and changed. Greg and Josh state, "We could not sell any policies for weeks. It was tough. We had to rethink, redesign, and re-launch new products in record time to allow us to get back selling. We managed to do this in just four weeks, which was an incredible achievement for such a young company. Even more inspiring was to see how we came back stronger, breaking our new business sales record a few days after our return to the market."
One of the most important lessons Greg and Josh have learnt is that they must continually surround themselves with individuals who are brighter and more skilled than themselves. Greg and Josh say, "People who complement our skills and bring unique and different viewpoints, challenging and inspiring us to greater heights." The duo further adds, "As leaders, you are constantly learning from those around you, so you need to make sure that those people are exceptional."
Two quotes from Greg and Josh live by 'Empires are built by the team, not the individual', and 'If each of us hires people who are smaller than we are, we shall become a company of dwarfs. But if each of us hires people who are bigger than we are, we shall become a company of giants'.
Keep Innovating
Greg and Josh are confident that they have surrounded themselves with one of the strongest young insurance executive teams in South Africa, all of which have extensive expertise in the insurance business in South Africa and abroad. "The range of knowledge and expertise within the company is exceptional, and it is this experience that drives the innovative solutions we have created, and has helped us navigate an incredibly complex and ever-changing market" say Greg and Josh
The pair sees constant innovation, pushing the boundaries and redefining what people think is achievable in the insurance industry as their vision. They often work backwards where they define a seemingly impossible product and then work backwards to make it a reality. They have products which pay backs millions of rands if their clients remain claim free, a seemingly impossible product, made possible. They go on to say that the insurance market is highly crowded, with dozens of competitors all appearing to be selling the same thing. Greg and Josh assert, "The challenge is differentiating yourself, which we do by continuously innovating and bringing new, world-first products to life that better meet our consumers' needs and push the company, the industry, and the world, forward."
Proud Moments and Remarkable Accomplishments
Greg and Josh consider their greatest achievement to be the simple act of bringing their OneSpark vision to life and actually following through on everything they stand for—which they believe is difficult as a startup in such a competitive field where it is easy to take shortcuts and stray from one's core purpose.
Despite being a new firm, Greg and Josh feel themselves lucky in that they have reached several milestones and achievements of which they are extremely proud. They have accomplished more in a few months than most firms manage in years, from developing the world's first AI powered, Pay-As-You-Need and Peer-to-Peer Life Insurance product to designing products which help uplift the most vulnerable in society which give back millions in life-changing cashbacks. They state, "The crowning moment was when we won the 'World's Most Innovative Life Insurer' at an global fin-tech awards ceremony earlier this year. We went up against the best globally, and won!"
Beyond their innovative accomplishments, Greg and Josh have aided in the development of a number of large-scale social impact initiatives that have been implemented across the country. They are following through on their mission to do good and create hope for people who need it most, from helping to raise hundreds of millions of rands used to fund underprivileged students throughout their university journey to helping to rebuilding many businesses and schools affected by the recent societal unrest in South Africa.
Prioritizing Mental Health to Stay in Balance
Greg and Josh are ambitious and truly want to make a difference in the world, and they work hard every day to achieve that goal. To introduce, develop, and market many world-first products in the little time they have, they have had to make certain sacrifices. As a result, their capacity to strike a work-life balance has been compromised.
According to Greg and Josh, workdays are easily 12-14 hours long, with a gym break and a couple meals in between. The team generally works on weekends as well, although they do take some time off to relax with family and friends. That being said, "We do cut out time to socialise as far as possible, and make sure that our mental health is always prioritised so that we can operate efficiently and make the correct decisions."
True Success Brings Positive Impact
Greg and Josh believe that success is defined by making a good difference in the lives of their clients, employees, and the general public. OneSpark was founded on the notion that all it takes is one individual with one spark of an idea to transform the world. The objective has always been to shake up the financial services business, disrupt the current quo, unite like-minded visionaries, and move the world forward.
Become a Force for Social Good, while Driving Positive Change in the Industry
According to Greg and Josh, OneSpark's future contains millions of satisfied customers, many more world-first inventions, and many lives transformed for the better. OneSpark is taking on the whole financial services sector on a worldwide scale.
OneSpark's reinsurers, GenRe (a Berkshire Hathaway subsidiary), have offices in over 40 countries, allowing it to interact swiftly and effectively with important partners all over the world. Greg and Josh state, "We have already patented and trademarked our products in the US, UK, and Canada, and we are currently in talks with various offshore investors and partners to help with our international expansion."
Greg and Josh's ambition for OneSpark is for it to become a worldwide insurance giant recognised for its innovation and client-centric approach, transforming insurance from a disliked and distrusted sector into one known for the positive influence it has on customers and the world at large. As per the duo, "We want OneSpark to be a force for social good, driving positive change in the industry and building a better tomorrow for consumers in South Africa, and around the world. We will start in insurance, then move to broader financial services and all whilst using the company as a vessel to bring about change to the world."