Greg Coleman: Empowering Businesses by Offering Sustainable Energy Solutions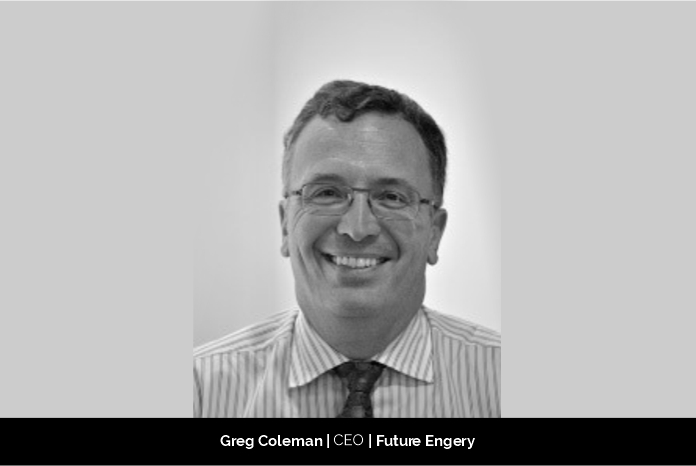 The world is at the stage of an energy crisis. Energy consumption is increasing with every passing day. In the coming decades, with the present consumption of hydrocarbon energy sources, there will be continued demand for fossil fuels, which leads to needing to look to renewable energy solutions. The primary advantage of using renewable energy is that it can provide diversity to the energy sector in the long run and enable the world to achieve carbon neutrality.
Recently, sustainable energy sources like wind, geothermal and solar power generation have shown promising potential for becoming the future of energy. With the expanding capacity at the global level, these energies can allow people to use clean, renewable energy resources without harming the environment.
With years of experience in the energy and oil sectors, Greg Coleman is an expert in environmental policy, stakeholder relations, health and safety, and investor relations. He is the CEO and Managing Director at Future Energy Partners that provides businesses clean energy options and practical solutions.
From Greg's viewpoint, there is much to offer the next generation of leaders and professionals in the hydrocarbon and energy industries. Future Energy Partners starts with decades of experience assessing oil and natural gas assets and company risk and developing measures to mitigate those risks. He says, "Using technical insights and analytical tools that combine with experience to make projects to be more successful and deliver what the world needs."
Services of Future Energy Partners
Future Energy Partners offers expertise in energy, innovative energy solutions, and traditional hydrocarbon asset operations and developments.
The organization is currently focused on monitoring, measuring, and eliminating greenhouse gas (GHG) emissions, especially fugitive methane emissions. It enables delivering today's energy needs responsibly and professionally. The organization is committed to addressing today's energy needs and offering multiple solutions in a diverse manner by identifying opportunities to address industry challenges. These solutions can include Remote Methane / Flaring Surveys, 3D Visualisation for Leak Detection and Maintenance Opportunities, Cutting Edge Leak Technology, Predictive Analytics of Rotating Equipment Failure, Inspection Routines and Maintenance Optimisation, and HSE Management Systems to enhance and modernize a company's current management system to address operating efficiency, safety performance, and costs.
Greg opines, "I am particularly focused on East Africa and the development of geothermal resources. It seems like our extensive resource development experience can be applied to geothermal developments."
A Team of Industry Experts
Future Energy Partners works with energy experts who can deliver solutions for its clients. Greg explains, "A solar plant can electrify an operation which previously used diesel to power its equipment. Remote sensing using satellite and unmanned aerial vehicles integrated with on the ground sensors can identify methane emissions which can then be systematically eliminated." At Future Energy Partners, the vision is to provide solutions to clients with complete ownership by the client. Due to constant technological advancements, the energy industry is leading through many exciting developments from digitization, remote working on projects and operations, remote sensing, and new technology to enhance value.
Engaging Everyone for One Vision
Learning is a lifelong process, and making mistakes is a part of that process. Acknowledging previous mistakes is a way to think of them differently and using the lessons learned in the future. Greg mentions, his mistakes have taught him more than anything. He says, "They stay with me." He also mentions that successes can be easily forgotten. In his journey, he had faced challenges with stakeholders. He considers stakeholder engagement an essential part of any organization's success. He adds, "If all stakeholders aren't on board with plans, whether investors, suppliers or communities, then projects are less successful than they should be."
Working to Bring Change
Future Energy Partners is committed to making the world a better place and reducing human impact on the planet. The company considers "what people need to improve their lives." It partners with like-minded firms where the teams can work together to deliver the best solutions for the clients. The company states, "Sometimes, we need to step aside and let the best people do the job."
Life before Future Energy Partners
After graduating from the University of Manitoba with a degree in Geological Engineering, Greg worked as a petroleum engineer in western Canada. Even in his early school days,
Greg wanted to work in the petroleum industry. He and his family moved frequently between Canada and the USA before moving to the UK to work with BP in planning and eventually asset management. The family had spent two years in Venezuela where Greg learned so much.
Balancing Personal and professional life
Communicating with people and letting them understand about business and its vision is part of having the cap of CEO. Greg spends most of his days meeting people, developing partnerships, and preparing a proposal for clients. The COVID has affected every industry, and the energy industry is no exception. As Greg mentions, "For the last 18 months, my work has been constrained by COVID, so I have learned to live 'online'. I miss the personal interaction and travel."
Greg says, "My wife would say I don't have a work life balance although a new addition to our family has meant there is little time for work in evenings and weekends."
As a CEO, Greg loves his work and believes there is so much to do. For him, the best way to motivate people is to let them deliver within well-defined boundaries and milestones and support them in delivering their work.
Becoming Helping Hand
For the future, Future Energy Partners plans to start projects with the vision to make a meaningful difference for its clients and its stakeholders. Greg believes, "the need for a systematic transition in the way we develop and utilize energy is essential." He is committed to contributing to the development and improvement of people, especially in Africa. Greg supposes that there is so much to learn about the people, their needs, and wants. And to fulfil the requirement of people in need is a journey that keeps Greg energized every day.