Cathleen Beerkens: Inspiring people to live a more impactful life through self-care and self-reflection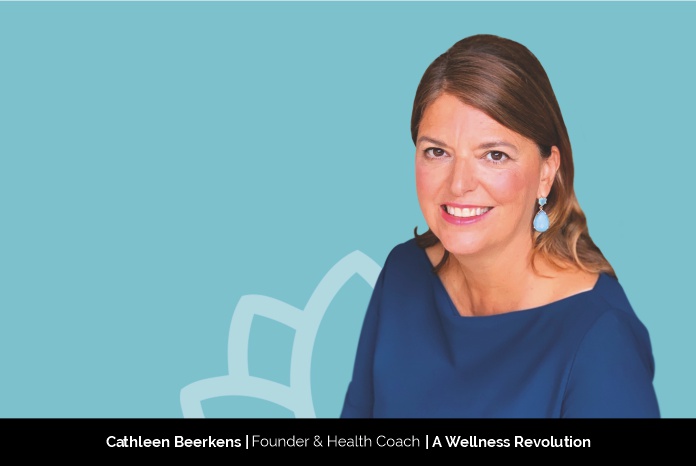 The notion of wellness has been around a long time. The increased awareness and consciousness of people in general nowadays has them perceiving wellness through a much more comprehensive and sophisticated lens, which includes physical, mental, and spiritual health, as the focus on integrative and holistic medicine gains momentum. In recent years, people throughout the world have grown conscious of the importance of health and well-being and are increasingly asking the big question, 'what is wellness?' and 'what is it like to live a life full of health, prosperity and abundance?' Simply avoiding illness does not seem to be enough anymore.
Cathleen Beerkens is the Founder of A Wellness Revolution, an organisation that is committed to providing education, training, and certifying Health and Wellness Coaches in a holistic way, as it integrates the understanding and complexity of the connections between the body, mind, and spirit. The company states, "Our Certified Health and Wellness Coaches will bring this new understanding, as the coach, to all areas of our global society."
"I am motivated to make an impact to help people become self-actualised and find their purpose in life," says Cathleen Beerkens. As a child, Cathleen always believed in a world of goodness and love. Her childhood had these elements, but in general, she was struck with the overwhelming sense of a world that was highly disconnected from balance. Cathleen observed this disconnection as it affected her immediate family, the community, and the global world that we live in. She says, "My true purpose was born from these observations. I wanted to help the world to become more connected and whole. "
A Wellness Revolution
A Wellness Revolution was first registered in 2018 and since then has been granted two very important international certifications: the National Board of Health and Wellness Coaches (NBHWC) and the International Coaching Federation (ICF). The company has also been granted Dutch accreditation by the organization BLCN.
Cathleen Beerkens believes that, like most professional organizations, Health and Wellness Coaches are becoming more and more regulated and the need for certification will become absolute in order to enter mainstream medicine. The need for Health and Wellness Coaches will become so high in the world we live in today that an increasing number of hospitals, doctors and medical centres will be hiring them to help people on a one-on-one basis with their health challenges. The role of Health and Wellness Coaches will be to work with clients to help and support them in changing their lifestyle and behavioural habits.
A Wellness Revolution trains Health and Wellness Coaches to enter these health care facilities and/or help them start their own entrepreneurial businesses. Many of our students have already worked in the health care arena as doctors, nurses, physical therapists, general therapists and healers. Others come as mothers, fathers and concerned individuals that want to make a difference in their own health and wellness or that of others.
In this course we help our students develop proficient skills in coaching and bring knowledge of the New Sciences of Epigenetics, Neuroscience, and Glycoscience, and an understanding of the importance of the health of our cells to our wellbeing.
To provide critical education and to build a community and support connection, Cathleen started by developing classes for local communities in the Netherlands and developing a Holistic Coaching Course for Health and Wellness Coaching. Cathleen often refers to the Chinese proverb, "Give a man a fish and you feed him for a day. Teach a man to fish and you feed him for a lifetime."
New Holistic Approach to Teaching
At A Wellness Revolution, the team focuses on the new understanding of neuroscience where they help students learn the importance of thoughts, thought patterns, and emotions that influence the ability to create different possibilities in life. The team states, "We teach our students how to use the spiritual laws that govern science. For instance, the law of vibration, or the law of alignment, governs our energetic world. "
The students love learning about the complexities and bio-individuality of wellness. The team also believes in the new forms of education and testing where they focus less on memorisation and more on integration and application. The team gives oral discussion group tests to help the students integrate and use the material in their coaching practices.
Enhancing Knowledge to spread more Awareness
Teaching others how to coach holistically, focusing on mind, body, and spirit is inspiring and brings Cathleen great joy. Her YouTube (A Wellness Revolution YouTube) channel also provides her with a chance to share fresh ideas, new scientific research, and new knowledge of holistic bio-individual health with the community. She states, "I want to train thousands of students all over the world to have this new knowledge to help transform and support the mainstream medical system as they themselves will be making a big change."
For example, in one of her YouTube videos she interviewed Linde Mees (owner of Whole Systems Energetics) to share the latter's story about how she helps businesses improve the energetic fields of their systems.
According to Cathleen, one of the things she has learned from Steve Job's commencement speech is that one cannot connect the dots forward. In reflection now, her passion for helping other people has guided her to this moment, in the last three years, where she used all her knowledge and compassion for humanity by starting and developing A Wellness Revolution.
Continuously Improving to Achieve Perfection
Cathleen motivates individuals to rediscover their lives and strengths. It contributes to increasing awareness and awareness of themselves and their environment. She loves life and her drive to never give up is one of her finest traits. She is constantly updating and perfecting the accredited course.
Making the World a Better Place
A Wellness Revolution has been awarded numerous pioneering honours since 2019. Although Cathleen was not focused on getting an award, her hard work was made clear. She believes that A Wellness Revolution is in its infancy and will continue to grow and expand. She says, "I will never stop my quest to make the world a better place."
"As a Health and Wellness Coach, it is vital for me to continue my speech and practice self-care in all aspects of my life that have an impact on my brain, body, and mind," Cathleen says. She finds that it is impossible to encourage others to have a healthy and happy life if this is not her own priority.
Wants to Encourage More People about Health and Wellness
Cathleen's goal for the future is to produce A Wellness Revolution leaders, teachers, mentors, and coaches. She will extend and inspire others to uncover new approaches to attaining a healthier existence through her YouTube channel. She asserts, "We will grow to have a global influence."
As an influencer, she advises emerging young leaders to follow their hearts, and no matter what shows up daily, continue to focus on their vision and dream.