DietSensor: Ensuring Nutrition needs are Addressed in a Beneficial Way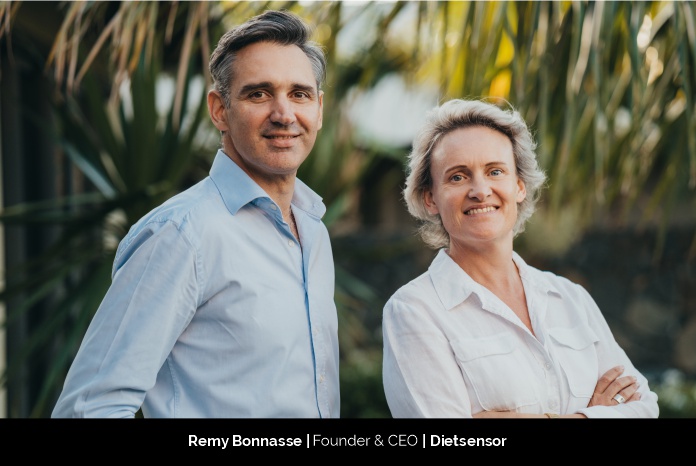 There are lots of healthcare applications, and most of them are calorie counting apps (poor advice content) and online tools to interact with a dietitian (rich advice content but hard to put in practice). But what if the advice from your dietitian could be implemented in an app that makes it available anywhere, anytime, when, and where you are eating.
Using a diet app is now a natural solution for most people. Studies have shown that it works pretty well. 78% of regular users have lost body weight, and 25% have lost more than 10% of their weight. Overweight and obesity is the first non-viral epidemic with 1, 4 billion people worldwide. It leads to cardiovascular disease, diabetes, and even 30% to 40% of cancers.
To help people with personalized health and nutrition management, Remy Bonnasse and his wife Astrid founded DietSensor. It is an innovative nutrition coaching app for weight loss and healthy eating.
The idea of DietSensor Inc was born when Remy's daughter suddenly got sick in 2013, and the French couple's daily life changed. They had to calculate their daughter's food for her to live. Remy recalls, "That's why my wife Astrid and myself turned to science and invented DietSensor with doctors, to help with scientifically proven diets, anybody who needs to monitor food intake."
The app was immediately catapulted into the world's media as it won first prize for global innovation at the CES in Las Vegas. Since then, the app keeps adding diets backed by scientific evidence that works.
"We see this market grow fast with many competitors. In this market, we want to be acknowledged as the most scientific and comprehensive tool to autonomously prevent or manage chronic diseases through nutrition. We have finalized our 2 products in 7 languages and are now ready for growth and global expansion," says Remy.
Understand the Flow of the Market
When one chooses to be an entrepreneur in a market the market and its operations are new for him. There are lots of areas to cover such as raising funds and if the idea is innovative there are plenty of proposals from vendors that all say they are the perfect fit, but in reality very few of them are. Remy considers his first error as an entrepreneur was to choose the wrong vendor or wrong employee, or too early, and spend without tangible results. He suggests, "An entrepreneur should never try to go too fast. The killer concern should always be: is my product so good now that people will talk about it to their friends and family. Once the product-market fit is there, he/she should make sure to partner with or recruit a marketing team that has already proven several big successes in the same market."
Your Personal Dietician
DietSensor's study has shown that 56% of dieters regain weight after they stop dieting, and 47% haven't learned anything useful about nutrition for the long term. Team DietSensor wants to be the solution to "re-learn" healthy eating habits to stay healthy in the long term, without the need to be dependent on fad diets or expensive meal delivery programs.
To achieve this goal, the company has developed two apps. The first one, to prevent chronic conditions by helping to "lose weight in a sustainable way" and teaching how to rebalance one's groceries and meals and avoid the Yo-Yo effect in the long term. And, the second one adds specific programs to manage one's nutrition with diabetes, cholesterol, hypertension, and even to reduce side effects of treatment against cancer. One can choose among 8 Programs backed by scientific guidelines: balanced, low-carb, detox, vegetarian, DASH, Mediterranean, ketogenic, or hyper-protein. Each program contains matching foods, recipes and shopping lists, meal plans, and nutrition tips. It calculates macronutrients (incl. net carbs) and calorie needs. All one has to do is enter own food to compare with the goal; meal per meal. Intermittent fasting is accessible with all programs, and one can make sure that he is staying on track with the water & exercise trackers. "You receive tips, reviews, analysis of your past meals, reminders, and encouragement, and Our experts' answer by chat," says Remy.
Remy opines, "Our two Apps are designed to catch up with your personal nutrition needs. There is no need to be a dietitian, the app will do the job for you. Whether you're looking to lose some weight, manage your chronic condition, start a specific diet, diversify your current diet, get a personal diet plan, track water intake, or get personal nutrition advice, DietSensor has got you covered."
A Personal Hub for Nutrition and Health Management
DietSensor is the only app available in the App Stores today that gives so much guidance, according to a specific health profile. It is a lot more than a food logging tool or calorie calculator. Beyond nutrition education, it answers simultaneously many questions users may have, tailored as per profile, like a one-stop-shop of nutrition (i.e. How much should I eat of that lasagna? Did I meet my fat, protein, or net carb goal for this breakfast? What kind of food do I miss to make this lunch balanced? What low glycemic index food should I prefer? What source of good protein should I use to build muscle? Etc.). Remy states, "Your certified dietitian is not sitting next to you at each meal to provide so many answers on the fly. DietSensor helps put in practice what a dietician would tell you. If you have a dietitian, the tool will complement and help you put in practice what he/she says."
The team is also innovating by making the programs enjoyable and motivating. The team asserts, "We solve the food logging task that can be tedious sometimes, by adding voice control (on iOS) or tools to create your meal plan on the fly with a smart meal-generator. We also give you a weekly pleasure reserve of calories that you should consume eating what you most like."
Finally, French cuisine is famous worldwide because it tastes good but also because it is very consistent with healthy dietary guidelines. DietSensor has put a french touch in its all programs so the users worldwide can discover new recipes and meals.
Achievements and Recognitions
DietSensor has been awarded by prestigious organizations and received the "Best of Innovation Award" for apps and software at Las Vegas CES 2016. After winning the CES 2016 competition, DietSensor has been featured in hundreds of TV, radio, and press media around the world. Namely in the US Mashable, Tech Crunch, Tech Insider, CNN, Wired, Men's Fitness, and more.
It was the very beginning of the adventure and the success made the team very proud and also encouraged to continue because it underlined that the company served a useful need with innovative solutions. Remy opines, "The same year we also got the second place in the Publicis global innovation competition of 3200 startups worldwide."
Improving Lives
DietSensor's all employees share the same ambition; create life-changing products. "Feeling we have an impact gives a lot of motivation," says Remy. The team likes to follow users' reviews (4.5/5 stars ★ ★ ★ ★ ★) to see the change they are bringing. Like this one from Raymond a 79-year-old person who has type 2 diabetes: "Since I've started using DietSensor, my Diabetes is under control (my Hb1Ac has dropped from 9 to 7). Today, my average blood sugar level is almost normal. My Diabetologists was very surprised and asked me what I did, and I told him that everything happens in what I put on my plate and my weight (it dropped from 225 Lbs to 193 Lbs). A thousand thanks to the whole team at DietSensor."
Future for DietSensor
DietSensor is now having two apps and a great digital marketing team dedicated to its growth. The company is planning to expand globally, starting with America and Western Europe, and then Asia and Africa. Remy says, "We aim at entering the leader boards of app stores in the coming years in many countries. We are also starting to look at BtoB partnerships with corporate and insurance health programs."