Val Infante: Driven by the Motivation to Open Financial Doors for Unbanked Hispanics in the United States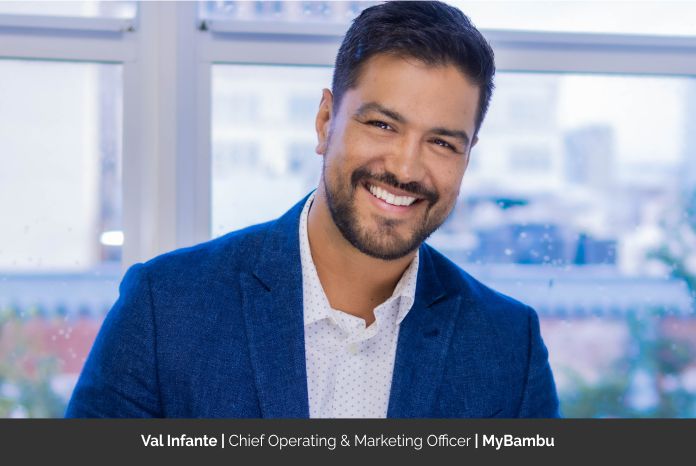 Val Infante is a dedicated fintech marketing professional with extensive expertise in global payments, banking, and remittance payments has led MyBambu to a reputation for great service in boosting client financial inclusion.
Val Infante works at MyBambu as the Chief Operating and Marketing Officer. In competitive, high-growth, multi-cultural situations, he has shown success in aiding early-stage, emerging, and established organizations to create brands, generate revenue, and provide long-term value. Val specializes in developing multi-channel, integrated, and data-driven worldwide B2B and B2C marketing and strategic initiatives. He has over one decade of experience in marketing for firms all around the world. He received a Bachelor of Applied Science in Marketing from the University of Memphis. Val formerly worked at St. Jude Children's Research Hospital as a manager and director of national marketing support.
Thanks to his commitment to empowering minorities, Val is excited to assist the unbanked, particularly the Hispanic population, by offering important financial services to a niche that is frequently ignored.
MyBambu supports financial inclusion for the unbanked by offering a variety of mobile-based financial services. We provide an easy, secure, and cost-effective alternative for an underserved audience to manage their funds.
Lead by Faith and Self Believing
Val is passionate about making a difference and creating a platform that will have a positive social impact by leveling the playing field for immigrants. Val understands what it's like to arrive in this nation, how difficult it is to find work, how difficult it is to overcome language barriers, and how difficult it is to leave everything behind to start a new life in a new country with a foreign culture. He says, "Once you overcame all of those mental and physical challenges, you encountered the next cycle of your growth process that is being neglected by financial institutions as well."
Val has always felt an emptiness in a way that he is able to overcome those difficulties and that caring for himself is selfish as he has grown on a personal and professional level. When the chance to make a difference in society, culture, and community arose, Val jumped at it to give people an opportunity to avoid being exploited by exorbitant minimums and predatory rates.
Val recalls the moment when he broke free from the constraints of the business world and was freed to employ his creative abilities, and it all began at St. Jude. Adversity, he believes, makes you stronger by challenging your cognitive processes and putting your resolve to the test.
He used to support all of St. Jude's Children's Hospital's nationwide direct marketing campaigns for the fundraising arm before joining MyBambu. He had to support over 50 different initiatives and raise a total of 700 million dollars in donations. He says, "When you believe in something so passionately, there is no going back. The only thing you have left is to believe in what you are doing and have the faith and willpower not to give up."
MyBambu
Over time, marketing has evolved from a sales and customer insight strategy to a more technological one centered on user attribution systems. MyBambu's teams are always working out new methods to target its customers in real time based on demand and product usability. As Val states, "Our marketing strategies are nimble, and we make our fintech a fun one that our customers can relate to."
MyBambu provides a bank account regardless of immigration status, check cashing, remittances to more than 18 countries, top-up services, peer-to-peer transfers, a real VISA card, and cash loading at more than 120,000 locations. Remittances arrive in the recipient's account in around 35 minutes, and transfers may be conducted immediately from the app at low rates. Money can be transmitted from one bank to another as well as withdrawn in cash in the destination country. Val states, "We want to promote financial inclusion for the unbanked, regardless of their immigration status. MyBambu provides a variety of financial solutions and gives voice to the Latino community, providing a comfortable, safe, and economical solution to their finances."
MyBambu is the only neobank in the United States with a majority of active users who are Hispanic (92 percent).The funds in MyBambu are guaranteed by the Federal Deposit Insurance Corporation (FDIC) and are protected by a highly secure encryption technology.
For consumers who want to handle their money responsibly, this fintech offers an ecosystem of financial solutions. MyBambu continues to expand, and in the coming months it will continue to offer new features and services.
Innovative Approach
Despite the fact that the digital era has taken over the marketing industry, Val believes that conventional marketing is still important regardless of where a firm is in its life cycle. MyBambu is a mobile application that aims to become the premier financial solution for a market that has long been ignored and underserved. MyBambu's better-than-banking service allows you to start a digital account with no monthly fees and no Social Security number by only utilizing a government-issued ID. We level the playing field by allowing people to begin their financial growth path regardless of their immigration status. The software is available for download on Google Play and the App Store. Both have the app.
Val is continually listening to his team and is willing to try out new ideas. Val is a firm believer in individuals believing in themselves, following their intuition, and assisting them in their professional development. He's always been one to look beyond the box, and his approach to advertising has been more technical.
Because of the company's life cycle, Val's objective right now is to focus more on boots on the ground and traditional marketing activities. He says, "I would like to showcase to our marketing peers that benchmarks are meant to be broken."
Message to Aspiring Business Leaders
"Keeping work and life balanced is a really tough thing for me to do as the leader in a start-up, as there is always something that needs my attention and, after hours, I'm thinking about other product offerings, customer activation, and funding always come to mind," says Val.
Val like to lead by example, demonstrating dedication, ambition, and enthusiasm. He believes his coworkers recognize his passion for social causes and the positive impact MyBambu is having in the neighborhood. He says, "I wake up and look at all of our metrics, from transactions to account openings and the overall health of the company." Once in the office, Val has meetings with potential partners, goes over marketing strategies and company reporting.
As a leader, his message for aspiring ones is to "Have a vision, make a plan, execute, trust your instinct, and never give up because you don't know how close you are to overcoming that obstacle." He also adds that never gives up.
Meaning of Success
Success, according to Val, is when you put your mind to anything, no matter how large or small, and achieve your objectives. MyBambu was about to go down, but Val had trust in his ability to make it work, so he stayed on, and the company opened 200,000 bank accounts eight months later.
He feels, "Success should be measured by your own thought process and goals in your own life, as everyone's definition of success is different. Goals are part of life and are defined based on our own mindset."
Val recognized by the West Palm Beach mayor's office as a key innovator and disruptor based on the company's vision and goals.