Aneysha Pearce: An Expert Brand-Builder Assisting Brands to Achieve Authenticity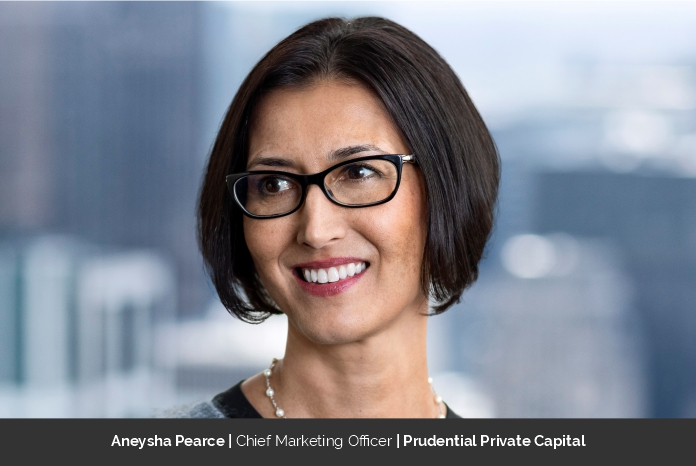 Aneysha Pearce, Chief Marketing Officer of Prudential Private Capital, is a brand-builder, marketing strategist, and reputation specialist who is passionate about helping organizations achieve greatness by being relevant and trustworthy. She has over 15 years of expertise in brand, marketing, and business strategy development for leading energy, technology, consumer products, retail, and financial services firms. Aneysha is constantly thinking of new ways to make brands more unique, distinct, and important to those who care about them.
Prior to joining Prudential Private Capital, Aneysha worked as a brand, growth, and innovation consultant at Prophet Brand Strategy, a leading brand strategy consulting organization. She worked for over ten years there, assisting leading businesses with their expansion plans. Her clients were mostly from the Fortune 500 and came from a variety of industries, including technology, financial services, consumer goods, and retail.
Aneysha was in charge of brand leadership and growth strategy engagements. She was in charge of the creation of corporate reputation programs, brand identities, positionings, and architectures for clients in the energy, technology, consumer packaged goods, financial services, and toy industries.
Aneysha has managed and led engagements for companies such as Hewlett-Packard, Mattel, Wells Fargo, and GE, among others, and is a regular speaker and workshop presenter at internal branding conferences. She worked for Mediasurface, a UK-based enterprise software company, as the Vice President of Marketing.
Her experience also includes strategy consulting at Accenture, primarily in their high-tech and retail divisions, as well as a range of strategic business planning responsibilities at Pepsi-Cola Company, a division of PepsiCo. Aneysha has a BS in finance from Penn State University and an MBA in marketing and finance from the University of Chicago.
Business Marketing and Branding Expertise
Aneysha began her career with Pepsico in the beverage sector, where she worked as a financial business planner, supporting each of her market units' yearly goals. It was an excellent training ground that allowed her to expand her responsibilities and tour the country at an early age.
Aneysha is constantly open to change and believes that active listening is one of the major characteristics of effective leaders, which she strives to include in her everyday management style. When it comes to cultivating a culture of integrity, the only way to do so is to lead by example, or to use the cliché, "walk the talk." She believes, "Being authentic and bringing your whole self (the good and the bad) shows your "humaneness" and fosters an environment where others may do the same. It makes for a much more fun, real, and engaging workplace."
Prudential Private Capital
For more than 75 years, Prudential Private Capital has partnered with a diverse spectrum of organizations, sponsors, and institutions, providing important insights, assistance, and customized capital solutions to help them accomplish their growth and funding objectives.
PPC is known for developing long-term local partnerships based on a continuous and patient commitment to our clients' long-term capital needs in an industry where cash can appear like a commodity and relationships can be transient and transactional.
Aneysha says there is no such thing as a typical work day at her place of employment. Her responsibilities include driving business strategy and developing tools to assist Prudential Private Capital's investment professionals in their market-facing initiatives. She also devotes time to helping her team achieve their career goals, altering the company's priorities on a regular basis to ensure that it is supporting efforts that best serve the business and allows its small, nimble team of seven to support both the investor and borrower sides of the business. PGIM Private Capital, Prudential Private Capital, and Pricoa Private Capital are the three separate brands used by the companies. She mentions, "We also support investment professionals' marketing efforts in 15 regions across the globe. So – we do a lot to support teams."
Passing Challenges with Resilience
Aneysha was enthralled by the potential of marketing. She likes the excitement of what's possible? How can we be bigger, better, faster? She states, "My life has been full of twists and turns, and each one has presented an opportunity for growth and self-reflection. We are NEVER done learning." She shares that her pivotal moment at a roadblock was a senior leader telling her that "she didn't know enough". That was the moment she was determined to know as much as she could so she would never feel uninformed or blind-sided.
She asserts, "Resilience doesn't let the "downs" get you down while an "up" is right around the corner."
Taking Self-Management as a Way to Achieve Balance
Leadership and work-life balance don't go well together, according to some leaders. "But, figuring out that a complex problem has to be your goal if you want a long and productive leadership career and want to bring balance to life while becoming successful as well."
Aneysha believes that balance is achieved over time, as there are times when the job takes primacy and other times when personal and family life take precedence. So, while she has found the appropriate balance between her work and personal life, she has learned that they are never 50/50. She says, "Sometime energy is skewed towards work and other times towards my personal life. This works for me, so I encourage others to self-reflect on what makes sense for them. It's a very personal definition, and no one can tell you what balance is. You need to sort that out for yourself."
Personal Goals and Women's Leadership
Supporting DEI and ESG efforts, according to Aneysha, are buzzwords that effectively represent how to promote women's professional progress and leadership in their professions. As a female leader, she understands that her role is to help others go from excellent to great. She opines, "We are an amazing organization with incredibly talented people. We are not arrogant, and it's our humbleness and inquisitiveness that make us an incredible partner."
As a woman in a leadership role, Aneysha's personal aims are to support her team's careers so that they can bring their complete selves to work and have the runway to try new things without being disheartened when they make mistakes. She opines, "Being resilient is key in this ever-changing world."