Turning Hardship into Great success, ZOOM International Overcomes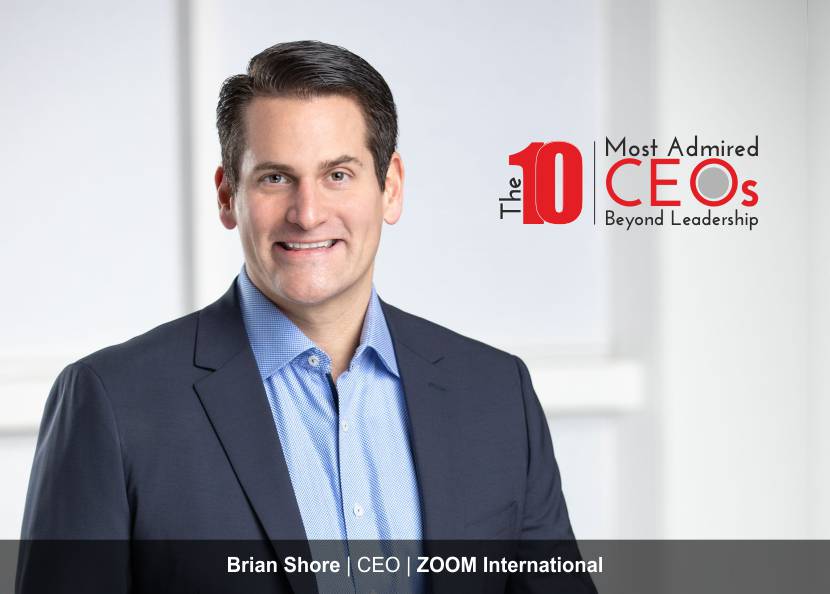 Failures are a part of a successful journey. As human beings, we can learn from successes, but we learn far more from our failures and moments of soul-crushing insecurity. An inspirational thought as such comes from an expert who has learned and gained profound experience from the lessons of life. Brian Shore the CEO of ZOOM International has achieved great success today that is a sheer outcome of his hard work, enduring spirit and the will to put others needs before his own. His accomplishments are witness to his zeal that has played instrumental in the success of ZOOM International which is one of the leading companies in its field today. We are honored to have Brian's journey featured as our cover, that is a source of motivation for all our readers.
The Seed of Passion Nurtured by Hard Work
While growing up, Brian wanted to be an orthopedic surgeon who seemed to him as the people to be having the most fun. The first time he saw a spinal straightening procedure, he was hooked. However, destiny had a different plan for Brian, and he was thrilled to receive the life changing opportunity to lead an international software firm. His primary reason to join ZOOM was to acquire a broader set of business skills, challenge himself, increase the fun factor and gain an international perspective. With 2,000+ customers in 94 Countries and operations in Prague, Slovakia, London and Moscow, the goal has been exceeded beyond his expectations.
Very few people have a real vision for their future, and Brian is one amongst those few. Brian knew he wanted to work hard and master his craft. Brian also knew that he wanted to build lifetime relationships with almost everyone. He wanted to outwork the competition and do it with integrity. However, he never set out on his journey with one destination in mind and fascinatingly, he still does not know the destination.
Prior to ZOOM, Brian worked for 8 amazing years at Cisco which was his second greatest professional experience. To this day, he finds himself quoting John Chambers out of habit. John was a great blend of transparency, class, integrity, compassion and laser focus on the numbers. Brian's passion to learn something new from every small experience was the seed to the humungous knowledge he has gained over the years.
Failures Instill Motivation to be an Over Achiever
Learning vital lessons from failures is much more important than learning from success. Failures equip you with experience, however learning from failures can be tough at times, it is easier said than done. ZOOM International opened the US office in the Fall of 2008 and ran into the head on collision of the sub-prime mortgage crisis. Their YoY revenue growth from 2008 to 2009 was a paltry 3% but they had increased their costs by literally 2000%. At the time, they only had 3 U.S. employees and felt like abject failures. They also felt a deep responsibility to the organization as they were stewards of the Founders investment. There were many moments of fear, insecurity and a desire to run away from their temporal failures.
However, the zealous team of ZOOM International under the leadership of Brian were no quitters. Sometimes when you think you have lost, you have won. This enduring power ignited their passion once again and cultivated great fruits of success. The following year of 2010, they grew the business nearly 100% YoY and the rest as they say is history. Over the last 11 years, they have grown revenue ten-fold, expanded their customer base from 80 to over 2,000, expanded their channel base from 20 to over 350 partners and grew the employee count from 22 to 143. ZOOM International would have missed out on the opportunity of a lifetime had they given up or not finished the drill!
The Service of Excellence
The road to success as a global software provider for ZOOM International began with the smallest of steps. An insurance customer in Prague around 2001 asked them to write a phone call recording to integrate into the emerging (but unproven) cisco IP telephony product set. ZOOM International wrote the first version in 90 days and realized that selling their own code was much more profitable than reselling other software companies code.
Today, customers as well as partners choose ZOOM International for three simple reasons: fanatical service, unwavering channel model and innovation reserved for much larger companies. To date, ZOOM is one of the very few companies in the WFO/WEM space to be able to measure how an interaction made a customer feel and easily work backwards to highlight the best and minimize the worst. To date, ZOOM is one of the very few companies in the WFO/WEM space to be able to measure how an interaction made a customer feel and easily work backwards to highlight the best and minimize the worst. The ultimate outcome with their products and services is to reduce customer attrition which protects top line revenues. From a technology perspective, they are one of four companies to own 100% of their technology stack while providing one code base for Cloud, Hybrid or On-Premise deployments world-wide. Customers choose them for their People and technology, but they stay with ZOOM International because they offer stellar service as their 88 NPS LTM would suggest.
The Inspiring Insights of a Hard-Working Leader
Brian believes, across all professional and personal circles, people will not remember what you said, they might remember what you did (especially if you harm someone) but they will always remember how you made them feel. What we choose to do and especially how we handle challenging moments create a template for others to follow. Nothing is ever as bad as it seems, and the reverse is true as well. We never know how a seemingly painful event in the moment will eventually work out. Brian's experience as a professional Coach, Father and Husband has taught him to embrace each experience for what it is – an experience. Let's take divorce as an example. If you ask someone going through a divorce, they will likely tell you it's literally the worst experience or greatest failure of their life. Ask that same person about their divorce ten years later and they will likely tell you it was the greatest learning experience of their lifetime…and they wouldn't be the person they are today without it. "We get to choose how we view an experience so instead of viewing it through the lens of good and bad or the lens of happy and sad, we can be resilient and curious…while cutting yourself some slack and practicing a bunch of forgiveness.", says, Brian.
Work/life balance seems to be a joke and rings a hollow when Brian hears other leaders espouse the topic. The term "balance "is typically viewed in the context of hours, days and weeks "Personally, I see "balance "on the scale of years. Moreover, I don't see balance as a counting of hours because I will have the flexibility to leave work to see a dance recital, play, sporting event or anything my children really value", Brian adds. He believes that balance is a combination of choosing your own hours to focus on important events and the thoughtful combination of time invested to hopefully an outcome that scales. If you invest an hour of time that ultimately produces three hours of return, then that is balance in Brian's very humble opinion.
The Spirit of Motivation that Fostered Growth
Being in service to others and contributing to their success, in other words, the people and their journey keeps Brian and his team motivated and creates a joy within. ZOOM International is created to help others. They exist to create great customer experiences and serve the needs of others. They serve 143 families, 350+ partners and 2,000+ customers today.
As an entrepreneur you experience failures, setbacks and challenges as the part of the journey. However, overcoming these with a triumphant mind is the key to achieving what you desire. Brian has surely achieved his desires but with a distinct caveat. Brian believes that an entrepreneurial journey can be frightening and very lonely. His greatest achievement is just not giving up or giving in to shortcuts or letting insecurity drive decisions that would benefit him but at the cost of harming others. ""Primum non nocere ", or "First, Do No Harm "relates to the Hippocratic Oath. At some points, I'm sure I've done harm but the positive far out measures the negative. I've contributed to the lives of hundreds of people in a real and meaningful way – my most important achievement." Brian, shares.
The Bright Future of Success for ZOOM
As a part of their plan for the future, ZOOM International and Brian personally will stay focused and humble. They will not take their treasured employees, partners and customers for granted. Ignited with passion ZOOM International will show up with high expectations and will view their failures as "Fascinating "opportunities to improve. Most importantly, they will have a positive impact in a very small but still significant way. Their journey ahead is driven by two seemingly divergent views that can be summed up in these two quotes, "We must all either wear out or rust out, every one of us. My choice is to wear out. "– Theodore Roosevelt. "Consider when thou are much vexed or grieved, that man's life is only a moment, and after a short time we are all laid out dead. "– Marcus Aurelius. Between the two quotes stated above, ZOOM International might find their balance.
If we try hard to achieve a particular outcome, chances are we will eventually achieve it if we keep trying. In his 20's, he was driven by insecurity, in his 30's he was driven by a fear of failure, in his 40's, he is driven by contributing to the needs of others. Brian Shore is a man of excellence who defines his success by the number of lives he has touched and the people he has helped. A passionate powerful personality who has truly attained a remarkable presence in the business world inspiring many lives through his ineffable works, a leader of great values.