Resilience with Determination Makes SupportPay an Inspiration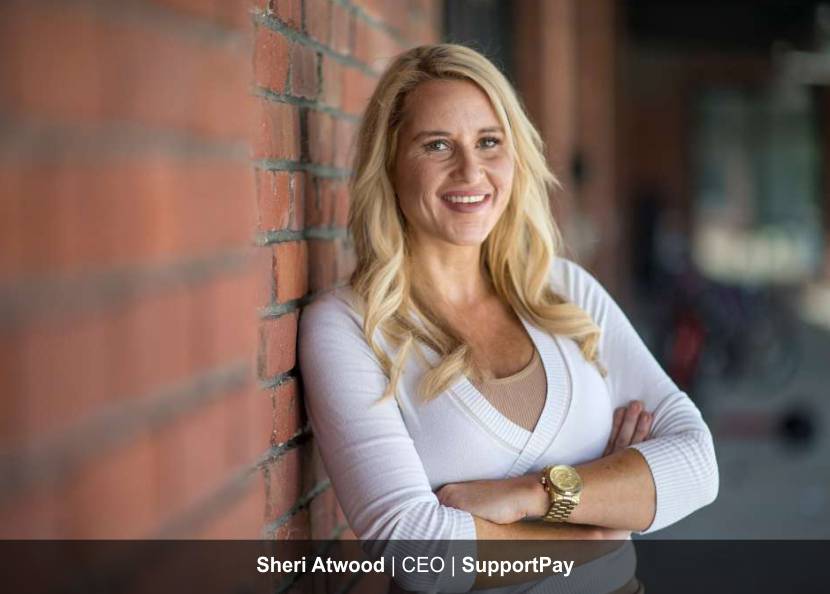 An entrepreneurial journey might seem exciting and adventurous with the freedom to leverage of running a project all by yourself; however, it comes with a price. There are numerous rejections, various obstacles, failures that demand a resilience and passion to fight against. Once you have overcome the initial obstacles, you are equipped with more knowledge and experience. As Sheri Atwood started her career, she exemplified true resilience and grit needed to set foot into the market as a successful entrepreneur. With determination to stand out from the crowd and put her thoughts into actions she founded SupportPay, a platform that helps parents to manage child support. Out of the box thinking led Sheri Atwood, CEO of SupportPay to be a successful leader. We are privileged to have the opportunity to publish her story as she shares a few interesting insights with us.
The Start of an Incredible Journey
Raised by a single mom and the youngest of three children Sheri grew up with a goal to escape the current economic struggles her mother faced. She knew the only way to do this was to go to college. Therefore, her sole focus growing up was getting into college. She originally went to undergrad at UC San Diego with a goal of being a doctor. However, since she paid her own way through school, she started working and got a job at Sony Electronics as a Market Analyst. It was at that time that she realized how exciting business could be – where you could be analytical and creative – with every day being different and exciting.
At that point, Sheri realized that she wanted to go into business but unfortunately UC San Diego did not have a business degree. She then switched majors and ended up graduating in 3 years with a degree in Political Science and Theatre. After working for a few years, she also got her MBA in the Executive Program – enabling her to continue to work while taking her career experiences and being able to apply it directly to what she was learning in the MBA program.
An Out of the Box Thought
Prior to SupportPay Sheri had a very lucrative career as a marketing executive in Silicon Valley including being the youngest Vice President at Symantec. She was a divorced single mom, busy juggling a career and raising a child. She then realized that you get a bill for everything in life, but you don't get a bill for child support. She searched high and low for a solution and was shocked to find out there was nothing available. At the same time, her daughter had to undergo an emergency brain surgery which really forced Sheri to look how she was spending her time. This is when Sheri realized that if she was going to spend so much time away from her daughter, she wanted to work on something that made an impact in the world. She recognized the need of the market. Sheri decided to quit her job and start SupportPay – giving parents who live apart a solution to manage their child support and share expenses.
Having been a single parent herself, Sheri did a market survey and learnt that there are millions of parents who are living apart and are bearing child support expenses. However, there many challenges that crop up when you are in a financial tie up with someone and getting in touch with your former partner can also be mentally disturbing. It creates unnecessary hassles. In order to avoid all such uncomfortable situations, Sheri found a smart, efficient and easy way out that led to the founding of SupportPay.
The Ups and Downs of Success
Sheri started SupportPay got the platform to over 40,000 users and raised $3M in seed funding. In December 2016 she closed a $4M Series A round. The capital enabled her to continue to grow the company, but it also meant she gave up control of the board, with her being the only one of three votes (the other 2 were investors). Seven months after raising Series A Sheri was fired from her own company and was replaced with an inside investor. Within 30 days of her departure from SupportPay, 20 of the 25 employees quit or were fired and within 2 months the product was not working. A few months later she found out, along with the other shareholders, that they were liquidating her company.
Sheri decided to intervene in the matter, and she reached back out to the board to allow her to come back and fix the situation. She felt she owed it to the investors who believed in her and the parents who rely on their platform. Unfortunately, her request went unanswered. After several of her offers to acquire the company were cancelled because she was no longer involved, Sheri decided to make one last attempt. In early 2018, she formed a new holding company and made an offer to acquire all the assets back. Her offer was accepted, and she used the rest of her savings and a personal loan to buy SupportPay back. Over the past year she has focused on fixing the product, getting the previous users back and driving revenue to ensure they are now financially independent. A founder with grit and determination, Sheri overcame every obstacle and triumphed with pride.
Passion Leads the Way
Sheri is passionate about her company, her employees and her clients. She works hard along with her team to provide the best services to single parents who go through struggles of life. She believes that the most important traits of a successful entrepreneur are resiliency, determination and grit. Being an entrepreneur means making mistakes and receiving a lot of rejections. An entrepreneur needs to be able to be resilient through the good times and bad and the grit to find resourceful solutions to problems that the entrepreneur faces. "Every day I know there is more I can do, and I know I'm not even close to being where I want to be – both professionally and personally. I am determined to ensure SupportPay is successful and that we can help the millions of parents and children who struggle with managing child support and sharing expenses." Says, Sheri. Talking about her work and personal life balance Sheri says, "It is tough juggling between work and personal life and I would never call it balance but I try to aim on being focused and present in the moment – whether it is when I am working or spending time with my daughter."
SupportPay helps parents to manage child support and share expenses directly with each other. Sheri hopes that SupportPay becomes wildly successful and they can help the millions of parents and children who deserve a solution that gives children the financial support they deserve. Sheri has seen the hardships of life and has gained her knowledge from real life experiences. She is not just a thinker but a doer that makes her journey an inspiration for every individual who has the determination to overcome the challenges of life.