The Duo on Healthy Mission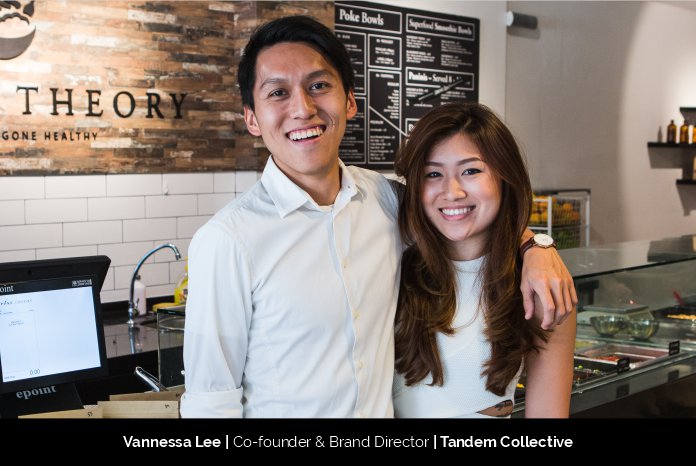 "Life's too short to eat bad food," is what home page of A Poke Theory says, which is true in many ways. The effects of eating junk food can impact unhealthily in your later life. Furthermore, a considerable amount of research in recent years shows that people get cancers, heart disease and all the other prevalent diseases in our societies due to a life-long bad diet. Additionally, eating healthy also benefits the mind to function better, and it is as accepted as it can get. And if one's mind is healthy along with the body, one is more likely to be more productive, be happier-surely, ultimately, get more out of life!
A collective brand spreading mantra of eating healthy
Recognizing the significant benefits of eating healthy food, the siblings, Joey and Vannessa Lee started a healthy revolution in the form of Tandem Collective, which has A Poke Theory and Alter Ego under its brand. A Poke Theory specializes in Hawaiian poke, which is pretty similar to Japanese chirashi don, where fresh sashimi is served on top of a bed of sushi rice. Customers are able to customize their poké bowl by choosing their preferred base, flavor and toppings. A Poke Theory's other offerings include superfood smoothie bowls, cold-pressed juices, T2 tea infusions and healthy snacks.
The spark that ignited A Poke Theory came from Joey's first taste of poke while he was working in Los Angeles. He was excited about how simple yet tasty this humble Hawaiian dish was, and immediately thought about how sashimi-loving Singaporeans would be a fan of it as well. With the market moving consciously towards a healthier eating slant, it was natural that the duo adapted traditional poke into a poke grain bowl or salad of sorts.
As for Alter Ego, Esplanade had approached the Lee siblings to open up a second store for A Poke Theory in one of their waterfront-facing units, with the condition that they serve alcohol as it was a prime spot for a bar. Serving up alcohol would very much contradict the squeaky clean, healthy image that was A Poke Theory, so the idea of having a concept that embraced both extremes of healthy and indulgent eating and drinking came about.
The siblings turned business partners
Joey and Vannessa always knew they wanted to work together on a business of some sorts. Joey is a foodie and a self-taught cook, and Vannessa has always been keen to help him bring an idea to life with whatever skills she had in branding and marketing. They were very close as siblings, and it just worked out well that their skill sets really complemented each other. "Not many people know this, but we started an online business selling homemade cookies before Tandem Collective. It went great – too great, and we had to shut it down as I was starting a full time job and Joey was heading for National Service. It was a testing ground of sorts, to see how well we could work together, and we did well. Today, Joey oversees the business strategy and expansion, operations and food side of things (recipes are all from him!), while I oversee the branding and marketing, photography, social media and human resources," Vannessa shares.
The memories along the road makes it worthwhile
Vannessa agrees that the best memories of their journey were made in the early days of business. They went from chasing after half-naked uncles on forklifts at the wholesale fruit and vegetable market at 5am and hand-grating ginger for their marinades until 2am in the night, to now overseeing four stores under the A Poke Theory brand via a franchise model that they've built. "We opened for business on 25 July 2016, just us and a bunch of 18-year-old part-timers who were still in school, and sold out of 200 bowls in 2 hours. There was bittersweet inertia when we finally grew a team we could rely on to run the daily operations, allowing us to step away from the shop to focus on the business aspects of the business. It was very precious to us after all, having grown this from concept to real life," she adds.
There are always tough days in every business, and Tandem Collective is no exception. Vannessa believes it really is akin to putting out fire after fire on a daily basis, while finding ways to stay relevant, to grow your market share, to expand your brand without costing your quality to drop or your team to be overwhelmed. She also thinks the toughest part is not knowing where to draw the line between business and regular life. They work all the time. You can never switch off, not even on the occasional holiday. She was working on her honeymoon after her wedding, and it can really take a toll on your mental health if you're not careful.
A quick and easy to scale franchise model
With A Poke Theory and Alter Ego, Joe and Vannessa have created a franchise model that is quick and easy to scale, with its modern, industrial design in the front of house. It requires a very lean set up cost by F&B standards, which is attractive to potential franchisees. Moreover, its kitchen space is tiny; they don't need an expensive exhaust hood as fry anything is out of the question. The bulk of their food is fresh, baked, or occasionally boiled, at most. Their manpower cost is also reasonable as they don't need high-salary chefs, seeing that most of their kitchen work is prep. Also, their meals are in eco-friendly to-go bowls allowing customers to dine in or have it for takeaway, and the turnover is quick because the food is not hot and can be eaten quickly. It's a tight little concept that works.
It's just an unending race
When asked if they have achieved all that they desired, Vannessa answered, "Of course not! I'm not sure there's ever an end goal for us. We hope to bring A Poke Theory overseas for starters, and to eventually start another QSR concept. It would really make us proud to be recognized as a strong local brand like Ya Kun has done for itself. There are so many ways for us to grow, it just always feels like an unending race. We're still a very young business and we have a long road ahead of us." They have a few more local stores for A Poke Theory coming up by early 2019, and are working on something very exciting for the brand that may hopefully see the Lee siblings bringing their little poke brand to other parts of Southeast Asia in the next few years. So stay tuned!
What are you waiting for? Do check out their website to know more: http://tandemcollective.co/