Stephanie Latorre: Prevailing through Re-discovery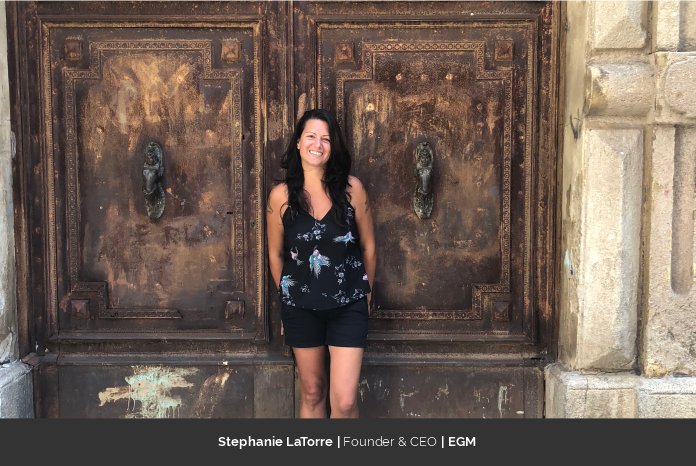 The past few years have witnessed the rise of digital marketing with an exponential worldwide reach. No longer does a marketing campaign see traditional marketing to be the frontrunner. While it is still important for companies to raise and maintain brand awareness, digital marketing has proliferated through the ranks and now sits parallel with traditional forms of marketing. Staying up to date with the latest and effective marketing trends is vital from the marketing point of view. Digital marketing has also given rise to the need to stay abreast of the rapid developments of technologies. This, in turn, has forced organizations to rethink their marketing strategies and to take into account new tools that can reach customers in a personalized way. At the rate in which customers are rapidly becoming smartphone or tablet users, companies need to ensure a positive experience for all through its campaign.
Recognizing what the future would hold for the world of marketing, Stephanie LaTorre, a forward thinker of her time, dived into the digital scene in 2013 when digital marketing was yet to unfold completely. Fast forward six years, Stephanie is a digital marketing mentor teaching entrepreneurs, coaches, and bloggers who are frustrated by the different spheres of technology in marketing. Being the Founder and CEO of EGM, Stephanie has been offering and selling digital marketing strategies and implementing strategies like building websites, funnels, and social media activities for clients around the globe.
The humble beginnings
Before venturing on her own, Stephanie worked in private country clubs as a Dining Room Manager. She had started working in the hospitality industry at the age of 19 and thought that she had a future there. She quickly learned the business thoroughly and became the dining room manager of Rio Vista Country Club in California at the age of 21. She learned about reports, accounting, cost of doing business, managing a staff, and so many other things. Little did she know that her experience therein would later become helpful in her life for the foundation of her own company. At the age of 24, Stephanie was hired as the Dining Room Manager of Trump National Golf Club in Bedminster. "I gained invaluable experience working for the Trump organization. And although I loved working in the hospitality industry, I soon realized there was so much more I could and wanted to contribute to the world. That's when I decided to venture off on my own and start EGM," Stephanie shares.
The obstacles of success
Stephanie was travelling to Vegas for a business convention, when it all began for her. Everywhere she looked, she noticed advertisements without their phone numbers. Instead, there were Facebook links. That's when it hit her that the world was about to change. It got her thinking how she could combine her two hobbies: traveling and computers. She had always loved both of them and realized there must be a way to make money from her computer while traveling. "So, I sold everything I owned, booked a one-way flight to Paris, packed everything I could in a carry on suitcase, and started travelling through Europe while starting my business from a tiny tablet computer. That was 10 years ago now. Since then, I have built a business I can run from anywhere as long as I have my MacBook and an internet connection," Stephanie says on her beginning.
The journey of Stephanie had started taking off, however, at the same time, she faced the toughest phase of her business. Initially, due to her lack of experience, no one would hire her services. She was mostly unsure of where the money was going to come from. The decision of quitting job to explore an oblivious path seemed wrong at times. However, digging deep into her mind helped her answer questions like "who I am?" and "who I want to be? This helped her to be aware of her courage and to speak her own voice.
Pioneering at creating best websites
Each month at EGM, Stephanie invites business owners, women, website owners, and whosoever that wants to learn how to get a site up and running and make money, in her "virtual home," as she likes to call it. Herein, she provides one-on-one intensive training to them and shows them how to set up their site, connect all the dots, and make it all work. Additionally, Stephanie has created a library of material that teaches clients step by step (or button by button) on how to create or improve their website and concept, and how to get it out there by social media marketing, getting their site on Google, and creating a funnel that would let them market their business 24 hours a day.
Listening to yourself and being honest is the key
Stephanie remembers how she used to always listen to everyone else but herself. She did what others told her until one day when she decided to stop listening and started living her life on her own terms. Having gone through the phase of re-discovering herself, she rightfully advises "I would say to anyone who has the slightest idea that they want to do something crazy and reinvent the wheel in the digital world, "go for it and do it." Just the fact that you have the idea means you have the courage, strength and the ability to go forward with it. Any ideas of thinking you're not good enough or you can't do it are coming from other people and not from you. Listen to yourself every day every minute and always keep true to yourself."
The vision of giving back
Stephanie's business this year has gone through an amazing transformation. She is holding their very first retreat in southern Italy. She also has mentoring programs lined-up to help aspiring female entrepreneurs realize their dream of building an online business. Moreover, she has support systems in place in the form of courses, videos, and so much more to help them realize their dream. Stephanie's vision for the future of her company is growth. It's about giving back. She believes every entrepreneur that is successful will have reached the point where they have built something amazing and now it's time to get back.
"Starting next year, we will be giving back in big ways. We will be starting an online resource center for those who have lost their parents to cancer. Will be traveling the world to help those in need of a transformation in the form of retreats and workshops. We will continue to mentor female entrepreneurs but not just with their business. We will help them physically emotionally and spiritually grow in the world," Stephanie concludes by mentioning the future prospect of EGM.
EGM provides easy to follow solutions for your website and digital marketing plans. EGM works with bloggers and small business owners to help them maximize their online efforts and see immediate results. They have courses, individual services, and mentoring programs available.
You can contact them directly at info@egmanagementconsultant.us or 19739221346 or visit their website at egmanagementconsultant.us