Dr. Andy Khawaja – Developing AI-based Solutions to Change the World for Better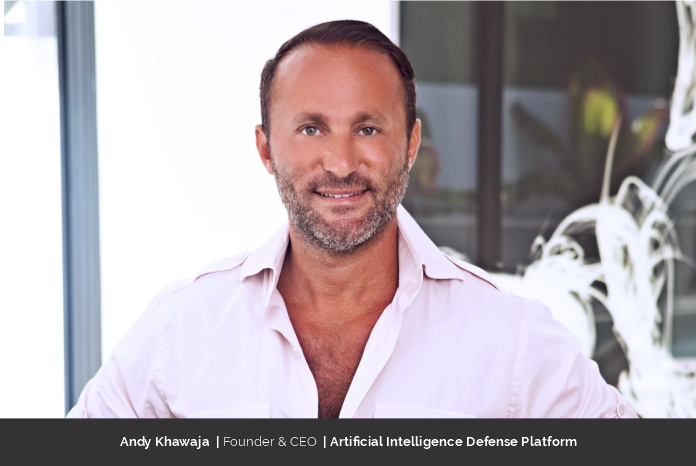 Artificial intelligence, or AI, is getting integrated into almost all aspects of a human's life. It is reshaping the future of people, businesses, and nations. And the company that is beginning to make a significant mark on the AI landscape is Artificial Intelligence Defense Platform (AIDP), founded by Dr. Andy Khawaja. It is developing AI-based innovative solutions that have the potential to change the world.

AIDP is building the future and changing the way tasks are performed, and its most eagerly awaited product is ISABELLA. This pioneering program is being developed by leveraging AI technology. Dr. Khawaja, Founder and CEO of AIDP, is confident that ISABELLA will be the AI technology driving the future.
An Introduction to ISABELLA
ISABELLA, an open-source, Wi-Fi-connected technology, will have the ability to read and retain information. Once connected to the internet, it will be able to observe, learn, and act. By tapping into the processing mind of ISABELLA, new technology and machines will be able to perform labor and even offer military functionality.
It is well known that the human mind's storage space is inherently limited. It can only store a certain amount of information. Dr. Khawaja points out that mankind can only endure a certain amount of pressure and perform a finite amount of labor. ISABELLA's AI technology, on the other hand, will have access to unlimited information, with the ability to learn and process multi-lingual data from the internet, encyclopedias, and even intelligence resources.
Innovation and Creating AI Technology
For Dr. Khawaja, innovation has been an inseparable part of his life. Innovation is also central to AIDP's operation. Ever since Dr. Khawaja founded AIDP, innovation continues apace there, and without any interruption.
At the company, new departments are being created to innovate different aspects of life and society, integrating new technological advancements into every industry. "We have many departments in-house focusing on AI advancement in several sectors," Dr. Khawaja says.
For example, AIDP has a department that focuses on AI technology for child advancement. "The youth is our future, and we want to devote our efforts not only to the advancement of mankind but to the advancement of our children," points out Dr. Khawaja.
There is another department that is focused on sustainable life on Mars. In addition to that, there is a department that is working to revolutionize the workplace, with a focus on health and morale, and a department for utilizing AI technology for psychological advancements.
AIDP aims to create software and machines that enable humans and machines to collaborate for a more accurate diagnosis of the illness – both physical and mental. Dr. Khawaja says that lives could be saved with more accurate physical diagnoses and by better diagnosing and treating mental illness.
"About 2.6 million years ago, stone tools were created. In 4000 BC, we created the wheel," Dr. Khawaja notes. "In the 19th century, we created the lightbulb – then in the 20th century, we created vehicles, nuclear technology, and the internet. In the 21st century, we created biotech, nanotech, and fusion. God created mankind." Likewise, AIDP is now creating AI technology.
Striving to Improve Living Conditions
Dr. Khawaja grew up as a kid in Lebanon and came to America as a teenager. So, at a very young age, he had an appreciation for a world of different cultures; by the age of 13, he spoke five different languages to interact with the people around him. "This appreciation for world cultures and my multi-lingual background have been a big part of my life," says Dr. Khawaja, who also likes to describe himself as a "world traveler."
For years, Dr. Khawaja worked in the high-end retail business and ran a chain of retail stores, with locations in Beverly Hills on Rodeo Drive and the Las Vegas MGM. He says that from a very young age, he had an entrepreneurial spirit in his bones. Leadership traits were also always there in him, along with the passion to work hard and reach his goals. "But my first ambition to become a CEO came from my thirst for improvement in the way people do business," says Dr. Khawaja.
When the internet started to grow, he was one of the first entrepreneurs to realize that there was going to be a need for a way to accept credit cards. He recalls that his experience with international customers allowed him to understand the foreign business very well, and he wanted to create a way to connect business owners and customers all over the world.
"I wanted to create and innovate new methods for people to safely, securely, and simply accept payments," Dr. Khawaja adds. "I had a vision, and I worked very hard to make that vision a reality." It led to the founding of a payment processing company, which made him a pioneer in online payment services.
Dr. Khawaja's multi-billion-dollar payment processing company connected merchants and consumers in over 190 countries. He introduced the finest solution for online payments to help entrepreneurs all over the world accept payments in nearly any currency. After enjoying spectacular success in the payment services industry for more than a decade, Dr. Khawaja, a natural-born entrepreneur, decided to exit it. Now, he is devoted to improving living conditions for mankind – for today and the future.
"I've always strived to make a difference – to help others – because this is how I envisioned success," Dr. Khawaja says. Even as he progressed in his career, helping others grow as well as become successful remained important to him. "This is how I felt I could make a difference," he says.
Dr. Khawaja feels fulfilled and successful if he can offer others a new means for success. And, in order to help others, reach their goals and achieve new levels of success, he has created countless products and solutions and innovated technology. "Now, I am proud of what we are creating, and I believe we will change the world," says Dr. Khawaja.
And he considers all of his experiences the "most valuable" because they have shaped him into the person he is today. "I am proud of my accomplishments, but I am not satisfied," he says. Dr. Khawaja left the payment processing industry to make a bigger difference and reach his goals on a larger scale.
"To create new things that provide a better tomorrow not only for us but for our children, future generations, I will always strive for more," Dr. Khawaja says. He expects to achieve his goals through AIDP.
Achievements and Competition
AIDP has a list of major achievements to its credit within a short time. In the new departments, Dr. Khawaja and his team have created solutions that are dedicated to several different causes. It includes the Pandemic Division that uses AI technology to more accurately diagnose, treat, and cure patients. The division also leverages technology to prevent the spread, administer medicine and perform tasks and process administrative work to better track illness and occurrences.
Dr. Khawaja points out that they have also established new departments with a focus on AI for space exploration and habitation, AI technology to revolutionize workplace health and morale, and AI technology that collaborates with the human mind to create faster, more advanced thought processes and diagnostic tools, AI for defense technology to protect lives and defend the innocent, and AI technology for child development and physical/mental illness diagnosis, including emotion-linked conditions.
Even though AIDP is still in its early stages, it will change the world and improve living conditions for all, according to Dr. Khawaja. And he is not worried about their competitors. He says that AIDP is being recognized globally because their brand and product operates and thinks 1000 times faster than a human being could.
Smart products and smart companies improve the quality of life and remove the hassle and error within the functionality. AIDP is centered around AI technology that will do this and change the world. "So, I see an opportunity for innovation. I don't see competition." Dr. Khawaja says. "Instead, I see ideas being built upon each other with a common goal of improving life for mankind and creating a more sustainable future."
Offering Change and Innovation to Future Generation
Dr. Khawaja believes that it is important to share knowledge and be a beacon of hope for others. So, throughout his life, he has spent a lot of time mentoring young entrepreneurs and guiding them towards success.
"I've spoken at countless universities and seminars all over the world to do my part so that I could stimulate innovation and progress," Dr. Khawaja says. "I believe I've been able to make a difference globally because entrepreneurs of all ages thank me for my contributions." He reminds them to be mindful of technological advancements and how they play a part in the products and services they are currently designing.
Dr. Khawaja has also been introducing entrepreneurs to the benefits of AI technology, which is being implemented in every industry now. It is important to provision for automation and new capabilities, he often tells entrepreneurs, so that their products or services are at the forefront of advancement.
"It's important not only to keep up but to create solutions that innovate your industry," Dr. Khawaja points out. "I have a passion for improving living conditions for mankind in every way possible, to provide change and innovation for future generations."
Brainstorming and Working Together
Dr. Khawaja listens to ideas from others, as he believes that great ideas come not only from him but also from the team. So, at AIDP, he and his team brainstorm and work together. "Everyone plays a role, and everyone contributes," Dr. Khawaja says. "This is essential to our culture. On a day-to-day basis, we brainstorm and think outside of the box to bring new ideas to the table. This is how innovation is sparked."
Dr. Khawaja also points out that his CEO position means that he is leading the company, so his decisions will affect the entire company and the goals they intend to achieve. In his industry, reaching goals means saving lives; therefore, he leads and encourages his team to think outside the box to accomplish goals.
"Innovation cannot proceed without creativity, so creativity is important to our culture," Dr. Khawaja says. "We reward creativity. We strive to inspire and be inspired."
Future Plans
AIDP plans to launch ISABELLA in 2025. They are developing it and its compatible machines to help mankind and protect the world's population. "ISABELLA will keep us safe and functional when conditions are difficult or even impossible," says Dr. Khawaja.
The company is continually creating new departments to innovate different aspects of life and society. "AI technology will save the future of mankind," Dr. Khawaja says. "We will continue to expand and grow AIDP for the sake of finding new ways to improve living conditions for mankind."
Making the World a Better Place
Dr. Khawaja believes that all of AIDP's projects will benefit countless people for generations to come. In the past few years, people have seen unprecedented loss as a society because of the COVID-19 pandemic. It has also devastated economies and left global populations struggling to survive with minimal resources and basic needs. "This will surely not be our last global crisis," Dr. Khawaja notes. "Imagine if we were faced with a virus 100 times more powerful… How would we endure a deadlier or longer-lasting pandemic?"
The COVID-19 pandemic only reinforced what Dr. Khawaja sought to build many years ago. He believes that AIDP is creating the AI technology that will drive the future, and artificial intelligence personnel will be able to drive, pick up waste, deliver necessities, and do the work that humans cannot.
Under Dr. Khawaja's inspirational leadership, AIDP is contributing to the competitive global platform by changing the world, creating a better future, and pushing technological and societal advancement. The company is not only bringing new ideas and products to the world, but it is also heavily influencing change and innovation.
"The world will be a different place, a better place because of AIDP," Dr. Khawaja says. "As the founder of AIDP, I am proud of what we are creating, and I believe we will change the world."