Mauro Tabaro – A Visionary Leader Taking Powerful Strides to Put His Family Business on The Map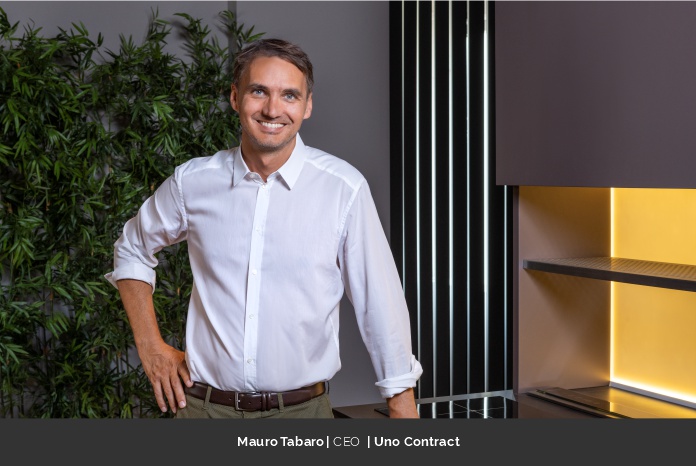 Founded in 1985 as a furniture manufacturer, Uno Contract is located at Pramaggiore in the metropolitan city of Venice. The company developed its original propensity for custom-made items, acquiring special technical and industrial skills that it has perfected and successfully transferred to the contract trade, which is now its core business.
Today, the company is run by the second generation of the founding family's entrepreneurs, together with a highly competent management team. Mauro Tabaro, CEO of Uno Contract states that somehow the company has always been part of his life because it was founded by his father, Sergio Tabaro, who is now president of the board. Sergio was the first person who taught Mauro how to run a business.
In 1999 Mauro graduated with a degree in Economics and a master's degree in Marketing. In fact, after university, he didn't join the family business immediately. He started his career in other furniture companies because he wanted to challenge himself, know different realities, and learn as much as possible to become the leader he has always wanted to be. Mauro joined the family business in 2002, initially working at his father's side, and then taking over as the CEO.
Uno Contract flourishing under Mauro's leadership
At the time when Uno Contract was founded in 1985 as a furniture manufacturer, it wasn't focused on the hospitality sector, it mainly produced custom furniture for the most important Italian brands and also for cruise lines. In 2010 Mauro moved the core business of the company to the contract sector, so Uno Contract became the first Italian company solely focused on this sector.
Over the past few years, with the precious support of their Export Manager, Massimo Tabaro, who is also Mauro's brother, the company has acquired experience throughout the world, implementing projects designed by renowned international architectural and interior design studios for the most important hotel chains.
Today not only does Uno Contract produce furniture, but it also manages every stage of big projects as an interior contractor: from production to delivery and installation. Their most significant recent projects include Park Hyatt Milan, designed by Muza Lab; in the UAE, the Me Dubai Melià designed by Zaha Hadid, the Oberoi Beach Resort Al Zorah designed by Piero Lissoni and the Hyde Dubai hotel designed by Ciarmoli Queda Studio, and In Doha, Qatar, the Four Seasons hotel. Moreover, this year the company has achieved an outstanding result with a 70% increase in turnover.
In 2021 Uno Contract completely renovated both the machinery and structure of its production facilities. The aim is to create a lean production organization that will lead to excellence in the company's operations, in a comfortable, innovative atmosphere that reflects the elegance, attention to sustainability, and top quality of their furniture.
Responsibilities as a zestful and hardworking CEO
As CEO, Mauro's responsibilities include making plans for the future of the company, settling deals with their clients, making decisions, taking risks, finding solutions, and solving problems. He also has to take care of the staff by listening, understanding people's needs, and encouraging everyone in order to build a strong team, determined to achieve goals.
"Being a leader means being on the front line and inspiring people to do their best. That is my idea of leadership," exclaims Mauro.
Since Uno Contract is a family business, there has never been a time "before Uno Contract". Mauro says that somehow, he has always been involved in the business. Even when he was not working yet for Uno Contract his father would bring him along to learn the business. He claims that he was never forced to join the company, but after some other work experiences in different companies, he felt he had to take care of the family business. "It was a natural choice, it felt just like coming home after a long journey," Mauro explains.
A satisfying life is a successful life
In Mauro's opinion, success is the way you feel about what you do: being proud of what you're doing, proud of the results you achieved, also inspiring people to do their best, and positively contributing to the future of the planet. When you feel good and satisfied with yourself you are successful.
Mauro says, "When you face a challenge, you have to react fast, make decisions, and take risks. Whether you succeed or fail, you'll learn something."
In his career, Mauro personally faced a lot of challenges and found himself in situations where he had to make very risky decisions. In these situations, he learned that it's important to be surrounded by competent colleagues you can trust to have a different point of view, share your concerns, and receive good advice.
Today, Mauro feels happy and satisfied. "I have a lovely family; I am satisfied with the results the company has been achieving and with those I personally have achieved as a businessman. In fact, there will always be something to dream of. When a dream comes true, you'll start to dream of something else. That's life, and in business, you never stop looking for new challenges and growth," he states.
Maintaining a work-life balance can be more challenging than doing business
"This company is a very big part of me and of my family history. Somehow, I am constantly thinking about the future, future goals, and future projects. You can turn the mobile phone off when you're off work, but silencing the mind is not so easy," says Mauro.
Mauro always ensures to make it a point to spend a lot of time with his family. He has a wife and two little daughters, ages 5 and 8, whom he deeply loves. He states that this is what motivates him to always do his best both at work and in life.
Mauro believes in keeping his team motivated as that is essential to achieve the company's goals. At the start of each year, he shares the company's goals with the entire team, employees, and factory workers. He says that Meeting everyone in the same room is important to make them feel part of something, part of the family, and a common project. Mauro also implemented a welfare policy and a production bonus to encourage the staff. This way they feel more satisfied and motivated to achieve results.
Plans for the future of Uno Contract
Mauro's plan is to make Uno Contract grow. The company is already recognized as a leader in the contract sector and this year they have significantly increased their turnover.
"We worked very hard to achieve this result and certainly we will not settle. We have many other projects in the pipeline and a lot of new requests are coming. For sure we will continue to develop our services as interior contractors to provide 360-degree support to our clients and study new sustainable solutions for the hospitality industry," Mauro explains.
As for himself, Mauro says that he will not settle, and he will keep looking for new opportunities and new challenges, implementing new ideas, and foreseeing the evolution of the market.
Mauro's advice to aspiring business leaders is to be curious, imagine, and dare to do something that you believe in. Dare and do not be afraid of making mistakes. Mistakes are part of the game. You'll learn from them.