Stefano Giaquinta: Revamping the travel management industry with Mutika, an Experience Management Company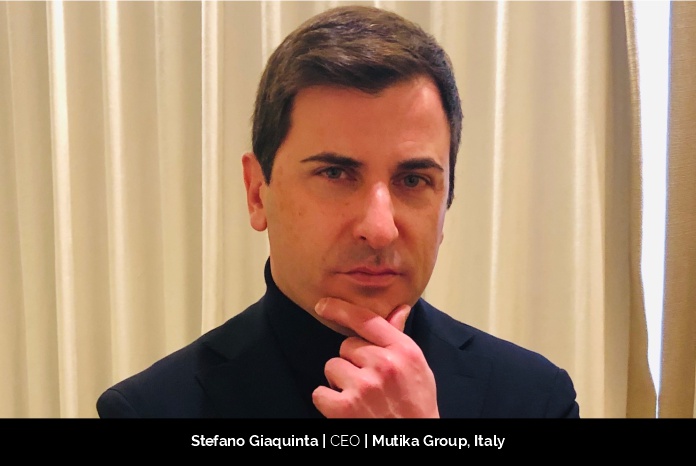 Some feel successful by creating something new that will benefit everyone around them. Having the same spirit in his heart and mind, Stefano Giaquinta developed Mutika to create emotional traveling experiences for travelers.
Scenes behind the curtain
Having the dream to travel the whole world, Stefano started to work for several hotel companies during his time in the university. He spent six years at Hilton Hotels Corporation and seven years at Starwood Hotels & Resorts.
He states, "During these years at Hilton and Starwood, they allowed me to grow from a junior salesperson to a senior director within the management team, with international roles, as I was in charge of Europe, Africa, and the Middle East."
For him, success had a different definition. He wanted to create something new in the industry which was never introduced before in the market.
With the spark to create a new fire and inspiration from the love of his country, Italy, Stefano gave birth to an organization Mutika to create emotional travel experiences with the goal to make his country a dream destination to worldwide travelers.
Battling the struggles with a smile
He adds, "I have been taught that the worst periods are the ones that make us truly understand who we are and what we want. I have a very good feeling with challenging times as I know they are there to always provide a lesson."
Whether Stefano faces challenges in his professional or personal life, he always focuses on the strategies that will help to cross over and turn things in the right direction.
Changing management industry with Mutika, an Experience Management Company
Mutika is the first and only Italian Experience Management Company with offices strategically positioned in Milan, Venice, Rome, Sicily, and U.S
They operate throughout the country from the North to South, with an Experience Design team physically based in the strategic cities. They stay focused on discovering new experiences to custom design for their clients.
Stefano adds, "We have at heart our clients and their travel experiences. That is the reason why all of our company's projects are thought in order to optimize their time, whether it is a professional trip or a vacation, keeping in mind that we want to build every experience as a unique and memorable one."
He further states, "Despite our international education and business, we also have at heart our country, which always reminds us that the beauty is here and the best hospitality speaks our language. Therefore, our job right now is to support and expand these values even overseas by continuing to invest in research, education, and social sustainability with an ethical integrity code of conduct."
Wearing the hat of the CEO of the company
With the vision to become a creative and unique experience Company within the travel industry, either for leisure, business, or corporate, Stefano is steering his company in the right direction.
He expresses that whoever reaches out to Mutika must get the best from travel experiences with a personal touch that nobody else can receive.
He firmly believes that quality of service plays a crucial role in tipping the scales on anyones' side. He aims at delivering the best services through his company by focusing on every nook and corner of all the aspects.
He adds, "I am leading the company with the support of our leadership team, taking care of its growth, innovation, creativity, and the team, the most important resource to success. During my regular days, most of my time is invested in brainstorming with my team for either our client program reviews or for company strategies and projects. I also spend a lot of time on our relationship with partners, as I consider them crucial for our success for the benefits of our clients and our daily teamwork."
He gets a lot of satisfaction when clients emotionally express their level of satisfaction on working with Mutika. Over time Stefano has acquired a lot of rewards that represent essential steps of his life.
Achieving work-life integration with finesse
Stefano believes that there should be a balance between professional and personal life to succeed on both fronts.
On the professional front, he motivates everyone to take onus for their responsibilities and work with full dedication. He expresses that with work, fun is also essential. He adds, "Rewarding is the key. We like to work hard but also to play hard. With a great team, we get together to relax, have fun, and enjoy the results achieved. When a client is happy, and they show it, I make sure the team feels it and that we celebrate, so it's a team reward that we all need to enjoy. Champagne in these cases plays a key role."
On the personal front, he manages to take some time off to blow the steam. He feels that taking off some time is vital to re-fill the energy in the mind and body to take the next challenges.
He adds, "If I am off, I am off, and I will try to enjoy every single minute of it, but if I am at work, then I will be fully concentrated on our company or team priorities and define them straight away."
Future plans for Mutika, an Experience Management Company and personal goals
Stefano states, "Everything around us is constantly changing; being aware of that means focusing on always maintaining a strong energy and will to construct and create, whether big or small, a better future."
They are planning to grow in other markets within Europe and also to invest in different areas within their industry, such as, for example, opening a small luxury boutique hotel with a lifestyle Restaurant and Bar, Spa, and more.
On a personal level, he states, "My goal is to create a foundation to support an important Italian hospital for kids where I, myself, had an experience at the age of 11 years old, and I am forever thankful for their efforts."
He aims to have the best-in-class team, full of energy, well paid for their performances, and a company able to generate essential profits that will allow him to support a social project/foundation.