Top 10 Most Inspiring CEOs to Watch in 2021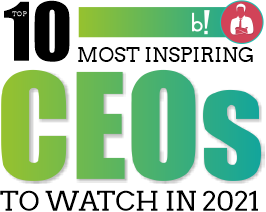 Leading Businesses to Success with Intellect and Innovation
Leading a company might sound like a very promising role to play but we perhaps wouldn't understand the responsibility and immense hard work that comes along with it. A CEO responsibly leads the company to success and ensures that it has the best interest for everyone in it. Although they may appear like headstrong individuals who have it all figured out, they too have their weaknesses and challenges. The only difference is; a leader overcomes every weakness with passion and treats every challenge as a learning experience.
We applaud the work and inspiring spirit of such amazing personalities and have dedicated this issue titled, "The 10 Most Inspiring CEOs to Watch in 2021" to them. Featuring as the cover story of this issue is the success of Jeff Brodsly, President and CEO of Chosen Payments. What makes Jeff an inspiring CEO is his unique and positive approach. He believes that his success is defined by the success of the people around him. He is a leader who operates on a relationship-building platform and is driven by core values like integrity, loyalty, transparency and always doing the right thing. Jeff has received several accolades in appreciation of his leadership skills and resourceful guidance in the success of Chosen Payments. We are honored to have Jeff on the cover of this issue as a perfect fit for an inspiring CEO.

In appreciation of the relentless hard work of CEOs, we have also put together the stories of a few more inspiring personalities from the business world. Inclusive are the stories of Nina Vellayan, President and CEO of Xeeva, Inc; Stefano Giaquinta, CEO of Mutika; Steve Wright, CEO of Christys' London; Lars Eriksson, CEO of CarCare; Aimée Madden, CEO of CliniShift; Denson Xu, CEO of BANEKS; Saar Mahna, CEO of Banjo Health; Danny Wong, CEO of GOAT Risk Solution and Adam Gordon, CEO of Rising Coaches.

These success stories are a perfect package of intellect, inspiration and innovation and every idea shared in these stories will influence the generation with these wonderful qualities.
Follow us on social media.