Saar Mahna: Banjo Health Taps into Artificial Intelligence to Resolve Prior Authorization Gaps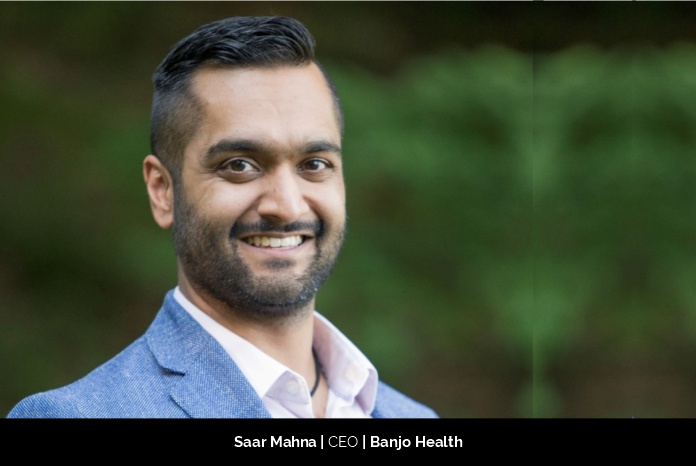 To help patients get proper care in a timely and cost-effective way, Saar Mahna, Founder, and CEO of Banjo Health is leading the way of his business by blending the power of technology with the healthcare industry.
Being inspired by the famous adage of Albert Einstein, "Try not to become a person of success, but rather try to become a person of value," he constantly strives to offer the best services through his company.
Ladder to success
Being surrounded by doctors from a very young age, Saar was passionate about patient healthcare. He adds, "I was really inspired by my dad's work with injured workers and pain management. Additionally, his focus on creating paradigm shifts through his work on reforming portions of Ohio law and drive to improve health at a societal level have really helped me to think about solutions at scale."
In his professional career, he has explored several domains that have helped him gain valuable experience and expand his skill set. He states, "I have had the opportunity to work in various fields ranging from industrial, manufacturing, and investment banking which has helped me to sharpen my skills as a professional."
When he realized the gap and opportunity for Artificial Intelligence in Prior Authorization as a way to help patients get appropriate care in a timely and cost-effective way, he took matters into his own hands and founded Banjo Health.
Hurdles along the way
Saar handled all the hurdles with finesse. He states, "The beginning of my career was a lot of stumbling and bumbling around with a lot of mistakes, but all of them were great learning opportunities."
He believes that the best startups are very focused on what they are actually doing versus being distracted and trying to be everything to everyone.
He adds, "We spent a lot of time in our early days trying to find any way to fit our solution across a number of healthcare applications but ultimately reverted back to our original thesis, which is AI-powered decision for Prior Authorization. By narrowing our focus, we have seen tremendous progress thus far and continue to see explosive growth. We are very excited because now that we are saying "no" to more things, we can say "yes" to the one thing that really allows us to improve the overall healthcare experience for all stakeholders."
Bringing change with Banjo Health
Saar states, "We help your clinical team make prior authorization decisions faster and more accurately, which will create better results for your patients due to faster speed to therapy. Prior Authorizations (PAs) are viewed by payers as tools to ensure the appropriate use of drugs and medical services as well as to manage healthcare costs. Our goal at Banjo Health is to improve the patient's experience. Understanding that PAs will not go away, what we can do is minimize the cost, time, and administrative burden that PAs pose on all who are involved in the process."
He believes that technology plays a crucial role in bringing new change. The team at Banjo Health is trying to push payer and provider technology to drive improved results and value-based savings throughout the industry.
To stay on the top in the market, they keep a keen eye on the latest trends in the industry. He adds, "We are constantly watching and talking as an organization. We also have a good number of relationships where we tend to be able to have a chance to hear about things before they happen. So, by doing that, we are able to stay ahead of the curve, and then on top of that, we are looking at primary source material often as opposed to the secondary source material."
Life as CEO and Founder
By wearing the hat of the CEO at Banjo Health, Saar likes to play the field in an attacking way rather than a defensive one. He states, "A lot of people think the CEO is playing quarterback, but my view is that my job is to do the blocking and tackling to ensure my team can get down the field. Eventually, I hope that my job will start to shift into playing the coach on the sidelines, and we can start building up the team, but at this early stage, I feel like I play the offensive line."
Being a self-driven man, he keeps himself energized to motivate the team so that they can deliver the best results with their full potential. He believes that with a good team, a business can explore new things. He gets inspiration from a famous African proverb, "If you want to go fast, go alone. If you want to go far, go together."
To create a sound relationship among the team, every Friday, they have an open discussion. In this way, everyone can say anything about their lives with which they feel a little close to each other, which in result allows building a solid team network.
Balancing professional and personal life
Saar believes in work-life harmony. He adds, "I do not believe that your personal life and professional life have to be opposing forces but can work in conjunction with one another."
He likes to work from home, allowing him to indulge with his family and enjoy special moments. In the COVID pandemic, this routine allowed him to support his family and business properly.
Future plans for the company
According to Saar, in today's world, Prior Authorization is a very active and painful process for patients, providers, and payers. With Banjo Health, he wants to transform it into a passive process that occurs entirely in the background and still allow all parties to meet their goals, providers can give their patients the best level of care in a timely fashion, and payers are able to ensure that their members are receiving care based on the most updated care guidelines and within their benefit design.
He states, "We are looking to expand beyond payers and start working on the prescriber workflow as well. That is something we are excited about. Globally we are starting to see the rise of various private insurances, so that is going to mean the rise of Prior Authorization abroad. However, we just do not view ourselves as just a PA company. We want to help tackle the world's health challenges through technology, especially when it comes to the administrative burden in healthcare."