Jeff Brodsly: Partnering in Merchant's Success with Chosen Payments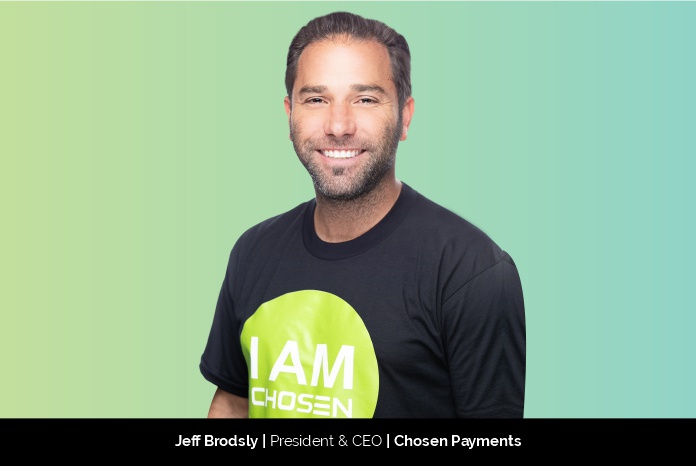 Credit card processing has become a booming industry and many leaders witnessed high potential in the payment space industry. One such leader, Jeff Brodsly, President and CEO of Chosen Payments was passionate about owning a business and generating a lot of money. Attaining success in Chosen Payments became his mantra, quest and sole ambition.
Sowing the Entrepreneurship seeds
Jeff was never a studious kid and that meant he got average grades. However, he was smart and knew if he made sincere efforts into something, he would surely gain success.
He says, "Once I began attending high school, I became involved in a Business Academy within the high school. This is where my desire to become an entrepreneur began taking shape. I became a leader within the academy and was influential in recruiting other students to be a part of it. I became an innovative driving force within the academy and it gave me great pleasure to lead others to success. This is a trait that I carry with me to this day."
After high school, he completed his bachelor's in Psychology and master's in Sociology. He even started a real estate business but the market crashed and he shifted his focus on credit card processing that was slowly gaining more recognition and that was when Chosen Payments came into existence.
However, it was not a smooth road. He adds, "Setbacks are a part of life. How quickly you recover from a setback depends upon the nature of the setback and how nimble you are to recover from the setback. While I have experienced many setbacks since launching Chosen Payments, two of the biggest setbacks in memory include starting my first credit card processing business with a few partners."
These partners would never let Jeff make his own decisions and run the firm in the way he desired. Eventually he left them all and that is when he witnessed the true fruits of success. He shares, "In 2012 we had a total of eight employees. By 2014 we had grown so much that we had to move to a larger office to accommodate the growth. By 2018 we had 136 employees and in 2021 we moved again since we now have more than 150+ associates. We also have offices in Salt Lake City, Phoenix, Nashville, Grand Haven and Atlanta as well as smaller sales offices throughout the United States."
Comprehensive services and vision of Chosen Payments
Chosen Payments is a brand name that imparts Merchant Services to specialized vertical industries. The team knows about all the different industries they serve and thus, they are not just a credit card processor but one that caters to specific industry niches.
Jeff adds, "We learn to speak the lingo, walk the walk and talk the talk. I hire people that come from within the industries we serve so that we can become experts in serving them while understanding their unique needs."
Now, after working in specific niches, he says, "We provide credit card processing, check guarantee services, merchant loans, branded gift and loyalty card programs, website shopping cart integration and payment processing integrated into existing apps or we can develop an app for a client. Basically, we are a one-stop shop for merchants getting paid for good and services."
Focusing on niche markets has helped Chosen Payments stay ahead of all the competitors. While in the beginning he relied on making cold calls and meeting as many people as he could to convert into clients, today client referrals are the primary source of adding new clients. Adapting according to changing business climates is essential to keep up with the different needs.
He adds, "I had a vision to create a partnership type relationship at the highest level and acquire merchants through relationships with trade associations. I would rather create a relationship with the leaders of an industry and let those under the leader follow. My very first partnership was with ERP Back Office Business Software. Luxury ground transportation, optometric, jewelry, home housewares, uniform, high-end pet care, high-end resorts and independent bookseller would follow as we grew."
Using the latest technology will drive the growth of every company and that's why Jeff has invested in the right people to create best solutions. He shares, "I have experts that have developed apps that let our merchants know the moment we deposit money in their account. A business owner can be hanging out on the beach and be notified of how much money was deposited in his bank account, who the payments came from and much more. Living in a world of technology means we have to keep pace with the industries we serve and how they envision the use of technology."
Even during pandemic, the company helped several merchants to adapt to curbside deliveries, enabled contactless payments using QR codes and added online sales to websites that were initially missing it.
Strengthening Company's Core Values
Imbibing culture and innovation are the keys however, for acing the A-game. There are many other crucial values to keep an eye on. Jeff shares, "Core values at the top of the list; transparency, honesty, hard work and loyalty are all encouraged in our company atmosphere. Our management team leads by example. We have a number of ongoing projects to develop the next generation of payments technology, and to guarantee we will remain at the forefront, we have formed several strategic partnerships to give our customers access to the newest technology on the market."
While developing company products, their team uses Agile Methodologies to make sure that the delivery is on time and all the requirements are met in a proper way. They conduct full research and understand the requirements of the merchants before releasing the final product. Also, testing forms the basis of their development to ensure a hassle-free user experience for Independent Software Vendors, merchants etc. There is no specific programming language or technology used to develop each solution.
He says, "Each project and team have the freedom to use whatever they are most comfortable with as long as it is scalable and can get the job done. This is mainly because each project and team are unique and have different requirements. To ensure integrity in our products we have QA and peer review processes in place as well as measures for change control to keep any nasty bugs from seeing the light of day."
The company prioritizes the merchant opinions and keeps the development in-sync with the requirements to deliver the best of the best.
Personal client relationship building is at the core of Chosen Payment. He shares, "As for my future vision, I am a major believer in giving back to move forward. I came from nothing. I didn't come from a rich family. I had to work my way up. Anytime I see an opportunity to help someone, I take pride in exchanging sweat equity or cash equity. I like to make a difference in the lives of our merchants." They have helped many merchants at their time of adversities. Further, each merchant is assigned an Account Executive who has a task to learn about the merchant's business and nurture a strong personal relationship with every merchant as well as their respective staff.
Life as CEO and President of the company
The advent of Jeff's professional career in this domain was defined by landing an insurance agency as his first client. The insurance agent was a friend of his father's, which marked the official launch of Chosen Payments and its first customer.
Being the CEO and President of the company, he believes in strategizing future plans for business development. He states, "My job includes hiring and developing a core team of executives that share my vision and can not only carry out my vision but lend their own vision to their specific department or area. This includes having Directors in Sales, Operations, Marketing, Technology, and Finance. I hold weekly meetings with department managers, and we also have an "all-hands" call once a month that allows us to collaborate as an entire team. My primary responsibility is to provide a vision and make sure that every department and every team has the absolute best tools to complete their job and achieve my vision."
He believes in teamwork and likes to make decisions with the proper collaboration of his teams. Being the leader, he takes the input from all his team members and then pursues a specific idea. He adds, "We discuss and mutually decide if an idea is something we want to pursue. It is important to me to view my executive management as an advisory team and listen to their input on ideas and plans that we all agree on. Next, we execute the strategy to maximize the investment. I also set aside time each day to call upon our vendors and maintain strong relationships. I assist my staff in working out any kinks they may be experiencing or help them with negotiating and closing business contracts. We hold regular training sessions for our sales staff, and I always invest my time in teaching and providing the tools needed to dominate the market with the products we offer."
He gets his constant dose of motivation from completing the milestones successfully. With high spirit, he motivates the whole team to stay positive as they achieve something and use that motivation to grow. He expresses, "I am motivated by success, and I like to see my staff succeed as well. Watching them succeed motivates me. We use many methods to help keep our teams motivated. This includes a lot of camaraderie with an annual End of Summer BBQ, a festive Holiday Party, Halloween Dress-Up Day, and staff birthday parties. These events help the team work together to achieve success on mutual projects. We also have sales contests, bonus systems, and we meet monthly with each team member to discuss what they are working on, what they need help with, and set goals for the next month."
Building the company from scratch by his soul and heart, Jeff has achieved new heights with his business. The most prestigious award includes being included in the President's Club of First Data year after year since 2012. First Data is the world's largest credit card processor, and this inclusion is the highest achievement possible and is based upon year-over-year growth. Inc. Magazine named Chosen Payments the 800th fastest growing privately held company in America in 2017.
He adds, "I also consider it to be a great achievement to be named by Discover Card as one of the Top 40 Credit Card Processing Executives under Forty (40 Under Forty) years of age and being named Entrepreneur of the year from Moorpark Chamber of Commerce in 2013 was also a big achievement. It was kind of like the hometown kid won an award for creating a national presence."
Achieving balance in professional and personal life
Jeff is a firm believer in having balance in personal and professional life. He expresses that maintaining a balance allows him to keep his physical, mental, emotional, and business life in harmony. He adds, "It is an important component in achieving professional success. Those who figure out how to attain a personal and professional life balance are the happiest and most successful people I know in both their work and personal environments. I balance my life on a priority schedule based upon personal and business needs and goals."
Being a single parent, he prioritizes his duties towards his daughter Faith. He adjusts his routine to never miss any special day with his daughter and be present whenever she needs him. At one time, he only wanted to accumulate wealth to provide a better life for his daughter, but he managed to make time for both domains with time.
He states, "Because I have grown my business by developing a fantastic leadership team over the past 13-years, I am able to enjoy an active social life as well as spending quality time with Faith. This means making sure she is cared for emotionally, physically, and spiritually."
On the personal front, he likes spending evenings with her. They have dinner together and finish the day with some interesting stories. After putting his daughter to sleep, he likes to complete the pending work. He dedicates his Tuesdays to personal care involving weekly haircuts, personal therapy, physical therapy, and massage therapy.
On the professional front, he likes to pre-plan his schedule to make time for every task and complete them successfully. He manages all the meetings with finesse. He is a talented multitasker. To keep his body fit and stretch his legs, he goes for a walk while taking the business meetings by phone.
He adds, "One of my mottos is, "Money Never Sleeps." Even as I place Faith above all else, I am working almost 24/7 to keep growing my various businesses. As for a regular day in my life, I spend every day thinking of ways to either grow my existing businesses, make them more efficient, or create new ventures to dive into."
While running the business is very important for Jeff, he also invests a portion of his time being involved in his community from both a business standpoint and a political standpoint. It is important as a community business leader to help shape the future for schools, resident safety, economic development, and much more. He currently serves as a Planning Commissioner in his hometown of Moorpark, California.
Future plans for the company
Jeff has the hunger to explore new heights with his business. Being an outstanding planner, he has already plotted his plans for the future.
He states, "We recently opened a new sales office in Grand Haven, Michigan. Our sales office that are spread throughout the United States, allow us to participate and attend conferences without the need to travel long distances. We also like to visit our merchants in person, so separating the country into regions allows us to make more in-person visits. As far as global expansion, we just expanded into Canada in the past year and will continue to look at other countries moving forward, but for the time being, we are focused on acquiring merchants in the U.S."