Stefan Pietrobono: Inspiring lives with Millennial Marketing Agency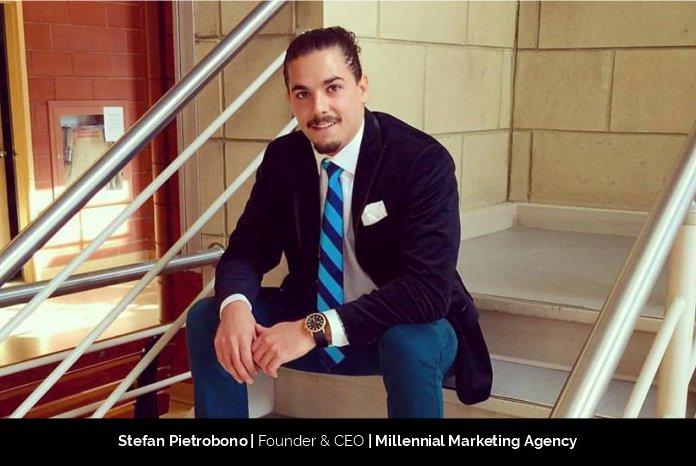 In today's capricious world, the spirit to inspire and grow with others is seen in very few. Stefan Pietrobono is such a gem of a person who likes to motivate others for the betterment of both.
By understanding the power of social media, he founded Millennial Marketing Agency to do something out of the box and helps others grow their own businesses.
Staging phase for Millennial Marketing Agency
As a child, Stefan was intrigued by ads, specifically television commercials or the digital side of ads. He states, "I would watch them and think of how I would advertise that product or service differently, or how the ads could always be improved. Growing up in this digital era, I developed a strong interest in social media, particularly the power it has to deliver a message and the potential for brands and individuals to reach an audience larger than ever before."
After completing his MBA degree, he grabbed a project management role with the ambition to start a business himself at some point.
He adds, "I started working as a Freelancer on the side and offering my digital marketing services to companies and a few start-ups – I even took on my first client for free until I created them results."
Within a few months, he was able to establish 100 weekly customers for his first client, who then later opened the door to his second client. He states, "I knew that I was able to grow this into something bigger, which transpired Millennial Marketing Agency, with the goal of working with creative individuals and brands who strive to be different, to stand out in this noisy online world."
Learning valuable lessons from the hurdles
He shares, "Not everyone is a good fit for a start-up, so it's important to collaborate with creatives who are hungry to grow with your business and who are excited about the opportunity. When you can find people whose vision is in line with yours and that of the company – I've found those individuals become the core part of your team and help your company grow."
Stefan believes that quality is crucial to scale the service to another level. He focuses on fact, "Being an agency; our service is monthly recurring. Therefore, it's important to always meet and exceed the quality the previous month with our clients and build a long-lasting relationship with them."
Starting the company from scratch, he managed many roles at the start. He adds, "As time passed, I have brought on amazing people from designers, copywriters, project managers, and ad specialists. To date, we have grown to 25 team members and managing a network of over 6.5 million followers across social platforms for our clients."
Currently, with a strong back hold of a strong team, he focuses on the core vision of the company. To stay at the top, he indulges in regular meetings with existing clients to discuss the evolvement of the industry and the next high-level strategies.
Life as the CEO and founder of the company
From the beginning, Millennial Marketing Agency was designed to be a fully remote company that minimizes its overhead and allows it to keep its rates competitive.
He adds, "With Millennial Marketing Agency, we work with a wide range of businesses and individuals. However, one thing for certain that we share with our clients is a passion for improving the world and those around us."
He indulges himself in regular work to keep his team motivated and accountable to grab new opportunities and grow together with everyone.
He states, "I think it's important to build strong relationships within the team and to always establish a good company culture for the team. We have weekly check-in meetings with account managers and monthly team meetings where everyone participates. We celebrate birthdays and accomplishments within the team and in each member's personal life. We also incorporate project management and communication platforms to help make our jobs more efficient and effective for all."
He feels that as the leader, his goal is to find the best people, with a positive mindset and great work ethic, who are truly passionate about what they do, people who want to grow with an expanding business and grow as individuals.
Understanding the importance of work-life balance
Stefan strives to maintain a balance in his personal and professional life. He believes that the off-time allows him to re-energize his body and mind for the upcoming challenges. He adds, "I block my time, whether it's a call with a friend, a reminder to get outside, or to just find some time to unwind."
As his company works remotely, the operations run 24X7. He states, "As a team, we tend to work all week, and while that oftentimes includes weekends, it's important to step away and take time to recharge – whatever that looks like for you."
Future roadmap and vision
With new technologies making breakthroughs every day, Stefan wants to harness their power and incorporate it with the operational structure of his company. He states, "We want to continue to build a strong team, exceed our client's expectations, and tap into new trends as the industry continues to evolve. As technology pushes the limits of reality, we are also exploring new ways for how we can leverage virtual and augmented reality applications and how social media and online advertising will play a role in our industry to ensure our clients will stand out in theirs – always looking to be one step ahead."
He visualizes building a system to encompass a multi-time zone approach, where team members are available to help clients no matter the time of day. Currently, the company's team members are located in Toronto, Canada, with other team members in the United States of America, the UK, and Eastern Europe.
He believes in his personal motto, "Live to Inspire," and each day, I strive to inspire my team, clients, and everyone I interact with to live their best life and bring their full potential to the surface. Find your passion and pursue it," and encourages the team to follow the same spirit