Henry Hollamby & Ryan Quigley: Revamping healthcare industry with Viscera Technologies Ltd.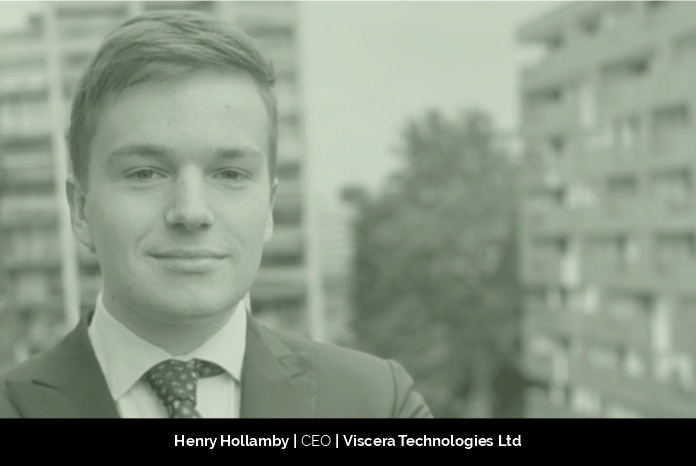 Having lost their dear ones to gastrointestinal complications, both Henry Hollamby & Ryan Quigley understand the need to improve the diagnostic pathway.
With the spirit to help others and improve the industry, both co-founded Viscera Technologies to fight back against H. pylori infection.
Staging phase for Viscera Technologies
Both Ryan and Henry graduated from university with First Class Honors. Henry graduated from University College London (UCL) and Ryan from London School of Economics (LSE).
After the loss of their relatives, both believed in doing something about efficient diagnostics on H. pylori infection. Henry adds, "Viscera Technologies was founded as we identified that there was a need for a significant improvement in the diagnostic area we are targeting."
They created their first product Helico, a diagnostic test for H. pylori infection that provides more cost-effective, convenient, and rapid testing compared to all other clinically available tests.
Learning from the hurdles along the way
Covid has been the biggest setback they have encountered. It led to delay as their lab spaces were shut down for around six months, and this led to project delays and missed deadlines.
Henry adds, "Facing adversity and delays is an important part of any business and something all founders face at some point, taking a step back from the situation and really analyzing the bigger picture is something that has helped us grow despite the adversities and challenges Covid has thrown at us."
He further adds, "Since the labs have been open, we have taken the time to catch up and put contingency measures in place to ensure we won't be impacted so prominently in the future."
Changing the healthcare industry with Viscera Technologies
Currently, Viscera Technologies is developing an innovative lateral flow test for H. pylori infection. The test, Helico, aims to be the lowest cost test for H. pylori whilst remaining highly accurate and maintaining high compliance rates.
Henry adds, "Having founded Viscera Technologies with Ryan, the growth of the business has been a direct result of our hard work and tenacity. We have taken the company from nothing and brought it to the point it is today. We have just closed our most recent funding round and currently have a working prototype. The healthcare industry has taken a turn more towards preventative diagnostics and medication, this is something Ryan and I find extremely interesting and hope to be able to add to with Helico."
Both aim to discern themselves from the competition in the industry through innovation. They believe in their product and consider that the quality speaks for itself. Both express, "Helico sets itself aside from the competition through the innovative design of the lateral flow assay and the novel biomarker tested for. This innovation gives it the competitive edge it needs to enter the market and stay ahead of potential competitors."
Life as CEO and CFO for the co-founders
Being the CEO of the company, Henry oversees all the regular operations of the company. He states, "I have to make decisions regarding legal strategy and to create and manage projects. On top of this, I am responsible for making sure all employees work well together, and I ensure projects are handed across the teams seamlessly."
As CFO, Ryan is involved in the financial side of the business. He has created numerous financial models for the company which analyze the current H.pylori diagnostic market along with keeping the company's financials in order.
Henry adds, "To keep our employees motivated, we ensure that we are not afraid to get our 'hands dirty, and we like to lead by example – we do every task that comes to us no matter how small or insignificant it may appear. Doing this sets a good precedent for our employees as it shows them the executive team genuinely cares about the running of the business and that we don't see any task as 'beneath us.' Further to this, we ensure that we often have team-building exercises to make sure the team works well together, and morale is always high."
Both take their roles seriously and are quite determined to make a difference in the industry to help the ones that suffer from the infection.
Balancing professional and personal life
Both co-founders love their work and therefore don't mind working late nor starting early. Henry is a firm believer in the fact that balance at both fronts is necessary to lead a successful life.
He starts his day early to organize everything, so he is ready for any challenge. He makes sure that he takes out some time to go for a run. This allows him to keep his mind and body fit for all the hard work.
He states, "I believe it is really important to have some downtime, even if it is only for an hour, away from work to spend some time on self-reflection and relax."
Future roadmap for Viscera Technologies
Henry expresses, "We want Helico to become the gold-standard test for H. pylori infection, and we firmly believe Helico possesses both the innovation and technology to fulfill this role. We aim to finish our development of the test in the next two years and then will begin our launch to market. We anticipate our traction in the market to be high, and growth will therefore follow."
Both want Helico to become the de-facto diagnostic test for H. pylori and hope Viscera Technologies to become an established player in the diagnostic market. They see Helico as a stepping stone into this market and look forward to releasing it in the near future.
Both states, "Uptake into the global market is something we are extremely excited by, and we look forward to seeing what position we find ourselves in in the coming years. Through our hard work and determination to succeed coupled with the innovative technologies we are developing; we are confident we will succeed and reach the goals we have set."