Sherine Khalil: Revamping the Compounding Pharmacy Industry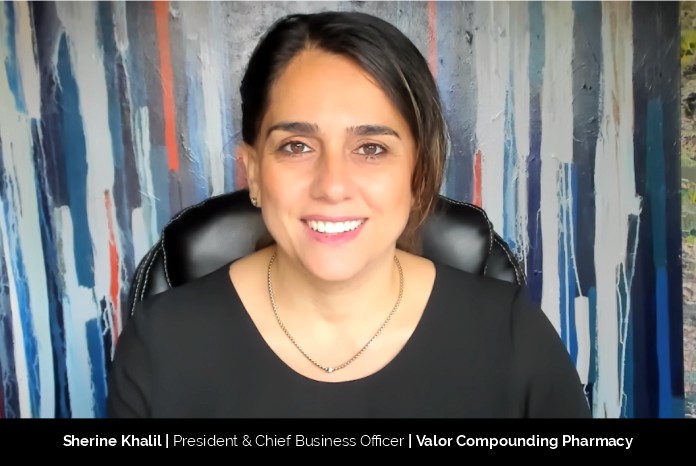 Post COVID-19, healthcare has become the most in-demand field right now. Sherine Khalil, President and Chief Business Officer of Valor Compounding Pharmacy is driven by curiosity and a desire to learn which is demonstrated through her extensive experience in academic medicine, for-profit clinical practices and mission-driven non-profit organizations.
She shares, "I've been in the pharmacy space for a little over two years, and I bring a different perspective to the operations of the compounding pharmacy. I run the company from the inside-out, with a focus on a strong internal infrastructure to support our branding position to serve our patients and physicians with the easiest, fastest, and smartest experience they've ever had in pharmacy."
Handling Setbacks with Ease
Sherine has faced many roadblocks during her job in Valor Compounding Pharmacy. She adds, "We've had a couple of situations in the last two consecutive years. The first was rebranding and reorganizing due to an ownership change, and the second was facing supply chain issues and a downturn in patients seeing their physicians during the height of COVID-19."
To handle both of these effectively, she had to pivot the team to refocus and tackle the work necessary to overcome the dynamic changes. Not just this, the supply chain process had to be monitored regularly to ensure that they always had ample drug inventory to cater to needs of patients and physicians in the best way. Through the rebranding process, Sherine led the team through several sessions to determine the company's core values and propositions to keep the company differentiated and ahead of all its competitors.
Company services and vision
Valor Compounding Pharmacy is a multi-state licensed 503(a) pharmacy that makes custom medications to cater to the specific healthcare needs of patients, including animal medications. Where commercially available drugs aren't available, this company collaborates with physicians of various specialties to offer access, awareness, and a simplified process to compounded medications.
She says, "I envision Valor being nationally renowned for being the best in service, quality, and competency in patient-specific medications."
Sherine also created an HR-centric company design with an emphasis on human resources having a seat on the table to support and develop employees to be their best-self at work and in their performance. Celebrating even the smallest achievements is the key to maintaining the team's motivation. As each employee is valued, the company brings transparency and self-awareness training through its weekly check-ins and quarterly 360 performance reviews, ensuring integrity at its core.
Owing to the heavy regulation on compounding pharmacies, many had faced a hard time in surviving. To keep Valor Compounding Pharmacy striving the upward growth chart, Sherine and her team have made many consistent efforts. She shares, "We focused on our internal compliance and operations over the last few years to establish standard operating procedures, integrate a quality management system that automates trainings, and instituted consistent reporting and meetings to ensure our own accountability for accreditations and inspections."
Not only this, the company stands out in its efforts by being an active participant not just on the patient's care team but also their doctor's.
She believes that re-evaluating goals and processes is a good practice to critically think and stay ahead as the industry evolves. Thinking out-of-the-box and challenging the status quo time and again is necessary to stay on top. She adds, "Just because something has always been a certain way, doesn't mean it has to stay that way. I bring that perspective to the forefront in my own strategic vision for the company."
Sherine's Journey to the Zenith of Success
Sherine's road to success started after she earned her master's degree in healthcare policy and management from NYU Wagner School of Public Service. She had worked to build the complete faculty recruitment process for the NYU School of Medicine and Langone Medical Center during her final administrative residency. She adds, "I learned to unravel process from policy, facts from feelings, law from guides, need-to-know from nice-to-know, unwarranted trust from earned trust, and ultimately, how all the complexity of the back-end of healthcare matters but to simplify that to the patient's experience."
From there, she became the founding Chief Operating Officer of the Child Mind Institute, where she rapidly grew the non-profit focusing on transforming child and adolescent mental health and the for-profit clinical practice in its early stages of start-up and development.
Currently, Sherine is responsible for setting Valor's strategic direction, emphasizing its vision and business development, in addition to balancing the internal infrastructure for supporting consistent growth. She further says, "I oversee the departments of business development, marketing, finance, human resources, information technology, security, and legal. In addition, I serve as the "Integrator" for company, connecting the dots of strategy between line departments within the pharmacy and the business teams."
She loves to focus on learning and encourages the staff to learn something new for work or in their personal life balance. The weekly check-ins help in reminding the things employees love beyond work.
Sherine adds, "I love learning and applying different ideas and experiences to continually improve a process, an expectation, or a product to not only streamline a logical flow, but to give it that added "wow factor" as well! Employees are inspired to innovate through constant communication and transparency of goals across the company."
Future Roadmap to Success
For Sherine, success means keeping the big picture in mind while understanding the details within every task. It also means reprioritizing work and thinking of creative solutions to get each job done efficiently and with a purpose. She says, "If results are not as you expected, ask yourself why you are working on something and what impact will it have to a major category of business. Be self-aware of your strengths and areas to improve. Be in a role that plays to your strengths, but don't neglect working on how to be a good boss and better manager."
Being licensed in 14 states already, she shares, "We are aiming to be licensed in at least half of the United States within the next four months. We currently offer easy contact and ordering through HIPAA secure forms on our website and will be launching an app for patients to place refills requests and receive the status of their prescriptions through mobile notifications in the 2nd quarter of this year."
Not just this, just like the prices of bioidentical hormone replacement therapy (BHRT), ketamine troches, low-dose naltrexone, and bimix and trimix injectables, they are planning to put a flat-rate pricing for pet medications and topical pain creams and gels.
She adds, "Our e-stores for vitamins and supplements ordering do not require a prescription, and we plan to help patients be more aware of how simple changes could help them achieve wellness!" The company also proffers awareness of compounded medications via Valor UTM series on the YouTube channel.