Arun K. Singh: A Proficient of Cyber Security Space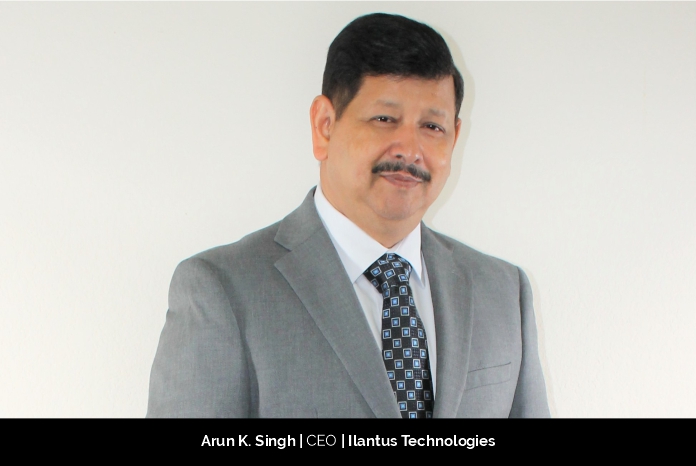 With constant advancements in tech and networking systems, the threats of stealing data and hacking into networks have increased more than ever. If the access to data is not protected adequately, a simple breach could cost millions of dollars and put unprotected organization's future at stake. Arun K. Singh, CEO of Ilantus Technologies, is on a mission to create a comprehensive approach towards fighting cyber-attacks and by supporting businesses with Identity-Centric holistic cybersecurity solutions.
An All in One Solution
Ilantus Technologies is a leader in the Identity & Access Management domain with over two decades of extensive experience and having deep insight by serving some of the biggest brands in the world. The company's Compact Identity product has uniquely positioned to present a cloud-native, risk-aware, all-in-one Converged IAM solution that has built on the Zero-trust framework to provide a holistic solution to clients.
Compact Identity has three patents and currently in the 3rd generation of maturity. It holds a diverse client base across Retail, Healthcare, Education, Manufacturing, Telecom, BFSI, and Government sectors. Compact Identity is one of its kinds in the market today that incorporates full capabilities of Access Management, Identity Governance and Administration, Identity Analytics, and Privileged Access Management in a single platform. The product is supported by an intelligent risk engine and robust identity analytics. It has received many awards such as the Global InfoSec Award for "Most Innovative product in Converged IAM" by Cyber Defense Magazine during RSA Conference 2021, "Best Cybersecurity Solution of the Year 2021" and "Innovation in Cybersecurity" by the National Feathers Award team in collaboration with The Economic Times.
Leading industry analyst KuppingerCole has positioned it as a leader in the "Product" and "Innovation" categories. Compact Identity is currently a market leader in the class of "Converged IAM" space and waiting to storm the IAM market globally.
Joining the Ilantus Technologies
Prior to Ilantus, Arun was working as Partner and Americas Advisory Risk Leader for Cybersecurity at Ernst & Young LLP. At that time, Arun was going through the next phase of the professional challenges of his career. He was contemplating between the idea of launching his own start-up or joining a company that is ready for a big leap.
When the proposal for Ilantus came up, Arun was very impressed by its global clientele, innovative and differentiated product offering, partner network, and an amazing team of highly talented cybersecurity professionals. Ilantus had focused on cybersecurity and Identity management domain for many years and got high recognition by analyst groups like Gartner and KupingerCole. Arun had worked across all subdomains of cybersecurity and seen the critical role played by digital Identity in combating cybercrimes. He opines reason for joining Ilantus as "With my experience of successfully building & managing global cybersecurity business, I took a step of faith to take Ilantus on an accelerated growth path and create a strong brand worldwide."
Bridging the Gap in the Cyber Sector
Throughout his career, Arun had faced many challenges that shaped up his professional capabilities. According to Arun, during early phase of the career, the key roadblock was finding and retaining right security talent. He learnt quickly that without having own Cybersecurity Academy, it is very difficult to have quality resources and maintain consistency in solution delivery. According to him, cybersecurity and IAM skill gaps is one of the biggest challenge across all the organizations. At Ilantus, he is setting up IAM Academy with the key objective to address IAM talent shortage in the market.
Arun asserts, "The challenges faced during my professional journey helped me not only to become an expert in cybersecurity, but also gain control over people, processes and technologies related to cyber security."
A Proficient for a Reason
Arun started his journey as a security research professional, and later on, moved on to building and driving a cyber-security business globally. He considers the most significant part of his career at Accenture where he started a new line of business from the beginning and in a short period, built a solid foundation for growth, and established a track record of consistently achieving sales, revenue, and profitability targets. He states, "At Accenture, I leveraged the power of east and west to gain a deeper knowledge of cyber security challenges faced by clients, understood dynamics of the global marketplace and managed a large team of cyber security professionals globally."
Arun has achieved many milestones in his career. In his recent achievement, he was recognized as the "Innovative Business Leader Making a Difference 2021", and featured as an "An Epitome of Visionary Leadership."
Success and Its Meaning
Arun's definition of success comes from Hinduism where life is visualized in four stages . The First stage consists of initial 25 years of life called Bramhcharya Ashram (Student life). During that phase, the success for him was receiving Gold Medal in Engineering and studying at the Indian Institute of Technology (I.I.T.) Kanpur, one of the best colleges in India.
The second stage, from 25 to 50 years is called Grihastha Ashram (householder). For him, the definition of success during this stage was the pursuit of family, wealth, and fame for a healthy and fulfilled living. In this phase, Arun relocated from India to the USA, raised two kids, and gained financial stability. He says, "I was blessed to have worked for some of the best organizations in the world, and success was to climb up the ladder step by step and be the CEO of a company."
The next two phases of life are Vanaprastha (forest dweller) and Sannyasa Ashram (renunciate). At that point in life, success for Arun will be self-realization, spiritual progress, and peace of mind. He mentions, "Gaining creative freedom and the ability to arrange work around my lifestyle will be a success for me."
Purpose Driven Leader
As the CEO of Ilantus Technologies, Arun's key responsibilities are to set a strong foundation for innovation and growth. At Ilantus he has created a transformation roadmap for the organization to drive process maturity, product quality, and digital marketing. Arun's regular day activity at work goes through executing this transformation roadmap and enabling a growth mind-set for everyone in the company. He believes his priority is to create an environment that makes the world's best cyber professionals want to work for Ilantus Technologies, and customers want to do business with it.
Disciplined and Focused Way
To achieve a better work-life balance, Arun focuses on maintaining a strict work discipline which comprises setting boundaries for him and prioritizing critical tasks. He believes that work time and personal time should not get mixed for better results. He always line-ups his work with a passion that reduces unnecessary stress and enables a better balance. He asserts, "By defining a compelling vision of future and aligning personal purpose with day-to-day work, I motivate myself and my team."
Future Vision and Advice for Budding Entrepreneurs
With the constant advancements in technology, the future of cyber risk and advance threats will be exponential, automated, and multidimensional. Today, many companies focused on the IAM domain are taking an isolated view to combat cybercrimes. With the vast experience of Ilantas, the company will take an Identity centric holistic approach to create a risk-aware identity fabric that will protect clients' critical data & assets seamlessly in the cloud or on-premise.
Arun's advice to aspiring entrepreneurs who are budding to enter the cyber security arena, is to understand the power of networking and to practice it skillfully during their work lives. He also suggests they should know the importance of emotional quotient (EQ), the ability to understand, empathize, and connect with the people around them. He adds, "A high EQ is not only essential to become a great leader but also requires being an effective team player to drive innovation."