Lisa Bowe: Breaking the Shackles of Limits to Enjoy the Journey of Unlimited Success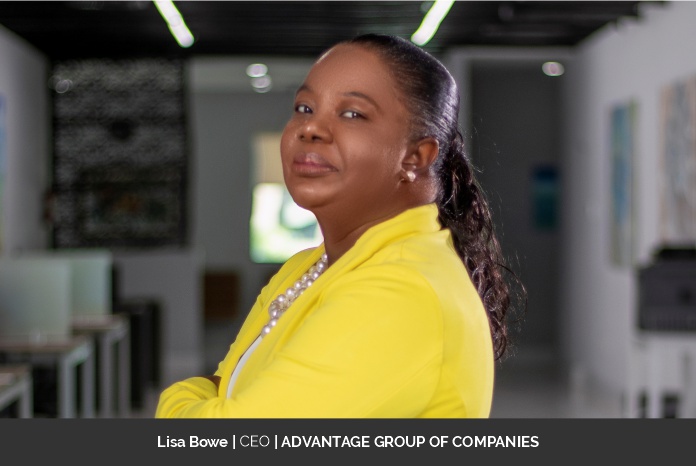 Previously, Lisa Bowe used to believe that the sky was the limit. She no longer holds the same belief. Lisa, the Founder and CEO of Advantage Group of Companies, now feels that there are no limits, and she also has got the confidence and belief that she can go far beyond the skies.
Before launching her own company, Lisa spent most of her adult life working in Management. She, however, was never satisfied with the status quo and wanted to chart her own course. "I was always one that could not settle with the status quo," Lisa says. So, after working at a few companies in management positions and successfully managing their businesses, Lisa decided to start a company of her own and so The Advantage Group of Companies was started in the year 2000.
Lisa took a leap of faith and started her own business stating: "I simply needed more."
Advantage Group of Companies and Its Subsidiaries
Lisa runs three companies under the umbrella of Advantage Group of Companies. The first company that she founded was Advantage Business Consultants, a provider of HR Management and Payroll services for the Caribbean.
The second is a training company called Advantage Training Institute. And the third company under the umbrella is Top Careers Global, which offers executive recruiting services.
When Advantage Business Consultants, the flagship company started in 2000, it's services were limited to the Bahamas market, now today they have expanded their global footprint to cover 14 Caribbean countries and counting. According to Lisa "We are always looking to expand into new territories."
The company currently services multi-national companies (MNCs) with HR and Payroll Services in the English-speaking Caribbean. "We anticipate the client needs, serve with excellence, and make it easy for them to do business in these countries," Lisa adds.
Lisa has an eye for detail and is known for getting things done. She chose to enter this industry because of her desire to help people become better.
Roadblocks and Challenges
Lisa's professional life was not an easy road. "There were many roadblocks in my journey," she says. "And breaking into new territories is never an easy feat." But as "determined" as she was, Lisa has never allowed roadblocks to stop her from accomplishing her goals. Instead, she has overcome every challenge and roadblock with tenacity and determination. Even during the toughest period of her life as a businesswoman, she has never thought of exiting the field.
"I have learned never to give up," Lisa says. "I have learned that if you hold on and hold out, with the proper steps and determination, you will come out on top."
And Lisa firmly believes that challenges make one stronger. "Challenges help to strengthen your muscles – whether that is physically or your muscle of faith or determination," she says. "Challenges cause you to have to search for solutions."
Along with challenges and roadblocks, Lisa has also faced resistance. It can be painful to experience that, Lisa says. However, she points out that resistance forces you to grow as well.
Success Is Realization of a Goal
For Lisa, success means "the realization of a worthy goal." Unlike many other leaders who consider themselves successful or celebrate only after achieving their goals, Lisa firmly believes that. "As long as you are taking progressive steps toward the achievement of your goals, you are already on the path to success," Lisa says. "Most of us wait until the goal has been accomplished before we consider ourselves successful, but every step you take in the right direction that helps you to get closer to the desired goal, those steps count as well," she adds.
Harvest Follows Seed Time
Lisa has built her organization on three core values. These are excellence, integrity, and accountability. Organization wide, they are aware that harvest always follows seedtime in all facets of life, and business is no exception.
She and her team imbue their services with the company's core values. And that is why they are trusted by their clients. Lisa says that as they continue to operate above board and serve with excellence, the rewards they earn keeps them focused and motivated to remain on the right track.
Vision for Advantage Business Consultants
Lisa's vision for Advantage Business Consultants is to make it a "premier provider for MNCs" in the regions they serve. Since its formation, the company continues to be one of the top players in Caribbean, and in part it is because they are quick to adopt new trends and best practices.
"We remain at the top of our game by staying abreast of latest industry trends and best practices," Lisa says. "We really don't focus on the competition, we keep our eyes on the prize and aim to be better tomorrow than we were yesterday." In the immediate our goal is to scale all 3 companies by expanding into new markets.
Responsibilities as a CEO
Lisa is a hands-on leader. As the CEO, she is responsible for charting the direction the company will go in. "Planning and strategizing for growth and expansion is a major part of my role as CEO," Client communication is also one of her responsibilities. "On any given day, I am communicating with multiple persons on different continents," Lisa says.
Does work-life balance really exist? She doesn't think so, but she however, believes in proper planning so that neither her personal life nor her professional life consumes the other. "Being organized helps me to stay on top of my game," Lisa says.
Excellence Is Key Aspect of Company Culture
Lisa points out that the culture of excellence pervades all three companies. She prefers to work with team members that have an affinity for excellence. Such an approach also helps in building a strong, motivated team. Lisa makes sure that their performance is rewarded. This is a proven way to ensure team members remain engaged and give their best.
Personal Goals as a Business Leader
Lisa is driven by a desire to help others. And one of her immediate personal goals is to assist other entrepreneurs in accomplishing their goals. She wants to make a positive impact in the lives of those aspiring entrepreneurs who desire to take that leap of faith but, for one reason or another, and are hesitant to do that.
Message to Aspiring Leaders
"Our fears and ideologies have limited us, but we are beings born without limits," Lisa wants to tell aspiring leaders. "With proper planning, whether that is research-based, the right support from Mentors and other business leaders who have already arrived where you desire to go, you do have the ability to make your dream a reality. It's already inside of you."