Dennis Savic: Leveraging Existing Technology and Resources to Shape a Brighter Future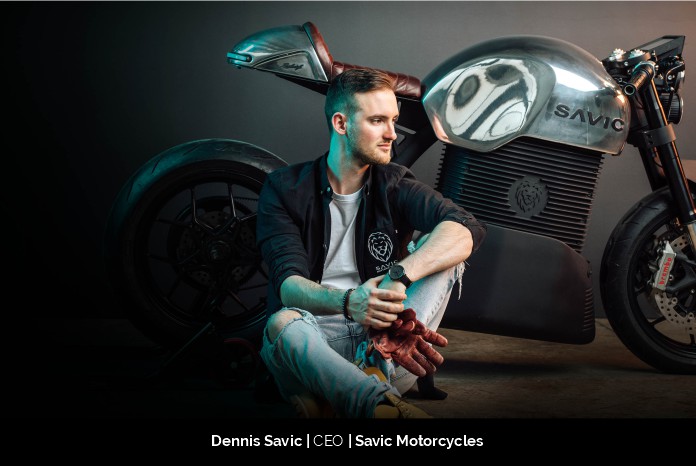 Transportation is the most extraordinary phenomenon that has made a massive change in society. Had it not been for vehicles or passenger transport, man may never have explored the world.
Ships and marine vessels played an essential role in trade, and people like Vasco Da Gama explored and found new lands. Today, modern-day cars and motorbikes are crucial for nearly every household in the developed world.
While these vehicles need fuel to run, the day is not far off when there will be little oil and fuel left for conventional combustion engines. Thinking deep in this field and coming up with a sustainable solution for both nature and humans, Dennis Savic, the CEO of Savic Motorcycles, has appeared with his masterpiece.
A High School Project that Turned into a Life-changing Passion
Dennis had a deep interest in motorcycles and the aspiration to establish an automotive business from a young age.
He says, "When I was 14, I was asked what I would like to build in my metalwork class in high school, and I said a motorcycle. The teacher laughed and told me I needed to be an engineer to do that. So, I immediately set my sights on doing an engineering degree at university."
He was lucky enough to have found a gap in the market early on and started on a journey to manufacture and produce affordable electric motorcycles that the world would soon need.
Moreover, he believed that by starting early, he would reach a better position by the time these advanced electric motorbikes would be required in large numbers, to expand his business globally and approach more clients.
Roadblocks in the Dream to Change the Future for the Better
According to Dennis, the biggest challenge in the automotive industry is finding a reliable and capable supplier. As he puts it, "Finding suppliers that you can work with, that offer a quality product and aren't charging you a fortune, is very difficult."
However, with the passing of time and gaining experience each day, Dennis and his team have grown with their suppliers and built a firm supply chain that would stand the test of time.
A Service that Has Set out to Become a Global Brand
Dennis and his company have established a goal to bring stylish apparel and other motorcycling accessories along with advanced and highly sophisticated electric motorbikes.
"We design, develop, manufacture and sell sophisticated, high-performance electric motorcycles directly to our customers," Dennis explains. "Our goal is to be a global leader in the design and production of world-class electric motorcycles and light vehicles, with a growing portfolio of inspirational automotive products."
Dennis also hopes to inspire aspiring entrepreneurs. It is the combination of commitment, integrity, dedication, and ethics that enables one to become successful and get up to the position he is currently in.
To maintain a culture of integrity and innovation, he indulges himself and scrutinizes every person inside out who is working with him and his existing team.
A Value-driven Endeavor
For Dennis, passion is significant. He urges others to pursue their passion and put their entire efforts into making that venture successful. He states that passion drives a man to achieve his goals without fearing the stumbling blocks.
"Courage and conviction are highly valued to our company," he says. "Being willing to take chances is an important attribute, but it always has to be carefully evaluated against risks. I've seen people being berated in group meetings for a component they'd designed failing a test. Do you think that person is going to be innovative or take risks ever again? I constantly remind my team that it's OK to not know how something is going to work out, and if it fails, we'll simply find another way – as long as they've done their best."
Persistence is another value that he lays importance on because, without persistence, he thinks that nobody can ever bring out the best version of themselves. These values drive his company because they are the foundation to a successful business.
Dennis's two and a half-year experience at Ford Motor Company made him capable enough to begin his venture. It was possible because he obtained the necessary skillset and expertise required to build a business like Savic Motorcycles, which intends to change the future for good.
"At Savic Motorcycles, our greatest achievement to date was being asked to take part in the Queensland Gallery of Modern Art's (QAGOMA) exhibition, The Motorcycle: Design, Art, Desire, which featured a prototype of our Savic C-Series as one of the world's 100 most influential motorbikes."
A Day in the Life of the CEO
Being a CEO of a well-established company is a massive job in itself. The CEO has to juggle various tasks and still stand strong to motivate others and please the clients. Dennis has successfully managed to carry this responsibility so far with ease and now understands future challenges better.
He is ready to confront any hurdle that comes in his path and give his best. "As we're at an early stage in the company's life, I still wear many hats. At the moment, I'm leading the design, engineering, production, supply chain, and marketing teams, and on top of that, I do all our capital raising – but this is beginning to evolve now. I suspect that, as we grow and on-board new leaders in engineering and marketing, my role will become more focused on the product strategy, concept designs, and business financing requirements. Time will tell how this all plays out!"
The Face of Savic Motorcycles a Few Years From Now
The automotive industry is developing more and more rapidly. Each day a new technology is introduced to produce more affordable EV vehicles and lead them to the mainstream. Dennis aims to produce such vehicles over time and introduce them to customers for their benefit.
Since it is his core passion, he won't be diverting from it anytime soon. However, he also intends to develop his existing production and supply chains and introduce lower-powered mobility products in the market.
He promises a bright electricity-driven future, saying, "Over the next couple of years, we'll be establishing our strategic distribution partnerships globally, and will be strengthening our supply chain to keep up with the demand for our products."