Sean Adler: Passionate Trailblazer Aiming to Rise Higher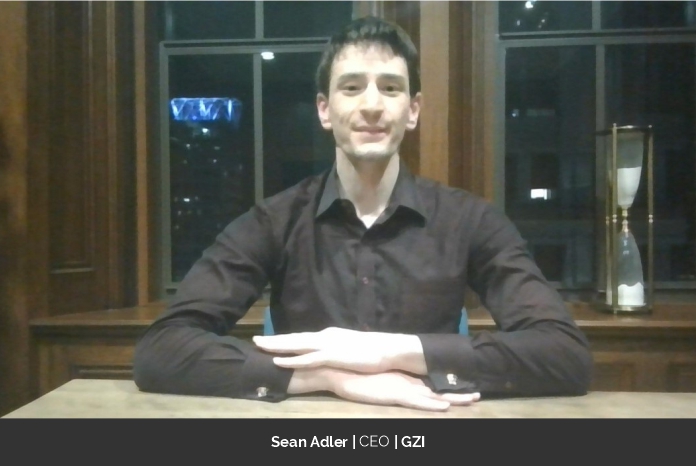 A scholar-turned-entrepreneur, Sean Adler, CEO of GZI, is a proud member of Founder Institute's Select Portfolio (which consists of the top 2% of their 5,000 portfolio companies). Carrying his versatile background in diverse domains such as startups, investments, international tech startups, Biotech, Fintech, and international financial markets, he is overjoyed to have outperformed some of the biggest hedge funds in the world during the coronavirus pandemic.
Being a firm believer in the "Do More Faster" approach, he gained ample exposure to the VC aspects of entrepreneurship and screened ventures for a number of groups across the United States. It helped him understand all about scaling and investor's interest even before launching GZI.
Now that he has earned name and fame, he shares his success definition. "Success is the byproduct of failure done right. Initially, being successful was about looking good on paper, and then I graduated from college and realized that many successful people did things differently. It sums up entrepreneurial success nicely: Do the wrong things the right way and make them work."
The Advent of GZI
Sean had a rough youth where he got bullied and was often misunderstood. He started studying clinical work on a scholarship from the Chinese government at a WHO Collaborative Center in Nanjing, China, in 2018 with an aim to pursue integrated medicine. However, after he attended life science venture capital events, he realized he had an interest in design rather than applications. Thus, he got himself transferred to Johns Hopkins to further advance in biotechnology and participated and received a runner-up in the Techstars hackathon at their headquarters in Boulder as well.
He adds, "Before China, I had spent a few weeks in Israel. The Israeli entrepreneurs told me if you want to learn to start a company, you should start a company right now. So, I decided to develop GZI while taking classes at Hopkins. Elon Musk and Larry Page started their first companies in grad school before leaving to pursue them full-time, so I figured there was something to it."
Influenced by Daoist philosophy, he used his flexible work style to manage all aspects of the startup efficiently since its beginning.
Knocking down the Roadblocks
When COVID-19 shattered the entire world, including the stock market, Sean decided to stop attending courses at the Hopkins campus in Rockville to focus on growing GZI in DC. With real struggles in the world, he had to alter all of his algorithmic data.
He described some of the impediments that he witnessed and overcame, saying, "I was running to a WeWork in Chinatown with a T-shirt wrapped over my face because the stores were out of surgical masks, and I needed a place to concentrate for the virtual tech accelerator. Periodically, this involved negotiating with armed troops from the National Guard to access a WeWork space. There I took calls with our existing partners and explained that I was beating out Wall St."
Restructuring GZI
At GZI, Sean and his team translate scientific innovation into a usable entity so that financial services can utilize it to yield higher returns with no volatility. Covering the stock data of 16 countries in 4 continents, his company showcases the global knowledge of the new normal into financial data and portfolio management tools.
In 2020, GZI made history when Biotechnology and cleantech companies outperformed the giant tech sector. COVID-19 initiated this change, and Sean predicts further changes in this direction.
To incorporate innovation, he allows the recruitment of people from different fields with compounding skillsets following Facebook and Apple's footsteps.
He shares, "I do my best to make sure every person who joins GZI makes us stronger together than we are apart. It is very important that our team members like and respect each other. Otherwise, it becomes too difficult to bridge the gaps."
Paving the way to the top with smart strategies
Sean expresses, "We don't operate purely within the bounds of one sector. I designed it to be at the intersection of tech, finance, and biotechnology so we'd never lose the ability to pivot."
The biggest disadvantage of Biotech is that the sector has a rigid development process which didn't change until the entire world needed a vaccine overnight. Conversely, tech startups embrace an approach where a flexible mentality is crucial.
He adds, "Biotech is beginning to merge with crypto now that Moderna has its own asset-backed cryptocurrency, so we hope to be a part of that evolution. The goal is to work with our existing partners to share our technology worldwide, so everyone has the chance to beat the odds. GZI is fortunate to be part of a hot market at the right time, and we want everyone else to enjoy the ride with us. The encouragement GZI continues to receive from everyone else helps fuel us, so that is the best recognition I ever received. Graduating from the Founder Institute helps us achieve recognition for what I want this to be, so that deserves an honorable mention."
Fueling the growth as CEO of GZI
As the sole founder, Sean backs up different positions that range between technical and business ends. He is a firm believer of Elon Musk who said, "Running a startup is like chewing glass and staring into the abyss. After a while, you stop staring, but the glass chewing never ends." Sean is burning the midnight oil to push the company to the next level and beyond.
He stresses the point by adding, "There is no regular day at work for me, and I often work on weekends and evenings. Our scheduling often gets interrupted by a media invite or investor follow-up, so I'm constantly readjusting things to book meetings."
Having an adaptable personality, he adjusts to the evolving trends of the market and aims to infuse the power of innovative ideas to maintain pace with the capricious market.
Responding to different responsibilities challenges him to balance both his professional and personal life. However, as his company is expanding and rising, he looks forward to maintaining a good balance in his work and personal life.
Next phase of the company
Sean mentions, "In 2020, we made over 400% on biotechnology companies and maintained a mark-to-market gain of 58% that outperformed all but 4 of the world's largest hedge funds. With back-tested data projected to outperform the indexes by 30-73%, we are back for more in 2021 and up 30% as of June."
In future, GZI will also be holding an offering on Netcapital. To learn more about it please visit: on https://netcapital.com/
Sean believes that life is too short to keep any regrets, so he wants to take chances and grow to new heights.