Dr. Lutz Hilbrich: Committed to Make Critical Healthcare Easily Accessible and Affordable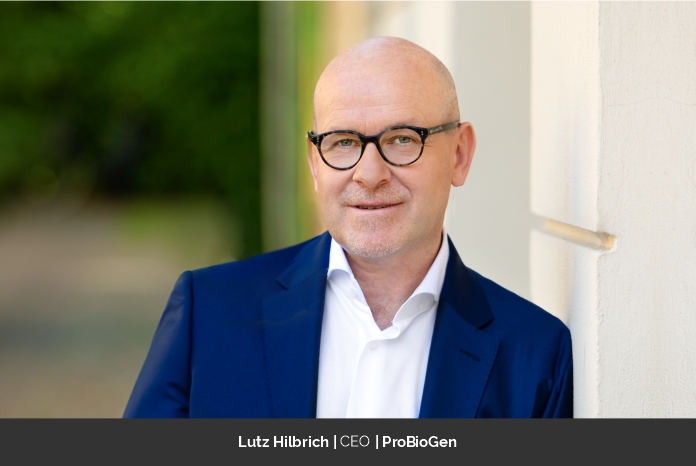 Dr. Lutz Hilbrich has been committed to healthcare for more than 25 years. He believes that healthcare is neither a privilege nor an entitlement, but it is a human right. And as a doctor and a CEO of ProBioGen AG and MiGenTra GmbH, he is making a hands-on contribution to finding solutions that affect the lives of millions of people.
Berlin-headquartered ProBioGen is an internationally operating biotech company. It specializes in the development and manufacture of biopharmaceutical active ingredients and vaccines. At the company's two locations in Berlin, more than 235 employees work to create new therapies in medicine. Their creative and meticulous work results in groundbreaking global innovations.
"We started out as a production partner for diagnostic antibodies with just four people," Dr. Hilbrich says. "Today, we are a renowned Contract Development & Manufacturing Organization (CDMO) and technology provider." The company also performs cell line engineering, process development, and GMP manufacturing of biopharmaceuticals for clients in biotech and pharma.
Moreover, the company offers proprietary innovative technologies for optimized biopharmaceutical manufacturing and analysis, Dr. Hilbrich adds. In addition, it also provides process development services and manufacturing technologies for viral vaccines.
"Since our foundation in 1994, we have been experiencing steady growth – not just with regard to our permanent capacity increases, but also far more as a result of our focus on diversifying our business segments," Dr. Hilbrich mentions.
And, in May of 2021, MiGenTra was incorporated as a subsidiary of ProBioGen. Dr. Hilbrich played a key role in the creation and incorporation of this subsidiary, which is also headquartered in Berlin.
MiGenTra Aims to Offer Affordable Medicine
Dr. Hilbrich explains that MiGenTra is a healthcare-transforming medicine company, with access to a state-of-the-art site in Cairo, where the principal manufacturing plant will be located. It aims to enhance the accessibility to critical healthcare by offering medicines at affordable prices in Egypt, the Middle East, and Africa (MEA). Dr. Hilbrich believes that it will also simultaneously strengthen regional and local manufacturing capacities.
"The formation of MiGenTra is our current best-case example and part of our growth strategy," Dr. Hilbrich elaborates. And their common goal with the subsidiary is to manage challenges to providing affordable medicines for Africa.
The company will respond to urgent unmet medical needs and support efforts by the World Health Organization (WHO) and the International Finance Corporation (IFC).
Culture of Integrity and Innovation
A culture of integrity and innovation is at the heart of the company culture. "A sound corporate culture is a basis for innovation, and our employees are our most important asset, Dr. Hilbrich underlines. In order to facilitate integrity, they offer their employees psychological safety and respectful treatment. They are also always willing to listen to their ideas and views and make communication a cornerstone of their business.
"We always strive for application-oriented innovation. It's about doing the right thing, not making claims that can't be upheld," Dr. Hilbrich says. "Our customers trust us and can rely on us. Without integrity, there is no trust."
Focus is Only on Customers
Customers are the focus of everything that ProBioGen and its subsidiary do. And they have received ample recognition because of their ability to offer them suitable solutions or become part of their teams during projects.
In addition, compared to other competitors, Dr. Hilbrich tells us that they emphasized a diversified approach from very early on and have positioned themselves broadly in terms of technology. "From the beginning, we were not only working with proteins but also in the viral vector field," he points out. "As a result we are not desperately attempting to add viral manufacturing technologies, we are rather continuing to build on existing experience and technologies."
And, it is because of the customer-oriented developments, the company has always been very much in tune with the market and have been able to establish a very good international reputation. "The versatility of our solution approaches and our proprietary technology platforms enable us to offer excellent services as well as license out technologies on a standalone basis. The ongoing expansion of this appeal is our daily business," Dr. Hilbrich informs us.
An Inspirational CEO's Routine
Dr. Hilbrich joined ProBioGen in June of 2020. "I did not found nor was I part of the ProBioGen foundation process," he says. "When I joined, ProBioGen had already celebrated their 25th anniversary."
As the CEO of the company and its subsidiary, Dr. Hilbrich engages with his team as well as the extended team as much as possible. He reaches his office at 6 a.m. "I meet the first colleague on my management team as early as 6.30 a.m. – he is also an early riser," Dr. Hilbrich laughs.
With two companies, he currently has too many direct reports. "However, I think this comes with the territory and will change once MiGenTra is up and running smoothly," Dr. Hilbrich adds.
Every Monday, he has a two-hour slot, from 8 to 10 a.m. During that time, anyone from the company can meet Dr. Hilbrich and provide their insight and feedback, ask for advice, or simply come chat. "Unfortunately, this two-hour approach to staying connected throughout the organization and listening to employees is minimal," he says.
Even though he has an open-door policy, Dr. Hilbrich admits that during his almost 19-month tenure at ProBioGen, this has become more and more challenging as his door is more often closed or he is offsite. It is because he is involved in several roundtables, as he wants to build a network. Also, he frequently travels to Cairo where ProBioGen's parent company, Minapharm, is located.
Focused on Overcoming Inequalities
Dr. Hilbrich is a physician by training in the fields of psychotherapy and cardiology. After he left academia and direct patient care, he joined Boehringer Ingelheim in Clinical Research.
And, as he was always interested in marketing and commercialization, he decided to pursue an EMBA from the Stern Business School of New York University when he was sent to the U.S. to lead the General Medicine Department. "Dual education followed me throughout my professional life, and I can only recommend this: the holistic approach of looking at things bears a competitive advantage," Dr. Hilbrich ensures.
Since the last decade, he has focused on overcoming inequalities in healthcare, especially in the areas of biosimilars; and now also in vaccines and cell and gene therapies.
Dr. Hilbrich has lived and worked in Germany, the U.S., and China, which has allowed him to gain broad experience across several continents. "With MiGenTra, now one more 'very' underserved continent gets into the focus, and we are going to make a difference," he claims.
People are Central to Success
Dr. Hilbrich points out that success is not a one-person show, and it is achievable by focusing on the people. They are the basis of success. "If we as a company create an environment that values happiness at work and home, we foster a culture that emphasizes the biggest asset: my colleagues across the two organizations I am leading," Dr. Hilbrich says.
"And happiness is neither an empty word nor a platitude", he continues, adding that it is the foundation for higher productivity. "I lived this throughout my whole life: as a student, as a doctor, as a scientist, and now as CEO," Dr. Hilbrich adds.
Passion and Decisiveness Part of My DNA
Dr. Hilbrich is known for his passion and decisiveness. They are the character traits he has in his DNA, he tells us. "This was not always appreciated. But, encountering different views, standpoints, and decision-making processes matured my leadership skills."
Like other inspirational leaders, Dr. Hilbrich, too, has encountered roadblocks throughout his career. He has endured setbacks and stumbled, but he has always got back up again. It is because he knows what he wants: it is to "make a difference". "With this goal in mind, you become stronger and more disruptive in my field, which is good," Dr. Hilbrich claims.
Positioned to Develop Intelligent Solutions
Dr. Hilbrich points out that their services and technologies enable them to operate at the intersection of research and development and ensure product ideas become reality.
Of course, it is difficult to predict what developments and innovations will emerge in this highly dynamic field, Dr. Hilbrich explains. "However, with our expert team of scientists, biotechnologists, and engineers, we are ideally positioned to continue developing intelligent solutions, for example in production technologies for cell and gene therapy."
And beyond this, it is not only a matter of constantly developing new products but also of providing global access to newly developed biological assets, according to Dr. Hilbrich.
"The pandemic has incontrovertibly shown that not all people have equal access to vital medicines. And everyone in the world is talking about this," Dr. Hilbrich emphasizes. "With our subsidiary MiGenTra, our goal is to change this substantially.
Changing Landscape of Biotechnology
Dr. Hilbrich points out that the biotechnology landscape is constantly changing. And the advances in biotechnology and accelerating digital transformation and artificial intelligence will most probably lead to innovation.
"I recently read an article on the trends shaping the biotechnology industry in the future. My thoughts are not unique or disruptive," Dr. Hilbrich says. "There is a common understanding that we are facing a decade of huge opportunities and changes."
He elucidates it further by giving three examples: Cell Gene Therapy, Telehealth, and Digital Transformation. He points out that the Cell and Gene Therapy is ushering in personalized medicine that actually can cure, while telehealth has become a solution for areas and regions that do not have the advantage of stable healthcare infrastructure yet.
Convenience is also one of the benefits of telehealth, as it eliminates the need to visit the doctor's office in urbanized areas. And digital transformation," Dr. Hilbrich says, "is strongly connected to telehealth. It offers the benefit of remote and online assessment, diagnosis, and even treatment and therapy for patients around the globe."
Fan of Work and Personal Life Harmonization
Dr. Hilbrich is not a fan of making a distinction between work and personal life. He believes that they are intertwined. "If I am happy at home, I will be happy at work," he says. "And vice-versa."
He does not like to leave his personality (personal life) and his role as CEO at their respective doors. "That is me," Dr. Hilbrich underlines. "And my family knows that I might choose to write an email or read the news instead of picking up a book in my free time. That is just me, and I do not expect this from anyone I work with."
He firmly believes that it is up to him to demonstrate to people how he is and how he wants to remain happy. "And this kind of an environment allows everyone to strive," Dr. Hilbrich says.
He is able to balance his work and personal life by being passionate, authentic, and decisive in whatever he does. It may be the pursuit of sporting activities, reading a book, leading a company, or cooking dinner for his family and friends.
ProBioGen's Future is Bright
Dr. Hilbrich believes that the future for ProBioGen is bright. The company is responding to its quickly expanding customer base by extending its capacities as well as through diversification. "Our contribution to breakthrough therapies is helping to address unmet medical needs," Dr. Hilbrich explains.
"With our subsidiary, MiGenTra, we are developing biosimilars, vaccines, and cell and gene therapies for Egypt, the MENA region, and the African continent," he adds. "This continent is especially overlooked and underserved, and our vision and mission are fully aligned with what the WHO and IFC want to achieve."
"I am optimistic for the future, and all of this makes me extremely humble, proud, and also happy," Dr. Hilbrich concludes.