Dr. Sean James Miller: A Doyen of Neuroscience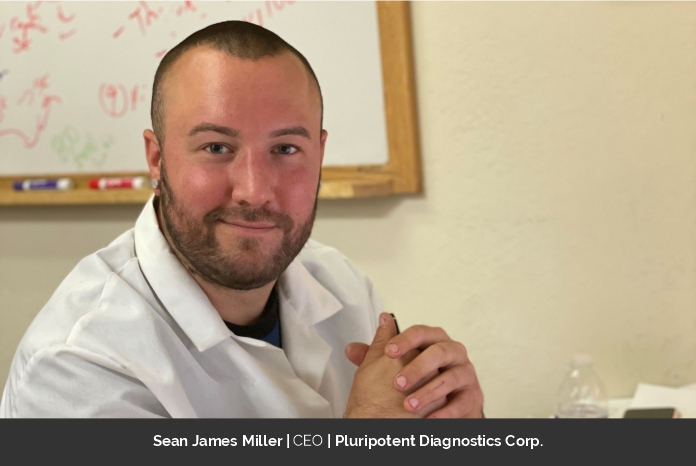 From anaesthetics and antibiotics to magnetic resonance imaging scanners and radiation, technological advancements have had a significant impact on healthcare. Founded by Drs. Sean James Miller and Robert Logan, PluriPotent Diagnostics (PDx), a biotechnology organization, allows for genetic diagnostics and customized treatment approaches at any age. In theory, this may help people live longer and healthier lives, as well as prevent hereditary illnesses. Dr. Sean J. Miller is the Chief Executive Officer (CEO) and Chief Scientific Officer (CSO) of the company and, for the past 13 years, he has been fully dedicated to a career in neuroscience, particularly in aging and neurodegeneration.
Dr. Sean James Miller graduated from Drexel University with his accelerated undergraduate degree. Passionate about neurodegenerative medicine, he ventured to Harvard Medical School and Massachusetts General Hospital to join the laboratory of the Alzheimer's pioneer, Dr. Rudolph E. Tanzi. In Dr. Tanzi's laboratory, Dr. Miller made ground-breaking advancements in the understanding of functional neurogenetics related to neurodegeneration. Determined to find a cure for neurodegenerative diseases, Dr. Miller matriculated into the Johns Hopkins University School of Medicine doctoral program in Cellular and Molecular Medicine. At Johns Hopkins, he performed his doctoral dissertation under the mentorship of Dr. Jeffrey D.Rothstein at the Brain Science Institute and ALS Packard Center.
In 2018, Dr. Miller entered the post-doctoral program at Stanford University School of Medicine in the Department of Neurology under the mentorship of Dr. Tony Wyss-Coray. At Stanford, Dr. Miller spearheaded his research into understanding the breakdown of the blood-brain barrier in aging-associated disorders, such as Alzheimer's disease. During this time, Dr. Miller was awarded a postdoctoral fellowship from the American Federation for Aging Research and the Glenn Foundation to perform his research. One year later, Dr. Miller finished his post-doctoral program by publishing a solo-authored manuscript, which is currently one of the top-cited papers in the journal Frontiers. This was the moment that Dr. Sean James Miller founded Pluripotent Diagnostics in his apartment in Silicon Valley. Pluripotent Diagnostics (PDx) is focused on eliminating genetic diseases completely with the knowledge that a complete lack of early disease diagnostics is hindering the ability to provide early therapies and cures to patients.
PluriPotent Diagnostics
PluriPotent Diagnostics (PDx) focuses on providing early diagnostics to allow for early therapeutic intervention. PDx starts by taking an FDA-approved nasal swab to isolate the genomic DNA of its clients. From there, the teams perform whole-genome sequencing ten times. PDx has the accuracy and sensitivity that allows evaluating any gene and any piece of DNA for any mutations associated with the disease. If a disease association is found during testing, PDx then moves to personalized genetic therapies where the team targets the mutated gene of interest. "The one thing that money cannot buy is time. Testing allows for early intervention and that knowledge can ultimately provide more time. Our mission at PDx is to overarch the impossible," says Dr. Miller.
Redefining the Industry with Innovative Tech and a Team of Experts
At PDx, redefining the area of biology requires an interdisciplinary approach that hasn't been done before to the extent that PDx has. PDx combines not just biotechnology, such as genetics and computer science, but also artificial intelligence and machine learning, allowing it to make use of the most cutting-edge technologies available. PDx is able to deliver the most thorough profile for our patients ever thanks to this technology. PDx is constantly evolving and adapting to new technology.
PDx's evolution allows the team to grow within the scientific world. Integrity lies in the accuracy and transparency of science. PDx believes in maintaining open lines of communication with clients on all aspects of diagnosis and treatment options. PDx is expanding its staff with the inclusion of a genetic counselor to further facilitate communication. Clients will be more informed about results and comprehensive methods for changing their lifestyle for the better as a result of this position. Brilliant scientists, marketing, and sales make up the PDx team. Each member of the PDx team was chosen for their particular ability to work well with others on the team. This helps PDx to maintain a high level of integrity with the world's best team members.
A True Leader who believes in Mutual Success
As per Dr. Miller, if he had to define himself in one word, that word would-be guardian. He asserts, "I define myself as the leader and protector of my team and cultivate an atmosphere where each individual can come to me directly with regards to things in and out of PDx."
Dr Miller's responsibility as a CEO is to keep the PDx dream alive and to make sure his team is passionate. Often, you can hear Dr. Miller tell his team, "If you're looking down, then you are not looking forward," He strives to create a stress-free atmosphere where each team member is excited about growing the company each day and truly believes in the PDx mission. The best recognition that Dr. Sean considers of his career is being a published senior scientist heading an excellent team and evolving as a mentor to his mentees and witnessing his team grow and build their careers.
Dr. Millers's day consists of an early morning breakfast with his wife and dogs followed by working in the office/lab until the evening. He believes in the impossible and each day he works hard to spread awareness of PDx and his ability to help people through science. He says, "Once I go home, I am a family man and soak up as much time as possible with my wife and our animals, ending the day on the best note possible."
Building One of the Largest Databases
Growing competition is inevitable. However, PDx is building one of the largest databases and taking on more data than anyone has in history. To stay above the competition, PDx gathers data on brain scans, clinical reports, genetics, linguistics, etc., allowing for more comprehensive data at a quicker pace. PDx's vision for the future is to go from point A, the diagnosis, to point Z, the genetic therapy needed to cure or prevent the onset of disease. Dr. Miller opines, "Our mission is to be a leader in biotechnology and utilize the science behind PDx to cultivate the well-being of mankind."