Scott Leatherman: An Inspirational Leader Solving Complex Market Challenges through Innovative Ways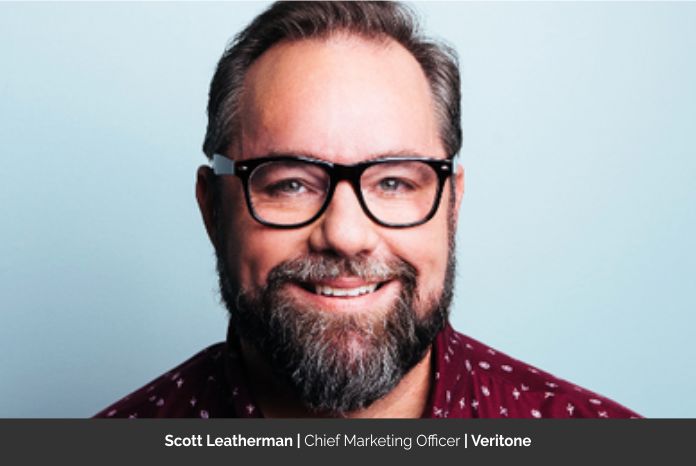 Scott Leatherman is the Chief Marketing Officer at Veritone, Inc., and is an award-winning full-stack marketing executive with over 20 years of leadership and company management experience.
Scott spends a lot of his time at Veritone collaborating with the marketing and sales teams on new strategies to increase engagement, alignment, and revenue. In addition, he makes three to four sales calls each week on average but wishes he could make more. Scott says, "From the company's martech vendors to its service bureaus, Veritone has a world-class team and vendors."
Scott's mission at the company is to provide the groundwork for the company's martech stack to be rebuilt, data integrity to be improved, and brand strategy to be aligned, all while guiding a skilled team of marketers, partner managers, and sales development representatives. Veritone uses AI/ML technologies to solve some of the world's most difficult problems. Scott states, "What you are reading on CNBC, CNN, and Fox daily is what the Veritone team is addressing." The company's mission is to make green energy more efficient; to make local law enforcement more transparent; to assist tens of thousands of people in finding meaningful jobs; and to innovate in the metaverse to enable new commerce and communities for everyone.
Scott wants the bulk of Veritone's brand awareness to come through demand generation, customer voice, and its ecosystem.
A True Marketer
Scott has always been a marketer, from selling Otter Pops door-to-door when he was nine years old to starting a screen-printing business in college. He enjoys telling a narrative that brings people together. His ability to combine his sales-oriented mindset with creativity and martech has resulted in a perfect storm of potential, technology, and creativity.
According to Scott, B2B should and will lead consumer marketing in terms of immersive/Web 3 marketing technology adoptions. When he receives an email from an anonymous vendor informing him that they have sent him a present in an attempt to gain access to his calendar, it frustrates him. He says, "We have the ability to know how, when, and why to approach people—sending me a box of chocolates or gift card for Door Dash is lazy marketing."
A Short Summary of Early Life
Scott received his first job from his personal network a year before graduating. He was employed at CKS, and his college teachers were sending him their resumes in the hopes of finding work there. Scott was being invited by the GM of the business to meetings with clients that he had no business being in, based on his expertise and pay grade, early in his career. He recalls, "When it was openly asked once why I was in the meetings, the GM said, Scott is the guy who just gets things done. You will want him at this meeting." That has always stuck with Scott as the highest compliment. He asserts, "It sounds simple, but we all know being a problem solver is a powerful position on the team."
Scott's first ten years were at startups; two of these startups were SAP-backed. So, when SAP acquired Virsa in 2006, he stayed on with SAP for 10 plus years where he enjoyed 3 different careers within SAP. He was sent to Israel to meet with businesses and the government, and he fell in love with startups and serial entrepreneurs all over again. He shares, "I had to travel halfway around the world to rediscover Silicon Valley, where I have lived my whole life."
Work with Gratitude and Respect
Scott's mother, who raised him and his two brothers as a single mother, taught them to see the bright side of life. As part of a financial aid program in elementary school, he had to serve other students' lunch and clean up. He learned early in life that "the more you treat the people who serve you with the same (or more) respect, the more they want to help you." By the time he left, he knew the families of the principal, the lunch staff, and the landscapers by name. He says, "My time behind the lunch counter enabled me to build relationships that helped me every day and probably even avoided some punishments, too."
On Work-Life Balance
Scott states that his wife is a workaholic, so, his long days, weeks, and months just seem like normal life to her. In full transparency, she has taken several business calls during dinner. He asserts, "When we aren't working, we like to go for drives (windshield therapy) where we talk about personal stuff, work stuff, and silly stuff. We make it work."
For his team, Scott reminds them that family and health come first. He tries to work with them around their schedules—if that is a 5 AM text or a 9 PM call—he wants to remove any barrier he can for them to feel good about their team, their impact, and their success.
Success That Comprises Everyone's Growth
As a team leader, Scott believes that long-term success is defined by his colleagues' professional and personal development, while short-term success is defined by reaching revenue targets. "Attribution through martech is crucial," he says. "When you have a transparent culture, you will have a good culture. As an adviser, I'm working with a number of martech businesses to disrupt, accelerate, and measure contemporary B2B for the benefit of both my team and the industry."
Future of Veritone
Scott's leadership philosophy is based on 'leadership through service.' Instead of expecting staff to make you look good, he advises that you should help them shine, push them to achieve, and applaud their accomplishments. Anyone who says "that's below my pay grade" has no respect in his eyes. He believes that if anything has to be done for the organization to succeed, you should be the first to pick up the slack. He intends to continue to champion personal and professional development cross-functionally at Veritone while further establishing Veritone as an AI leader. He says, "I will do everything I can to retain the team we have now and continue to add diverse as we progress."