Thuy Nguyen: Showering light on famous personalities with Forbes France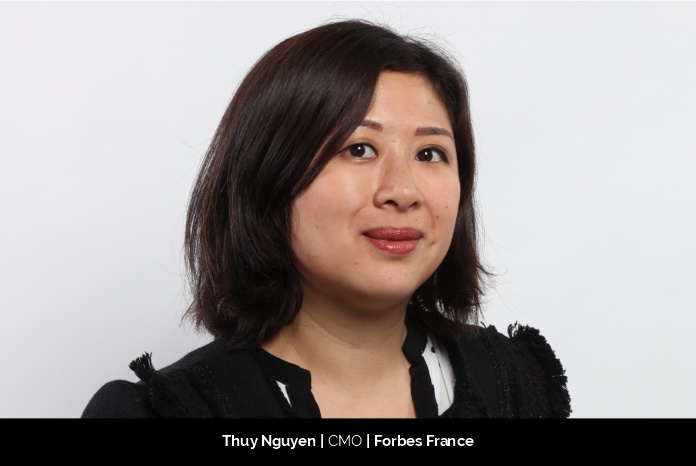 Having a free spirit and utmost love to stand on her own feet, Thuy Nguyen, CMO and Partner at Forbes France, is redefining the meaning of persistence and never-give-up attitude. She expresses that when you continue to work with love and passion, life reserves good surprise and shows you an opportunity. She adds, "In 2016, I have been asked to join set up and launch Forbes in France with 2 other partners. What a joy to work for a media dedicated to entrepreneurship!"
Climbing the ladder to entrepreneurial success
Thuy states, "Before 16, I had no clear idea on what job I would love to do. I just knew that deep inside me the passion will guide me."
To stand on her own feet and mark her presence, she expanded her education base. She attained her Master's Degree from the University of Law and Health (Lille II) and went on to complete her Master's Degree in International Business/Trade/Commerce, Management from ICD Business School, Paris – Toulouse – Dublin – Shanghai.
She stepped into the corporate sector as an international account manager with Reed Exhibitions. She worked her way to grab different roles and understand the market deeply. During this time, she gained a lot of experience and expanded her skill set that allowed her to climb the ladder comfortably.
She adds, "It is easier to list what you don't want to do but much more difficult to list what you want to do. It was only, after a fight with my mother about my scholarship orientation, I answered with anger that I would be an entrepreneur and run my own business. I have built 2 companies – All Failed or not making enough money to live correctly and work for 4 corporate companies (in the Event, Data, Business intelligence, and IT media sector). Fail forward. If you don't do mistakes, it means you don't move fast enough"
No doubt, there were some hurdles along the way, but with strong determination and passion in her mind and soul, she took every challenge as a steppingstone to rise.
Showering light with Forbes France
The mindset of Forbes is unique. Talk positive, think positive, and act positive! It celebrates success through a portrait of leaders telling their entrepreneurship stories. It ranks success through their famous Forbes rankings (billionaires, 30under30, women …)
The worldwide reputation of Forbes is one of the main assets of the media. Only a few media have worldwide recognition. Forbes France is part of the Forbes network.
Forbes France is also very famous through its rankings. It celebrates People doing business! As the main example, the entrepreneurship celebration is well illustrated by the famous Forbes billionaires ranking.
Life as CMO and Partner of Forbes France
Wearing the hat of CMO and being the partner at Forbes France, Thuy is mainly in charge of the marketing and ad operations. She likes the 'marketing' role because she can put inside many missions and projects that require versatile skills.
She adds, "Then as a recent company with a small team, I have to handle different roles that bring variety in my job. I am in charge of managing client campaigns. Manage the communication and the community management. Initiate win-win partnerships. Recruit agency partners to develop the sales revenues. Set – up and manage physical or digital events…and so on. I am also coordinating with the sales, translation, and editorial team. There is not a day that alike and this what I love in my job! My various entrepreneurship experiences in the past had developed my capability to anticipate risks, solve problems and make decisions. I am also aware that good revenue and a great team are key factors for company success."
Organization, Imagination, and Human empathy are the three sharpest arrows in her quiver using which she completes all her milestones successfully.
She focuses on the point by stating, "According to me, organization is pretty crucial on the execution of any project. You can have a great idea but without perfect execution led by a great organization. Your project will go nowhere. Then, Imagination. I agree with Albert Einstein's quote 'The true sign of intelligence is not knowledge but Imagination' also 'Logic will get you from A to B, Imagination will take you everywhere. In the era where artificial intelligence takes a preponderant place in the world, Imagination distinguishes us from machines. I fully encourage people to develop imagination, it will be always useful in many situations. To raise our imagination, we have to found out inspiration that could be brought by books or arts. For me human empathy allows us to understand and share the feelings of others. It brings consideration and recognition toward my partners and team."
Due to the COVID–19, she limits her trips once or twice per week for urgent matters and does most of her work in the home office.
She adds, "Thanks to web conference tools, we have the possibility to manage with distance and keep contact with the partners and the team."
Attaining work-life balance
Thuy is a firm believer in achieving balance on both the professional and personal front. She feels that life balance is the key to succeed in life and explore new heights.
She states, "As a mother of 3 kids, work-life balance is very important for me. To be honest, this situation had encouraged me to dive back into the entrepreneurship experience." She makes ample time for her kids so that she doesn't miss any special moment of their life.
Passion, integrity, and freedom are the three cornerstones that allowed her to progress through her career and clearing all the stones in her way.
Future roadmap
She expresses that evaluating the impact of her work plays a crucial role in her life. She states, "I would love to share to all French the entrepreneurship spirit through Forbes, reward and honor the business success in France, encourage innovation and risks taken, and present success as the sum of failure experiences and hard work."
For the company, she adds, "In the nearest future, we are actually developing the Club Forbes, a place where decision-makers can be members.