Sbusiso Kumalo: Helping South Africa's Dynamic Financial Institution Fly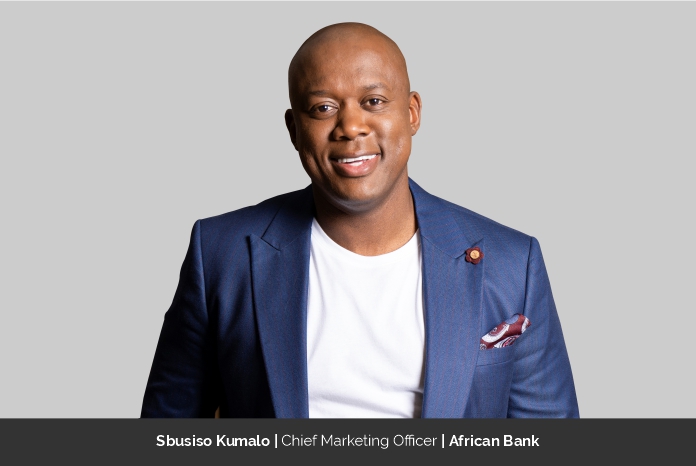 Behind one of the most dynamic financial institutions in South Africa is a leadership that is committed to elevating the bank's brand to greater heights. One of those leaders is Sbusiso Kumalo who spearheads the marketing efforts of African Bank as Chief Marketing Officer.
"Our financial results have been good and, most pleasingly, we are highly rated when it comes to customer service," Sbusiso says. African Bank has also started an exciting digital journey, in addition to, embarking on a strong business banking journey. Both are supported by relevant and tactical marketing and communication, which Sbusiso oversees.
Sbusiso works in a "collegially thinking executive team" that is forward-thinking and not afraid to challenge assumptions and conventional wisdom. "The curtain, I believe, is just opening on our story, which we call an audacity to believe," he says.
In a career spanning more than two decades, Sbusiso has held several senior marketing positions both within and outside the financial services sector. The bank he now works for is similar to the one where he spent more than 14 years.
"I was in Cape Town, where home is, so joining Johannesburg-headquartered African Bank has brought me to South Africa's financial hub, which is exciting," says Sbusiso. He has studied both at the Gordon Institute of Business Science and the Graduate School of Business at UCT.
Journey of a Seasoned Professional
In 2000, Sbusiso met a lady called Nadia Maison who at the time owned and ran a recruitment agency in Cape Town. She interviewed him and submitted his CV to SA Breweries (SAB). "I will never forget what she said to me," Sbusiso says. "She told me I had so much potential, and I could go very far in my career if I worked hard."
When she said that to him, he had nothing much to show on his CV. But Nadia, according to Sbusiso, saw potential in him. And "most importantly, she told me I had it within myself to be great," he adds. That immediately changed his belief system and how he viewed himself.
Nadia's words instilled in Sbusiso the confidence to go for the interview at SAB and accept the job. If it were not for her parting words, he wouldn't have done that. "I now recognize this as a seminal moment in my life," points out Sbusiso.
Like most leaders in the marketing field, he, too, didn't make a conscious decision at an early age to get into marketing. "The job is a culmination of vocational experiences that eventually leads one to the position," he says. At SAB, where he worked in a sales capacity, he noted that brand power and marketing were at the center of everything they did. "And I suppose by a process of osmosis, I followed a marketing path," he says. Sbusiso also discovered that through sponsorship and partnerships, the marketing function could be used to do good for people and communities. This part of marketing he still holds dear today.
For Sbusiso, "work itself" is the best recognition he has received in his exemplary career. He feels privileged to apply his talents, abilities, and skills in banking — an industry that he believes is instrumental to the successful management of one's financial life. "Money is connected to almost everything," Sbusiso points out.
Messaging in a Competitive Environment
By being innovative, Sbusiso and his team try to gain the attention of their customers. "To rise above the clutter of commercial messaging in a highly competitive environment, we have no choice but to be innovative," he says.
The single-minded thought, "how are we advancing the lives of our customers?" is at the heart of all their marketing efforts. And they have embraced a digital-first approach because of the bank's strong belief in it when it comes to communication. It, however, does not mean that they eschew more traditional platforms.
At the beginning of the year, Sbusiso and his team entered a brand ambassador partnership with the iconic entertainer Riky Rick. He appeared in African Bank's much-vaunted television commercial. "The spirit of love, empathy, joy, and humility that he brought to the project continues to drive not only our marketing approach but also that of the entire business", Sbusiso says.
Success Means Community Advancement
Former US First Lady Michelle Obama summed success perfectly when she said it is not about how much money a person makes, but the difference one makes in people's lives. This is a creed that Sbusiso tries to live by every day, whether it is spending quality time with a family member, or just listening and using his marketing portfolio to help make a real difference to a client through sensitive messaging.
Success is defined by community advancement rather than individual achievement, says Sbusiso, adding that he once read a quote that said 'if you advance confidently in the direction of your own dreams and endeavor to live the life which you have imagined; you will meet with a success unexpected in common hours.' What this revealed to him was that success is not something one gets in life, but rather an inner process.
Sbusiso explains that the unconscious competence, which is one's identity, is something that one does that makes sense to them and brings them meaning and value without even thinking about it. "It is not something you get out of what you do," he adds. Once he understood that, Sbusiso started to advance confidently towards doing what makes the most amount of sense to him based on his inner signals.
Two Biggest Roadblocks
Sbusiso believes that challenges are the key to achieving something. For instance, an airplane achieves more lift if it takes off against the wind, which shows that challenges are needed in order to advance; a good gardener spends more time pruning as opposed to planting. As someone who has faced many challenges, Sbusiso believes that both in professional and personal life, a person is never complete without obstacles.
In his career he has seen his innovative ideas shot down by people who did not buy into the notion of collaboration and consensus. Sbusiso recalls that as a younger man, "and I am unafraid to say this," he would get angry and carry the slight around with him.
"I have however learned that, by and large, people want to be good — they want to succeed and help, and it is only a minority who are naysayers," he adds. "I have learned to take criticism, to cancel out the strident voices, and to try and smile more." Once a family member said to him that people do not remember conflict a week later. "Tempers are transitory." Sbusiso took that advice on board.
For him, one of the biggest roadblocks, however, was his own negative thoughts. Another was having goals he was so in love with that he completely missed the small wins he achieved in the process of getting to the goal. "So, when I achieved the goal, I simply created another one and was never in the moment to just be," he recalls.
Responsibilities of CMO
African Bank puts the philosophy of altruism at the center of everything that it does. "We say we are a bank for the people, and I hold that principle close to my heart," he says. "We are in the business of changing our clients' lives and helping them become successful." And as the CMO, Sbusiso inspires and motivates a team of individuals to create magic and ensure that.
Sbusiso also manages and preserves the brand at every touchpoint. His job requires him to do forward-thinking as well. "In other words, where will the brand need to be placed in the short, medium, and long-term," Sbusiso explains. He oversees the regular flow of digital and public relations collateral that is generated daily. "Beyond that, I sit on the bank's executive team and participate in broader management and strategic decision-making," Sbusiso says.
And his regular day at work is a tidal wave of reviews, meetings, decisions, calls, and finding time to have a quick coffee.
Sbusiso understands that keeping one's team motivated and focused is the most critical aspect of leadership, which is all too often forgotten. So, he makes sure to call them regularly and try to converse with them beyond just the needs of work. "There is also nothing wrong with what I call a spontaneous moment of thanks that might or might not involve a bottle/s of bubbly," Sbusiso says.
The CMO role can be demanding, but Sbusiso ensures that he maintains a work-life balance. He believes that any executive who cannot find time for his family is only half the person he can be.
"I exercise rigorously and make a point of finding weekend time for my family," Sbusiso says. "I have the word 'balance' written down on a post-it note on my desk – it is my philosophical GPS."
Changing Financial and Marketing Landscape
When Sbusiso started in the banking sector in 2006, over 50 percent of South Africa's bankable population was unbanked. This was not because they didn't know where the banks were located, but because the industry deliberately excluded them. South Africa, 20 years ago, was known globally to have the highest bank charges. "It was only through challenging that status quo that all other banks had no choice but to change their stance," Sbusiso says.
Many years ago, people would travel to the city to get to a bank branch, but today, bank branches are available in far-flung communities. The landscape has changed and, for Sbusiso, that is the recognition of the relentless work done. He also believes that successful marketing is now more critical than ever because of the increasing product and service parity in the global marketplace.
Sbusiso notes that these days, marketing has become more about pure human connection. It involves a deep understanding of the needs as well as fears of customers. Also, it is always authentic, true, and standing for something.
Customers are bombarded with millions of messages on a daily basis, which has made it hard to cut through the clutter. Sbusiso points out that when promises are not differentiated and products are becoming similar, it is the service – "how you make your customers feel when they interact with you," that makes a company stand out.
He also says that authenticity and relevance are "passports" to the customer's heart, as what customers say about a company influences someone's decision to try or not try a product or service. "So, we should no longer be just building trademarks; we need a heart mark," Sbusiso adds.
Customers usually do not choose a bank without comparing a range of options, and comparisons are typically done based on product, price, user experience, and customer experience. And, in some instances, a bank will be benchmarked against standards outside its industry. "So, the game has changed drastically, and we need to lead and embrace that change," according to Sbusiso.
He also points out that marketing alone cannot bring customers, the products need to be customer centric and service needs to be world class, so they are challenged more to make a meaningful contribution to business strategy. Everyone in an organization is ultimately marketing the business or product.
Customers first and foremost buy into the reasons why the bank, product, or service, exists. "The key is to universally understand and continuously interrogate the brand," Sbusiso points out. "What is your 'why'?" In the of case African Bank, it is to advance the lives of South Africans.
Plans for the Future
Sbusiso, along with the Executive Committee, intends to be audacious in growing market share and strengthening the bank's brand. His marketing philosophy is to make sure their brand becomes entrenched in the minds of South Africans and, in time, becomes a digital leader and the first choice for people who either want to change banks or open an account.
And it is his personal goal to be recognized, along with all African Bank staff, for having played a role in developing a bank that is successful, sustainable, and truly is "for the people, by the people and serves the people".
Message to Aspiring Business Leaders
It is given that one needs to work hard to be successful. So, his message to aspiring leaders is: "find a job or a position where, on a Sunday night, you are genuinely excited to start the next week. Enthusiasm is the necessary octane that drives success."