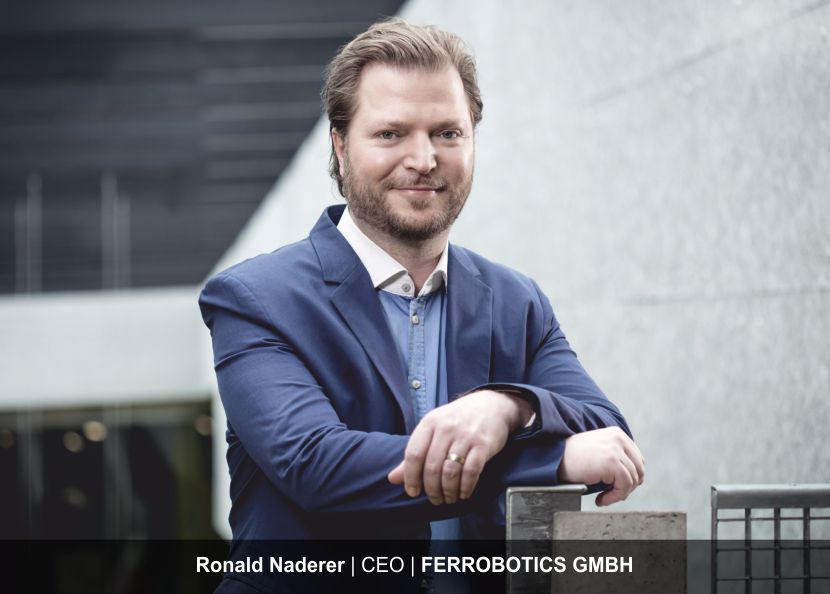 Robotics Takes a New Shape with FerRobotics
Robotics has emerged to be a huge and promising industry with the development of technology. Innovation has paved the way for new techniques that function on complex mechanics and small compact motors. This functionality forms the base of robotics. Companies focusing on robotics are developing rapidly today, with the demand for robotics on the rise. Leading among the few is FerRobotics, a world leader in the development and sale of flexible, intuitive robotics equipment. We are privileged to have the opportunity to share the success story of FerRobotics, along with some interesting and inspiring insights from Dr. Ronald Naderer, CEO of FerRobotics.
A Brief Introduction of FerRobotics
"An idea only becomes innovative once it has succeeded in the market." – the FerRobotics team follows this mantra with complete enthusiasm, above all the company founder Ronald Naderer, the man who makes visions a reality. It was Ronald who has always been convinced that it was possible to equip robots with tactile sense and then use these new abilities to establish them as intuitive and reliable working partners for humans. The FerRobotics Compliant Robot Technology GmbH is a world leader in the development and sale of flexible, intuitive robotic equipment. As the leader in technology, its clients and business partners trust in its top-quality expertise and well-founded experience in flexible automation. Its patented Active Compliant Technology (ACT) offers versatile solutions, makes robots develop a sense for perfection and applies to every task conceivable in surface treatment and contact-sensitive handling in the automobile, general industry and aerospace sectors. International users rely on FerRobotics' experience and advanced expertise who – like them – strive for perfection in order to achieve the highest standards of quality, economic efficiency and process reliability.
The Initial Challenges and Setbacks
Automation is the powerful vehicle that has increased productivity drastically. But basically, robots are blind, deaf and insensitive. Robots key competence is their precision. At the same time this is their strongest disadvantage, if the actual process situation differs anyhow, which mostly causes danger and damage. Vision systems have created important benefits but still leave dramatic automation gaps behind. Whenever is comes to physical contact or irregular process flows, human workers still overrule robots by the ability to adapt to the individual process environment but cannot keep up with robots applying a precise contact force constantly over a longer period.
On this exact issue FeRobotics goes beyond traditional automation limits, by giving robot this special ingredient, tactile sense. Robots are therefore more flexible, reliable and economical than ever. However, FerRobotics intends to give the end-user the ability to mastermind and modify the required automation processes with the least possible effort. Therefore, FerRobotics wraps all products and solution packages into straightforward user concepts.
The Outstanding Services of FerRobotics
FerRobotics makes robots feel. Robots with tactile competence bring sensitive handcraft onto a reliable high-quality automation standard, 24 hours a day and seven days a week. These mature and innovative robotics devices are the pinpointed solutions for specific goals of Americas industries: top quality production, cost efficiency, and process safety.
With these clever automation solutions, manufacturing is fit again to put up with the changing challenges, to earn money in order to keep production in the area. Sanding, grinding, and deburring are highly undesirable and hazardous 3-D jobs (dirty, dusty, dangerous). To automate these quality-related sequences is the undisputed key competence of FerRobotics, thus creating high synergies such as increase of productivity, quality and flexibility, optimized functionality and efficiency.
FerRobotics' international process experts support clients from the first application analysis to individually tailored solutions and service packages.
· By equipping robots with tactile sensitivity, FerRobotics makes sure all the voids caused by automation in terms of quality are filled
· Complex manual operations that are hazardous to health can now be automated.
· Both, quality and precision are improved with automated contact processes
· Added value is increased as the production process is both, cheaper and quicker
· Their technology can be integrated into both new and existing systems in a fast, flexible and reliable manner
Process optimization is more than just "Nice to have" in times of Industry 4.0. FerRobotics provides robots with tactile sensitivity. With ACT, quality-relevant automation gaps are closed, and system-relevant innovations are created. Accurate and economical like a machine – intelligent and sensitive like a human being – all of this is provided by the patented Active Compliant Technology from FerRobotics. Automated robot processes become more flexible, safer and more economical than ever before. With Active Compliant Technology, robots adapt themselves to complex surfaces – with automatic force dosing.
Moving objects or spontaneously occurring counterforces are optimally compensated by FerRobotics' end-of-arm-solutions. Expensive and time-consuming test phases are not required during implementation and improvements in performance as well as quality are directly measurable. Customers have the choice between a standard tool and an optimized functional package for specific requirements to start in a secure and efficient future with FerRobotics.
ACT is the basis for numerous process-optimizing products which are presented and distributed internationally by FerRobotics. In doing so, product and package solutions are designed to meet customer requirements to the highest possible level. The road to expansion, quality and technology leadership is thus paved and is pursued with great passion by the FerRobotics team.
The Active Contact Flange (ACF) fits every robot like a velvet glove. Those robots equipped with ACF can reliably measure the force they apply, meaning they can meet the requirements of complex component parts of their own accord. ACF combines all the fortes of Active Compliant Technology to form a universally applicable Add-on. This technology is able to automate both operations sensitive to contact, and applications with various tolerance levels, in a simple, reliable and economical manner, in turn increasing the ability of their clients to be competitive on the market.
The Success of a Company defines the Success of a Leader
Initially industries approached FerRobotics with unsolved automation problems. This is basically how the incredible success story began. FerRobotics has long since been driven by the seemingly impossible task of giving robots that essential ingredient: tactile sense. FerRobotics set its sights on this goal because it challenged them, because it appealed to their pioneering spirit, and because they were convinced it would help their clients take huge steps forwards. And they were right. Facilitate complex processes, fill gaps left by automation, improve production quality: And now all is possible with FerRobotics. All of it came to pass by the resourceful guidance of its incredible leader and guide, Ronald Naderer.
Ronald Naderer was born in 1975 and is the co-founder and CEO of FerRobotics Compliant Robot Technology GmbH. He holds both, a bachelor's and master's degree in Mechatronics and he received a distinction in his PhD from the Johannes Kepler University in Linz. Naderer also completed a Master of Business Administration with distinction at the Donau University Krems and the Technical University of Vienna.
Since establishing the company in 2006, Ronald Naderer has managed the technology, R&D, product development, sales, marketing organization and finance departments of FerRobotics. His core technological competences are contact-sensitive robotic solutions, competences which he is using to give rise to the industry of the future. Naderer has always been convinced that it was possible to equip robots with tactile sense and then use these new abilities to establish them as intuitive and reliable working partners for humans. Ronald Naderer is still driven by this passion and vision today.
The Vision of a Motivated Team
Innovative thinking and a permanent strive for perfection are the core elements of FerRobotics' culture. All products are permanently developed further with the aim to make it as easy and comfortable for the customers to integrate and use their systems. The result is a constantly growing number of product families each consisting of complete system packages for different applications.
Working together with partners and customers they listen very carefully to find out the pain points and needs. Customers are very happy to find in FerRobotics a partner who understands their needs and delivers well-thought-out solutions. This appreciation of their customers is one of the most driving motivations to go on with developments, always focusing on the benefits for the customers. FerRobotics make robots feel what they are doing, instead of meticulous programming. Perfection starts on the surface. This head start in technology creates especially in the automotive a decisive, competitive advantage. FerRobotics basically helps its clients to produce better quality in less time and less costs and to improve burdened working conditions.
What differentiates FerRobotics from other players in the market is their outstanding technology. While automation usually tends to come along with costly investments and programming efforts, FerRobotics' innovative products stick out as "worry-free" package with short payback time. The Austrian robotics trendsetter wraps "automation in no time" into intuitive standard devices with easy usage and easy process modification. They develop what others do not have.
The Future of Robotics from FerRobotics' Perspective
FerRobotics plans more system packages using ACT – extending the possible applications, filling even more automation gaps for the future. Its focus will not only be on grinding, sanding and polishing, but also extending the product range into tactile sensitive handling processes and quality control.
The products Active Contact Flange ACF, Active Sensitive Kit ASK, Active Belt Grinder ABG, revolutionize sensitive automation across all industries, materials and tasks. Especially the automotive industry is absorbing this head start in technology, where it has established itself already as the latest state-of-the art for complex sanding and grinding jobs. The latest invention Active Orbital Kit AOK and Active Angular Kit AAK combine the Active Compliant Technology with enormous durable grinders for industrial use. Whereby even the industrial grinding device has been upgraded and optimized by FerRobotics.
Whenever the team of FerRobotics identifies the sustainable demand on smart automation solution, that require tactile competence, it takes up this track. Following the vision to optimize every single aspect of automated physical contact between machine, product and human, forming an essential component of both industrial and social life. Striving to achieve its vision helps FerRobotics to attain better results in terms of both quality and productivity, as well as to create the optimal conditions for everyone involved in the process. However, it becomes more and more evident, that the users go for convenient complete solutions from a single source. Thus, the FerRobotics product pipeline is full of new ideas.