Rethink Robotics Redefines the Future of Robotics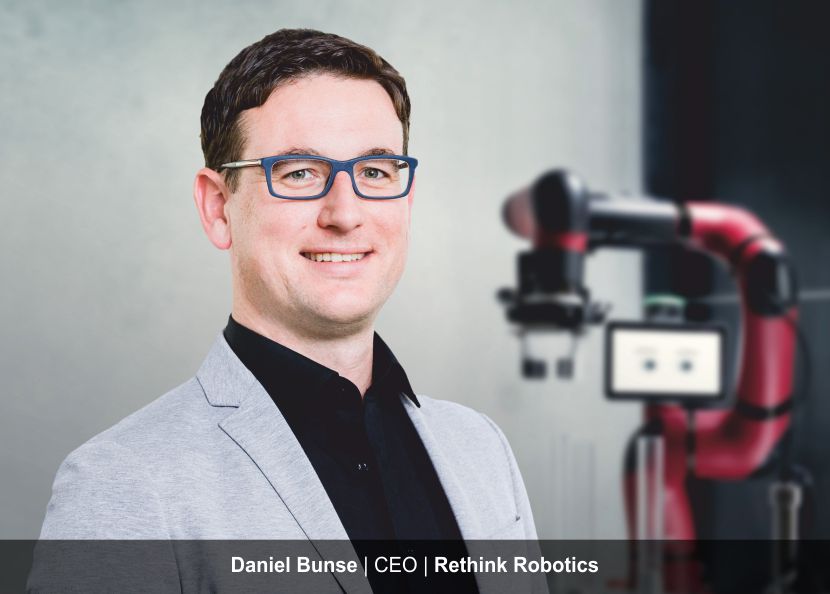 There was a time when robots were just a thought in our heads and robotized operations were only a dream. However, technology progressed and made this dream into reality. Today, robotization has become a part of daily life. Major factories, manufacturing industries, companies, and many more depend on robotics to a large extent. A fascinating innovation that simplifies and reduces human labor and delivers work efficiently, eliminating the risks of errors. Taking robotics to the next level, HAHN Group took over the Rethink Robotics assets in 2018. The original company was founded in Boston in 2008. Known as the pioneer in collaborative robotics, Rethink Robotics has made a remarkable revolution in the field of technology and innovation. As we share this success story, we are certain that their journey will be an inspiration for our readers.
The Inception
HAHN Group took over the assets of Rethink Robotics in October 2018, with the intent of providing manufacturers with innovative automation solutions. The vision of safe, affordable and easily to deploy solutions for the collaboration between human and robot was first realized with the introduction of Baxter in 2012 and expanded with its smaller, more flexible successor Sawyer. On a global scale, HAHN Robotics, part of the HAHN Group, was the most successful integrator for this collaborative robot Sawyer and the smart software Intera by Rethink Robotics. HAHN Group was eager to continue with this advanced technology. They continue to provide clients with the ability to implement easy to use and flexible cobot solutions, which distinguish themselves by an outstanding acceptance of users. Within the HAHN Group they believe to have the perfect ecosystem to grow this business further. Therefore, the HAHN Group incepted the German legal entity Rethink Robotics GmbH, keeping the well-known brand and combining it with more than 30 years experienced German engineering and application competence.
The Advanced Service
Rethink Robotics enables automation in High Mix Low Volume applications. Therefore, the ease of use is crucial. Formerly the need of highly trained programmers combined with the excess of time required to set up an application made it commercially impossible to use automation technology in this area. Rethink Robotics provides with the cobot Sawyer and the software Intera a technology that can be used intuitively with minimal training. The integrated cameras and their positioning system allow the cobot to move and adjust its program automatically. Thus, different applications can be addressed with one cobot, which makes automation affordable even for small companies. The unique and friendly design of Sawyer supports a high acceptance among its users, reducing the entrance barrier for companies and people having never used robots before.
Client satisfaction is the most important factor for Rethink Robotics. As the product requires only minimal training and the return on investment period is very short, they not only ensure but sell efficiency. On top of that, Rethink Robotics supports clients through the whole lifecycle of Sawyer. With wikis, tutorial videos, service hubs in the USA, Europe and Asia, and a highly skilled base of distribution partners they are always close to their customers and partners.
The Growth Strategy
Rethink Robotics GmbH is part of the HAHN Group. HAHN Group employs 1,400 innovators in 13 countries around the world designing and building customized automation solutions for various industries. With the experience of several decades of client centric projects they have proven continuously their ability to integrate new technologies, deal with market changes and find solutions for the challenges of their clients. But there is even more to rely on. HAHN Group is owned by Germany's largest foundation, the "RAG-Stiftung". This organization has successfully managed the exit from hardcoal-mining in Germany and stands in for the perpetual obligations from these coal mining activities. Therefore, social responsibility, integrity and a sustainable management style is within the DNA of the whole organization. And they receive very positive feedback from their partners worldwide for this new behavior of Rethink.
Since the asset take over in October 2018 Rethink Robotics GmbH has set up their partner network with globally 32 distributors. They have built up the team and revitalized the brand with social media activities, a new homepage and attendance in many exhibitions around the world. A core belief is that going forward it is important to move into a more solution driven business to differentiate from competitors.
The Distinctive Factor
Being one of the leading companies in the growing cobot market provides lot of potential for development and growth. With the software platform Intera, Rethink Robotics can offer the easiest to use cobot in the market. The embedded vision system of Sawyer also provides the highest degree of flexibility. Not least the friendly design is accepted easily by human coworkers and people love to work with Saywer. Rethink Robotics is already known as the pioneer in cobots. Going forward they will focus to use the technology also outside factories to make use of the mentioned USPs and bring Sawyer with innovative solutions to an even broader user group.
Demographic change, cost savings and improvement of product quality will further drive the integration of robotics and cobots in more and more applications. Although cobots in most cases are not really used collaboratively, they provide an opportunity to automate applications that never have been able to be automated. This is due to the production process (e.g. small volumes), available space, cost or the kind of application itself. With more than 30 years of experience in customized automation solutions of the HAHN Group and continuous client feedback, Rethink Robotics is aware of the needs of the market. Providing these solutions with the help of their network will kepp Rethink Robotics as a serious player in the cobot market.
"Avoiding the theoretical job descriptions of a CEO, I regard my activity as the role of a project manager. Starting something new requires covering a lot of parallel workstreams. I am delighted to have this team and build the company together with them," says Daniel Bunse, the CEO of Rethink Robotics.
The Future
Rethink Robotics continuously improves their products. In October 2019, one year after the takeover of assets by HAHN Group, Rethink Robotics presents its updated hardware: The Sawyer BLACK Edition. This is the result of the combination of German engineering and longstanding application experience. Sawyer is now quieter and has more reliable components with higher quality. This contributes to a quieter working environment and is therefore even more popular among employees The Sawyer BLACK Edition can be pre-ordered now; first deliveries will take place in 2019.
From a strategic perspective Rethink Robotics focuses more on solutions as well as applications playing to the strength of their software. This will help their clients to automate more in order to save costs, improve product quality and overcome shortfalls of available personnel.
The HAHN Group consists of a network of specialized companies for industrial automation and robot solutions. With its own production sites in Austria, China, Czech Republic, Croatia, Germany, Great Britain, India, Israel, Mexico, Switzerland, Sweden, Turkey, and the USA, the group currently employs 1,400 staff at 24 locations. Well-known customers from the automotive, consumer goods, electronics, medical technology, and healthcare industries benefit from the HAHN Group's 30 years of expertise and automation know-how. For more information visit www.hahn.group/en
Rethink Robotics revolutionized the use of robots in research and industry. With the acquisition of Rethink Robotics' assets by the HAHN Group in October 2018, Rethink Robotics meets German Engineering and is building on the know-how and experience of one of the leaders in the fields of industrial automatization and robotics. Within the Robotics division in the HAHN Group, Rethink Robotics GmbH is now taking the next step into the automation of the future. Rethink Robotics is helping manufacturers of all sizes automate more tasks on the factory floor. By providing the reliable, safe and affordable cobot Sawyer, manufacturers can achieve greater productivity.