Razman Ismail: Global Human Resource Leader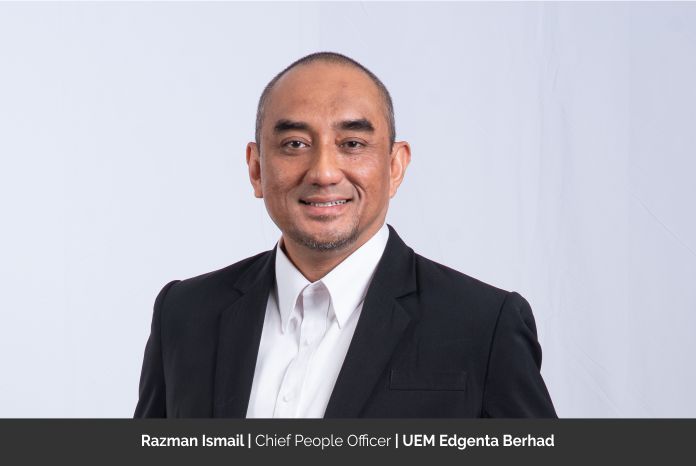 Razman Ismail, the Chief People Officer at UEM Edgenta Berhad (UEMEd), is a knowledgeable Human Resources (HR) professional with over 25 years of experience. Razman's unique perspectives on success, technology, challenges, competition, organizational growth, personal development, and leadership serve as guiding principles in his professional journey. He inspires others to embrace a holistic approach to success, harness technology for pioneering advancements, turn challenges into opportunities, and lead with integrity and empathy.
Spearheading the HR and Administration function at a notable asset management and infrastructure solutions company is a feat that takes work. Razman delivers his responsibilities with vigor and integrity. He strives for sustainable and scalable solutions while giving back to the community and people.
Razman's transition into the field of human resources was a gradual process, starting from his management degree. However, a choice for degree education eventually led him to choose HR wholeheartedly and explore all its domains while taking on various positions. This experience greatly enhanced his ability to 'get a read' on people. He admits that challenges will always be there. However, an individual's outlook towards the challenge makes a difference in the outcome.
Just like many other HR professionals, Razman has faced numerous roadblocks – both personal and professional. Instead of looking back at these roadblocks in dismay, he considers them important markers that propel him in a specific direction. He provides specific tips on how to encounter and overcome challenges. Furthermore, he also speaks about modern technology and the HR industry, how the culture of integrity and innovation are being fostered at UEMEd, and how they manage to stay ahead of the competition in this hybrid world. The central theme of Razman's career revolves around leveraging technology and innovation to drive strategic HR initiatives, all while placing a strong emphasis on giving back to the community.
About UEM Edgenta Berhad and its Services
UEM Ed is Malaysia's leading Asset Management and Infrastructure Solutions company with a clear vision to Optimise Assets and Improve Lives. The company provides various services, including Healthcare Support and Property & Facility Solutions within Asset Management segment and Infrastructure Services, along with Asset Consultancy within Infrastructure Solutions. UEMEd aims to enhance the life quality of the people by providing sustainable solutions that improve the efficiency and effectiveness of infrastructure assets. UEMEd is currently present in Malaysia, Singapore, Taiwan, Indonesia, the United Arab Emirates and the Kingdom of Saudi Arabia.
In addition to being a fast-growing company that focuses on innovation and technology, individuals at Edgenta take pride in delivering quality output while serving the community. The Edgenta People Promise – 'Innovate to serve a greater purpose' drives the way of life for everyone at Edgenta and tells the reason for being an Edgenta Star.
The four pillars that make working and living with Edgenta a meaningful mission of creating value and serving the community are: We Serve, We Lead, We Innovate, and We Care
Edgenta Stars are committed to the purpose and value of being future-focused, imagining new ways to innovate, respecting all, aiming to resolve problems, and being true to their word.
These values are not only enshrined in the code of conduct but are also exemplified and lived each day by every employee, which forms the core of the positive and open culture at UEMEd.
Definition of Success
According to Razman, success is an evolving concept and has changed through the years depending on the different priorities at various stages of life. He says, "Right out of college, success was about securing a job at a reputable organization. A few years later, success meant excelling in different roles in HR and establishing a leadership position, followed by work and family commitments when my wife and I welcomed our eldest child."
During the subsequent years, he defined success as being able to make a positive impact on people's lives. As a veteran who spent considerable time in the field of HR, he did not feel content simply by achieving a set of personal goals or organizational objectives but by going above and beyond. Helping others grow, especially young talents, is how he envisioned success.
Razman's unwavering commitment lies in sharing his knowledge and nurturing the next generation of leaders at UEM Edgenta Berhad. His vision is driven by a profound desire to make a positive impact on people's lives. On the personal front, he finds contentment in watching his family grow, develop their skills and knowledge and make their own choices of education and future career pathways. At the current stage of life, he views success as leaving behind a positive and professional legacy.
Inspiration to Join the HR Industry
For most people, a career path is usually a choice, but Razman got into HR by accident. By applying for a Degree in Management, which was guided to him by his best friend (who is now a Chief People Officer in a different organization), both friends began their journey in HR. Not surprisingly, Razman's first role was in HR consulting. Problem-solving and providing solutions to issues that plagued business, particularly those in the field of talent, culture, and organization. This experience allowed him to explore the facets of HR while tackling immediate real business problems.
Razman acknowledges that challenges can be exhausting. For him, how one reacts when faced with challenges is crucial. There is always the classic dilemma of fight or flight – to choose between facing our challenges head-on or deciding when it is time to move on. There is no one right or wrong answer and one needs to know what the right choice is each time they are faced with such a situation. Taking a moment to reflect on challenges can help discover ways to overcome them. This moment of reflection or self-introspection is an important process for learning.
According to Razman, reflection is an essential step in overcoming challenges. He believes that gaining insight is crucial to surmounting obstacles, and such insight can only be acquired through knowledge and experience. By effectively utilizing this knowledge, individuals can expedite the process of overcoming challenges and achieve success more swiftly. This approach proves to be invaluable in navigating through various situations.
As a leader, Razman focuses on developing and implementing innovative HR strategies that foster a safe and positive work culture, enhance employee engagement, and drive organizational growth. He acknowledges having encountered several roadblocks throughout his career journey, similar to several other leaders before him. Some of the challenges he listed are resistance to change, budget constraints, and talent crunch. However, he believes his experience working with people has helped him gain greater insight and make better decision. In his experience, some people are naturally responsive and open, whereas others may have alignment from previous experiences, making them hesitant.
Razman sees roadblocks as experiences that aided him in overcoming obstacles by teaching him the importance of collaboration, perseverance, and strategic thinking to achieve goals. He firmly believes that his role as an HR leader is to support and enable possibilities for his team to learn, develop and grow. He takes joy in witnessing individuals overcome their past beliefs and unlock their true potential.
Razman says, "Creating a workplace that is meaningful beyond completing tasks or work assignments is possible when leaders maintain genuine curiosity and a commitment to developing their people. Recognizing that we spend a significant amount of time at work, it is undeniable that we all search for a workplace where we can feel safe and authentic."
Modern Technology and HR Industry
In Razman's opinion, like a double-edged sword, technology has provided opportunities and challenges to HR professionals. Technology allows better efficiency for HR functions by empowering people managers to execute their roles seamlessly. It, in turn, helps reduce the dependency on HR and frees up HR's time to focus on strategic decisions. That being said, in today's hybrid working model, there is heavy reliance on various communication platforms like Microsoft Teams, Zoom, just to name a few, which reduces face-to-face interactions, possibly leading to a reduction in employee engagement. Therefore, to ensure sustainable employees' engagement and better talent retention, HR and people managers must think of more creative solutions.
Although hybrid working allows more freedom to work from a location of one's choice, it also comes at a price of reduced face-to-face interactions, which is essential for open communication and transparency.
Culture of Integrity and Innovation at UEM Edgenta Berhad
At UEM Edgenta Berhad, the culture of integrity and innovation is deeply embedded into its policies, processes, and practices. The code of conduct asserts the importance of ethical behavior. The organization champions innovation through its Annual Innovation Month and the Idea Bank. It helps foster an environment based on trust and openness – where employees are encouraged to speak and express their ideas freely on improving the organization. This initiative has garnered many views for the Idea Bank, which tracks and evaluates each idea for implementation.
This initiative is a win-win solution as it allows employees to express their thoughts freely and enables the organization to evaluate each idea before implementation, which in turn helps to improve the organization and its processes. Furthermore, this permits the organization to bring about a necessary modification to improve processes to meet the requirements of its internal stakeholders – the employees.
Growing Competition Within the Industry
According to Razman, UEM Edgenta Berhad ensures it stays ahead of its competitors by monitoring the market trends constantly and providing solutions that meet customers' needs by correctly identifying growth and development opportunities and leveraging available resources and expertise. The organization also invests in research and development that enhances its capabilities to amplify its service offerings and add value to its customers.
In 2022, Edgenta NXT was launched, which offered digital and advanced technology solutions and services to its clients that assisted in harnessing and integrating the power of digital technologies to optimize their infrastructure performance, make better decisions based on real-time data, and improve overall efficiency. These solutions and services were not meant to operate in silos. Instead, they were designed to make them scalable and adaptable to various industries and sectors such as healthcare, transportation, and telecommunications.
Optimizing digital technologies to envision solutions tailored to customers' needs has led to better infrastructure performance and allowed decision-making based on rapidly changing environments, thus creating value for customers.
A Day at Work for Razman
As a Chief People Officer, the responsibilities are all-encompassing, and Razman enjoys collaborating with different teams to align HR strategies with business objectives. He is responsible for developing and implementing HR strategies while creating continuous learning and development culture while driving employee engagement and retention. His typical day involves working closely with his team to strategize HR initiatives and programs, reviewing HR metrics and data, and working with other stakeholders to ensure collaboration and success. While meeting these objectives, he also places importance on making time to attend to employees' concerns.
Razman says, "I believe in working with my team and all stakeholders within the organization to achieve common goals, and I understand that the collective intelligence of the team is greater than the sum of its parts; thus, we should leverage this to drive success."
While Razman understands that everyone may have their own goals and objectives, he also recognizes the importance of leveraging the information to achieve better work efficiencies. Furthermore, to acknowledge his team's efforts, Razman is committed to creating a safe and positive working environment at UEM Edgenta Berhad.
To maintain motivation within himself and his team, Razman emphasizes the significance of cultivating a positive work environment. This entails fostering open communication, offering opportunities for growth and development, and acknowledging and rewarding achievements. By creating such an environment, he believes that individuals are more likely to feel motivated, engaged, and committed, leading to increased productivity and overall success.
Razman firmly believes that a genuine leader is committed to developing and nurturing their people. For him, a special recognition of his efforts as a HR leader is when the people around him grow, develop and step up as leaders. He affirms that leveraging knowledge and experience can help prepare leaders for the challenges of tomorrow.
Attaining Work-Life Balance
Juggling dual responsibilities of personal and professional life is never easy. Razman relies on a way that helps him achieve this balance. First and foremost, Razman prioritizes his time and establishes boundaries to ensure he can allocate dedicated time for his family and personal well-being. He recognizes the importance of self-care practices and actively engages in activities such as exercise and travel to rejuvenate himself. By maintaining a balanced lifestyle, he can effectively manage his responsibilities while taking care of his own needs.
Setting healthy boundaries allows him to focus on the task at hand without having to forego other aspects. To be a well-rounded leader, he assigns time for family and personal pursuits as well as cultivates healthy self-care practices that help him improve. He understands that ignoring one aspect of life might have ramifications in other areas.
Path to Realizing the Company's Vision
Exciting projects are in store for the organization as well as for personal development, as outlined by Razman below:
A three-pronged approach for UEMEd involves:
Expanding their services globally into new regions (such as the Middle East and Pan Borneo)

Leveraging technology to enhance offerings such as via Edgenta NXT, and
As a HR Leader, Razman's Personal Goals Can Be Summarized in Three (3) Key Aspects:
Consolidating Efforts for Change and Growth: He strives to consolidate efforts within the organization to drive positive change and foster growth.
Promoting a Culture of Respect, Innovation, and Inclusion: He aims to create an environment where diverse perspectives are valued, ideas are encouraged, and everyone feels empowered to contribute their best.
Empowering Employees to Reach Their Full Potential: He believes in providing opportunities for growth, professional development, and ongoing support that enable individuals to enhance their skills, achieve their goals, and thrive in their roles.
In pursuing these three-pronged goals, Razman aims to create a workplace where positive change flourishes, employees feel valued and engaged, and the organization as a whole thrives in a culture of innovation and inclusivity.
In addition to fulfilling his aforementioned responsibilities, Razman is actively investing in his own professional development. He is currently undergoing a certification program to become an Executive Coach. His strong desire is to equip and empower future leaders by sharing his wealth of experience and knowledge. Through this, he aims to prepare them to navigate the challenges of tomorrow with confidence and resilience. Razman's commitment to continuous learning and his dedication to developing the next generation of leaders reflect his unwavering passion for cultivating talent and driving sustainable growth within the organization.
Message for Aspiring HR Professionals and Business Leaders
Razman's message for aspiring HR professionals and business leaders is rooted in practicality. He says, "Place your focus on personal and professional development, as well as nurturing the growth of others. Be open-minded and unafraid to challenge the status quo. Embrace creativity and think beyond the present, considering the needs and aspirations of future generations. Finally, be proud that we can serve, contribute and take pride in raising the bar of excellence in the HR field."
Based on his experiences, Razman acknowledges that every piece of expertise he acquires empowers him to make meaningful contributions to the community and those around him. He emphasizes the significance of curiosity, openness, and flexibility in this regard. Razman encourages us to embrace the courage to recognize that every moment holds the potential for learning and growth. As he concludes, he reminds us to dare greatly, driving remarkable success and creating impactful change throughout our personal and professional journeys.
Razman, has demonstrated exceptional leadership and commitment to sustainable HR solutions throughout his 25-year career. At UEMEd, he fosters a culture of innovation, integrity, and open communication, while prioritizing work-life balance and personal growth. With his extensive experience and dedication to developing future leaders, Razman continues to make a meaningful impact on the HR industry and inspire those around him.