Nicole Ayala: Developing, Directing, and Coordinating Policies and Training while Ensuring Compliance in the Organization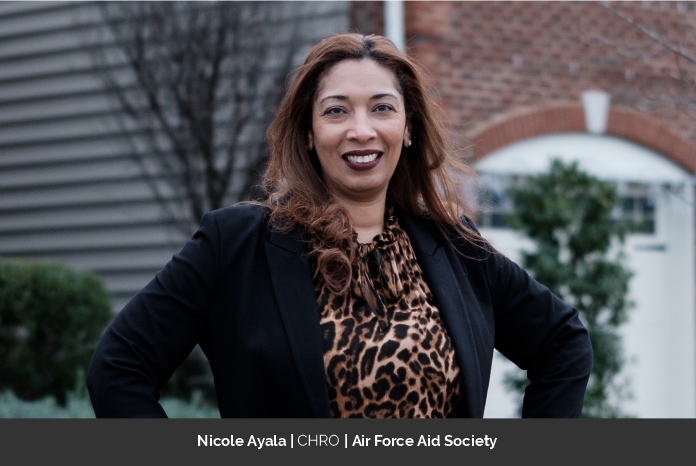 Nyvia "Nicole" Ayala serves as the Chief Human Resource Officer for the Air Force Aid Society. She has more than 25 years of experience working in employee relations and accounting. She received a B.S. in business management with a human resource management minor from the University of Phoenix. Nicole started working at HQ AFAS as the Chief Financial Officer's administrative assistant. She stayed with the society for 8 years, rising through the ranks each time. She is currently tasked with developing, directing, and coordinating policies and training, ensuring compliance, and assisting in the implementation of the organization's mission and strategy in her capacity as a member of the executive leadership team.
As an HR manager for AFAS, Nicole is responsible for making sure the company fulfills its mission to assist airmen and their families in times of need. Her work also includes, recruiting, onboarding, compensation, payroll, benefits, employee engagement, DE&I, training/development, and retention. She created a virtual onboarding procedure to address the difficulties everyone encountered during the COVID-19 pandemic. In order to give employees a clear set of guidelines and expectations, as well as accountability measures to help them achieve their professional goals, the company implemented a performance appraisal system.
AFAS has expanded its employee benefits by allowing its staff to telework and extending its health and wellness benefits. Nicole shares, "We want to make AFAS a great place to work." She feels proud AFAS is a Companies as Responsible Employers (CARE) Award recipient for the third year in a row. Finally, it has expanded its efforts to ensure diversity, equity, and inclusion among its scholarship recipients, which is something she is passionate about.
Serving the Nation
Helping Airmen and Guardians every day is the Air Force Aid Society's guiding principle and serves as the basis for all operational decisions. Every day, AFAS provides assistance to its Airmen and Guardians so they can attend funerals for loved ones, repair their cars, pay rent and utilities, or buy specialized medical equipment. At base installations all over the world, Air Force families take advantage of AFAS-sponsored community programs that provide childcare, car care, and spouse employment training. With assistance from AFAS, a dependent spouse or child of an Airman or Guardian can pursue their goal of attending college.
The AFAS team points out that without compassionate people, this continuous support for Airmen and Guardians would not be possible. The generous individual donations of AFAS's donors enable AFAS to continuously meet the essential and particular needs of Air Force and Space Force families. Through more than 19,000 assists, the Society gave nearly $13.5 million in direct support to Air Force and Space Force families in the previous year.
AFAS is dedicated to being outstanding stewards of the generosity of its donors. The Society commits $3 in direct assistance to Airmen and Guardians for every $1 donated. AFAS obtained the highest rating given to a charity, 4 stars from Charity Navigator, the largest independent charity evaluator in the country.
Joining Sector to Leading It
Nicole initiated her shift from accounting to human resources management in 2008 when she agreed to work as a fulfillment manager for Pitney Bowes Government Solutions. She supported numerous government contracts over the course of ten years as a government contractor by hiring, reviewing, and terminating employees. She attained the position of Chief Human Resource Officer at AFAS in 2021. She is thankful for the daily chance to speak up for the company's employees that her position provides her.
Before working at AFAS, she was a federal government contractor. Adaptable is probably the word that best describes her. Over the years, she has worked in extremely challenging positions requiring her to be flexible, to readily adapt to a changing environment, and to manage with little to no direction and training.
History Behind the Inception
When the world was consumed by war, General Hap Arnold and his wife, Bee, chose to sow the seeds of optimism about America's future. The Arnold's wanted the children of American Airmen who had passed away to know that they were supported by a larger Air Force family as they grew up.
The Army Air Forces Aid Society was established by General Hap and Bee Arnold 80 years ago on a chilly March Day in 1942. Now known as the Air Force Aid Society, this new organization was chartered for "the establishment of a trust fund, the principal of which is to be invested to provide income for the continuing problem of Air Force needs, mainly after the war."
The Arnold's had a bold vision in time of war. They knew what a world war could do to a generation of people, and they set about providing critical help for the post-war health of American Airmen and their families.
At the war's end, General Arnold gave a speech to "thank all those who fly and those who make flying possible." He understood that no one soars to victory or achievement alone as all Airmen are connected and must support each other as a family.
Today, the Air Force Aid Society's purpose is to help Airmen and Guardians when they need us most. As an official charity of the U.S. Air Force and U.S. Space Force, AFAS provides emergency assistance, educational support, and community programs to Air and Space Force families worldwide. That aim is as important today as it was 80 years ago.
Challenges and Success
In her early twenties, Nicole looked in the mirror and saw a divorced single parent with a high school diploma and minimal professional skills. She was motivated not only to support her sons but also to demonstrate to them that one's starting point need not be their final destination. She made the decision to continue her education while also supporting her family and working a full-time job. It was an emotionally and financially taxing journey that was long and frequently lonely.
As a manager, Nicole has a lot of empathy for staff members going through difficult times, and she works hard to set up systems of support to ensure their success as well.
Nicole's success is determined by her ability to set and achieve personal and professional goals. She feels that the greatest impact that a leader can have is by displaying characteristics that others might seek to model. As an Afro Latina, she strives to demonstrate professionalism and integrity that might inspire others.
Way to Achieve Balance
Self-care and establishing boundaries are the keys to balancing Nicole's professional and personal life. She recalls, "When we initially started working from home during the pandemic, I think those lines became blurred, and I found myself working longer hours than I did when we were in person."
In order to make time for her family, Nicole takes regular breaks throughout her workday, works out frequently, and has a set end time for her workday. She strongly encourages her employees to do the same.
The future of AFAS
In terms of Nicole's position at AFAS, she would like to see the company expand its fundraising capabilities and secure additional grants to allow it to better serve the community. As a personal goal, Nicole looks forward to her youngest son graduating from high school this year and going off to college, which will give her more time to work on her golf game. She asserts, "There is a lot I would like to do. My current priority is to secure a $2 million donation for the Air Force Aid Society. We want to expand our programs, but we need donations to meet our goals."