Elizabeth Sto. Domingo – A Driven and Versatile HR Leader Focused on Shaping Organization Culture to Help & Support Employees' Life Cycle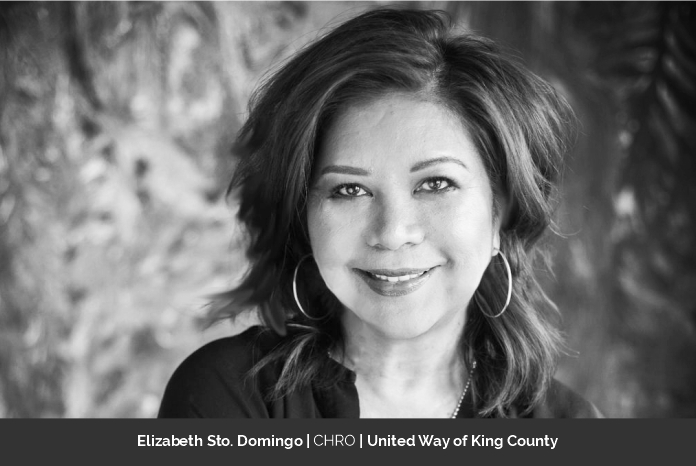 Human Resources is a great profession and valuable profession that runs a business. There is nothing more important than hiring and developing people because, at the end of the day, all businesses bet on people for growth and not strategies. Finding and recruiting new talent, training and developing workers, engaging employees, resolving conflict, keeping the company out of court and keeping an eye on productivity are just some of the million things HR professionals do. HR professionals consistently do a great job at people management daily while leading some of the most important conversations at their respective workplaces and their culture.
As an experienced strategic HR leader, Elizabeth Sto. Domingo is passionate and results-focused about centering people and culture and dismantling systemic racism. As the CHRO at United Way of King County, Elizabeth is attentive to enhancing employee experience while positioning the organization for the future. This is truly at the heart of everything she does.
Elizabeth is a driven, versatile, creative HR professional with over 20+ years of experience that spans private, public and non-profit organizations at various stages of growth, including start-up, established and turnaround settings. She is results-oriented and a strategic problem solver bringing an innovative approach to human resources management.
Challenges are opportunities to get stronger and more successful
Elizabeth believes success comes when your passion drives meaningful work to see the change you want to see in the world. This means finding things in life that can motivate others to have a positive impact on their lives.
"I've reached a point in my life where it's not just about me, but also about the people around me and how I can make a difference in the world," she states.
Elizabeth sees challenges as opportunities to find creative solutions to become stronger. Her experience working in human resources for almost three decades has taught her to focus on solutions and tap into her creativity when faced with challenges. As a woman and a person of color, she has faced many adversities and biases, but she says that these experiences have helped her build resilience and open-mindedness and she has used these challenges as opportunities for growth.
"I know that when I'm tested or when faced with unsurmountable challenges, I tend to become stronger emotionally and gain mental strength," says Elizabeth.
Elizabeth's leadership and guidance for the growth of United Way of King County
As the leader of United Way of King County, Elizabeth has been able to keep people engaged and stay committed to the organization during the pandemic. She has implemented impactful initiatives to build capacity and sustainability, and she has a genuine desire to see people succeed.
Elizabeth has partnered with other leaders in the organization to navigate uncertain and complex changes. Her leadership style, which combines business acumen with a people-first approach, has helped United Way of King County evolve as an organization.
The journey and success of a dynamic human resources leader
The beginning of Elizabeth's career marked the point when she realized what brings her joy and what she is good at; "and I accepted it," she says.
"I would define myself as a dynamic leader. My main responsibility as the leader of United Way of King County is to develop and execute human resources strategy that supports the overall business plan, enhances the employee experience and helps the organization navigate change,' explains Elizabeth.
Elizabeth believes that there's always room for more. She thinks that when we stop learning, we also stop growing. Whenever she herself fulfills one dream, Elizabeth strives and ensures to move on to the next. "As long as I'm alive, I'll keep dreaming, achieving, growing and finding joy in all that I do," she exclaims.
Elizabeth also believes that in today's uncertainty, the way we lead is more important than ever. We need transformational leaders so the organization can stay relevant, adaptable to change, and continue to evolve. This means taking a deeper dive into team dynamics and building high-performing teams, finding ways to re-engage teams and guiding organizational change to restore confidence in these challenging times.
The best recognition Elizabeth claims she has received as a leader was when people she admires noticed her talent and actively sought ways to support and grow it.
Elizabeth's accomplishments as a passionate professional

Elizabeth has led, designed and implemented learning and development initiatives aligned with the organization's goals to help shape the work culture into continuous learning, engagement and accountability. She has actively developed HR strategies and internal systems to support the employee life cycle from onboarding to talent and performance management. These efforts have resulted in high-performing teams and increased retention. Also, performance levels have increased by 40%.
Further on Elizabeth has developed and implemented HR infrastructure during the agency's start-up phase throughout a period of rapid growth. She is highly experienced in leading and directly supervising teams of HR professionals in all HR functional areas. She is also experienced in management-level positions, including HR Director roles in two private-sector companies
Effectively managing work and personal life
Work–life interface is the intersection of work and personal life. There are many aspects of one's personal life that can intersect with work including family, leisure and health. In short, work-life balance is the state of equilibrium where a person equally prioritizes the demands of one's career and the demands of one's personal life.
In order to maintain a healthy balance between her work and personal life, Elizabeth tries to stay positive and prioritize things that are important to her. She makes sure to hire self-motivated people. She also makes it a point to be present and listen to staff.
Elizabeth's inspiring message to aspiring entrepreneurs is: to never stay stagnant, it would be almost impossible to fail if you are passionate about something – passion alone will keep you going if nothing else. Change is also inevitable and it's important to be willing to accept failure, learn from it, and move on.