Ravi Gunti: A Passion that Pushed all the Boundaries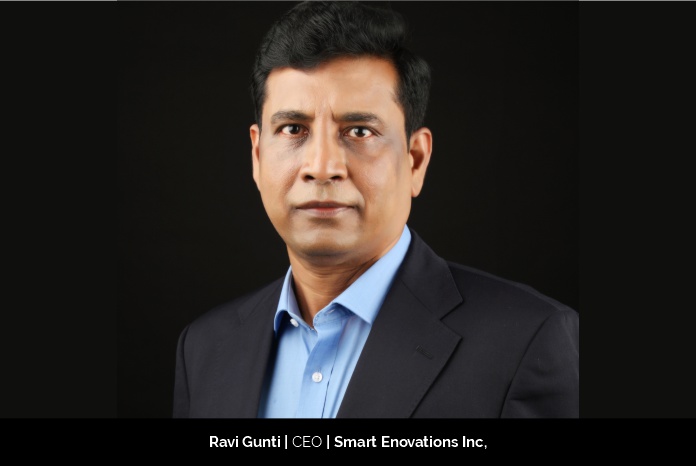 The future seems to be technology-driven, and many companies have sought after this fast-paced technology to extend their services and make the impossible possible. Be it the medical field or the automotive industry, technology has left its footprints everywhere.
No wonder why people are so optimistic about the future because somewhere inside, they know that the future is brighter and more promising. Keeping this promise and optimism strong and working hard towards the ultimate goal, Ravi Gunti, the CEO of Smart Enovations, has made it to the list of the ten most intelligent Automotive CEOs to watch out for in 2021.
A Keen Interest That Became a Game-Changer
Ravi was destined to step into the automotive industry sooner or later in life. Even though he had ample chances to choose diverse fields, his keen interest in Design and engineering kept him hooked to this field.
He was fascinated by design and engineering since his college time. He went further to study for masters, but upon being offered different streams in IIT's other than the "design" stream option he was looking for in IITs, he decided to enrol in another Top University where Engineering Design as stream is available, to pursue his passion and dreams.
This university was not the end! He was highly qualified, and an esteemed IT company came knocking at his door, but fate had something else in store. He abandoned that offer and took up a challenging project at the ISRO satellite centre, Bangalore, which made his foundation stronger. He then took an offer at Advance engineering group in core R&D team working on India's first indigenously designed small car at one of the TOP Automotive OEM's.
"During my corporate career, I was part of many pathbreaking (one of the core design member on small car program, front grill for an European OEM, part of many European and North American Car programs, an aircraft program from scratch to production, member of Moon Mission for an indian moon mission team, Established many offshore development centres (ODC's) for OEM's and Tier-I & II suppliers and the drive continued till I decided to take the entrepreneurial foray with Plexion Technologies and Smart Enovations along with Dr. Dilip Bonde and Dr. Padmanabham with Top US funding Bank in 2000 and in 2011 started Smart Enovations without any funding along with Dr. Bonde and Dr. Reddy." Ravi adds.
Lessons Learned in the Journey Helped Mould him into a Successful Entrepreneur.
Unlike other fields where funding, concept, awareness, etc., are the most prominent challenges, Ravi's story had a different dimension. He was not bothered by any of these aspects that would pose a challenge on his journey.
The only thing that was a roadblock in his path was to grow the engineering solutions, which was a relatively new concept then. While he managed to overcome this setback and bounce back stronger by creating some niche area services, he gave a message to the young leaders by saying, "The learning from setbacks continues to the belief that you will overcome and will sign up your customers."
With this positive attitude and thought in mind, he advanced further and made a big name in the automotive industry with Smart Enovations.
A Service that Leverages the Old and New Technology for the Benefit of Others
Ravi's company 'Smart Enovations' is a one in all solution for all the engineering & embedded design services.
To illustrate his services better, he says, one of the early implementers of "Smart Enovations is ISO 9001:2015 and ISO 27001:2013 certified, full-stack Engineering, Embedded, IoT and IT software and related and product design and development company with specialist domain knowledge for Industries like Automotive | Medical | Space | Energy | Aerospace | General Engineering | Information Technologies. Specially, in the space of EV, embedded, connected cars, ADAS, IOT, AI/ML and also on the IT side."
Moreover, his company focuses not only on the concept design and engineering, virtual simulation specially in Autoform on sheet metal, plastic, NVH, durability, CFD, thermal but also on lending a helping hand to manufacturing support, and launching the products of other clients worldwide and fan his company's wings around the globe.
He states. "Apart from expertise in Core engineering strength from concept to Manufacturing support/launch of the product with our international offices in Europe |US | UK | and Canada, we also serve our customers worldwide with a focus on emerging technology areas with niche skills and best in the class process established to achieve creative, smart solutions for our customers."
His focus on work always keeps him occupied. However, his motivation lies in producing excellent products at the first sight so that no client has a complaint regarding his products and services. Although he has worked with many demanding clients projects and has gained success in his field, he doesn't let it overshadow his commitment to work, which motivates him further to do much better.
The Incredible Culture and Competition that Keeps the Company on its Toes
While the technology keeps changing every second, the existing structures and strategies have to be changed to match the latest trends. This constantly changing landscape keeps Ravi on his toes so that he is not left behind in the race. Hence, every project and every days is learning that he lay his hands on is new and unique in its way.
To highlight the importance of teamwork, commitment and cultural integrity, he adds, "Since most of the Automotive programs we work in the concept phase will come out 2 to 3 years later into the market, we need to keep a tab on future technology trends in mind."
Therefore, he organizes strong induction programs and provides the new energies with the freedom to explore their talents and refine their skills to match this industry's demand and stay abreast with others.
"We continue to participate in Global innovations challenges and our other avenues so as to keep ourselves abreast of Technological updates and new solutions designs. We always focus on the Niche technologies and have unique innovative solutions to offer when compared to our competition." Ravi mentions this sentence to outline how he manages to match the rising competition and stands apart from others in the race.
Long Term Vision and Achievements that have laid out the Roadmap of Smart his Enovations
The ultimate vision of Ravi is to globalize his company and make it big. He aims to see his organization emerge as a strong innovative and engineering solutions company. With this vision, he has managed to complete his journey so far and will be doing so in the future.
Working at ISRO and TATA R&D in are some of his achievement so far as that organization laid his foundation to establish a successful company like Smart Enovations. Still, he believes that there are several achievements on the way, and hence, he is waiting for that "greatest moment" to happen. If it were not for the initial corporate experience, he wouldn't have made it so big.
"Our next few years Smart Enovations will emerge a High Technology Stack solutions company, and want to be Global Top 10 companies in our segment working closely with Global Clients on their respective engineering product and solutions journeys" he adds to explain what the years down the lane will look like and how Smart Enovation's face is destined to change soon.
Responsibilities and Roles that have Brought Forth the Inspiring Leader
Ravi's primary responsibility as a CEO is to drive his company to success and expand it further to support many potential clients. He also has to look after the customer experience and ensure that they return satisfied with Ravi and his team's work. Never lost a customer in last 10 years and keep getting repeat orders from customers.
The significant challenge is to motivate the employees to continue working, and he does it with much ease. He is an inspiration to the budding leaders who aspire to make it big someday and emerge as successful entrepreneurs. "We make sure that there is always something to learn & grow for our engineers, which keeps motivating them." He adds.