Otonomo: Creating Value from Car Data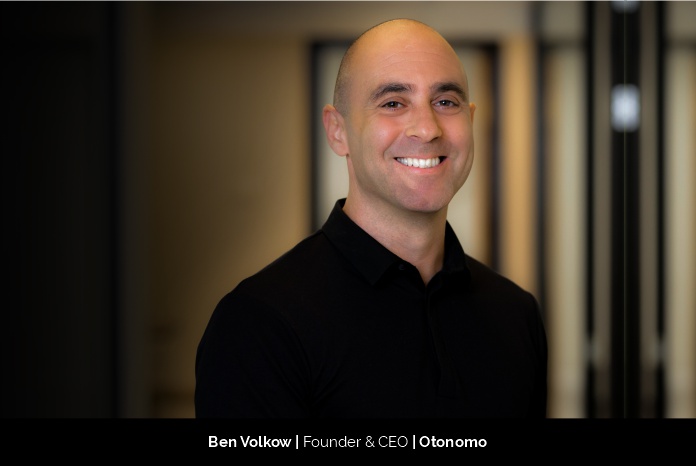 Today, cars are becoming like computers or cell phones on wheels: They generate up to 25 GB of data per hour, according to Frost & Sullivan. This data has potential far beyond its primary use in vehicle operations. New apps, services, and big data analytics applications are emerging for traffic planning and optimization, congestion management, safety and roadside assistance, parking, fueling and EV charging, location intelligence, and much more. With a vision to enable a world of environmentally friendly cities that run more efficiently, Ben Volkow, the Founder and CEO of Otonomo made a remarkable entry into this field. Ben is a successful entrepreneur with an inspirational story that is a source of motivation for every individual who aspires to follow his or her passion.
The Foundation of Otonomo
Ben started his first business as a teenager. In his hometown, where there would be a street market every Tuesday. Ben wanted to make money, so he handmade batik shirts and sold them at the market. " I remember that the house was covered in all the different paints I had; I used to make such a mess, but the shirts were beautiful. I sold out each week.", Ben recalls. This was the time when Ben realized that he wanted to start his own business as an adult.
Otonomo is Ben's third company. The second company he started, Traffix, was bought by F5 Networks. While Ben was at F5 managing a big data team, the team received a request from BMW to help build a database of car data. He found himself having fascinating discussions and learned about automakers' strategies for developing cars that are computerized and send data to the cloud: location, speed, indicators of road hazards, ambient temperature, fuel levels, tire pressure, and much more.
Ben saw that over time, billions of connected car data points would be ingested. (Gartner predicts that by the end of 2020, there will be 255 million connected cards on the road.) And, he saw that there was going to be a need to provide visibility into the data as well as a gateway for the car data to be incorporated into diverse applications and services. This Inspired Ben to start Otonomo.
Building an Ecosystem for Car Data
The Otonomo Automotive Data Services Platform fuels an ecosystem of more than a dozen OEMs and 100+ service providers, which is doubling quarter on quarter. Their neutral cloud data platform securely ingests more than 2 billion data points per day from over 18 million global connected vehicles, then reshapes and enriches it, to accelerate time to market for new services that enhance the driving experience.
Privacy by design is at the core of their platform, which enables GDPR and other privacy regulation- compliant solutions using both personal and aggregate data. Use cases include emergency services, mapping, EV management, subscription-based fueling, parking, predictive maintenance, usage-based insurance, media measurement, in-vehicle package delivery, and dozens of smart city services.
Otonomo ingests raw automotive data from multiple sources, in diverse structures and formats that comes from numerous makes and models as well as multiple modules within the vehicle. The data is monitored for quality control, cleansed to remove corrupted data and harmonized to maintain a standard interface for data consumption. Further data reshaping is performed to increase the data value and speed to market. Customers choose Otonomo for a variety of reasons.
· Their vast network of OEMs and service providers
· Their partnership and consultative approach
· Their strict privacy compliance solutions and differentiated technology to protect drivers:
· The consent management hub provides drivers with control and transparency about what data they want to share with whom, to meet their privacy expectations and regulatory compliance requirements.
· The Otonomo Dynamic
Anonymization Engine protects driver data. Sophisticated combinations of anonymization techniques make data usable and valuable for a diverse range of mobility applications and services. Shield drivers' identity while addressing a wide range of use cases, from city planning to HD mapping and media research.
The Story of a Successful Leader
Ben is a serial entrepreneur who realized his passion for business as a teenager. He worked hard to achieve his dreams of success. He is an overachiever; hence it does not matter where he is at, he will always strive to achieve more. The best part of his journey is bringing his vision to life and motivating people along the way. He enjoys creating a family environment at his companies as he believes we are all in it together.
Ben has experienced the highs and lows of businesses; however, despite it all he was determined to succeed. As for the toughest part of starting a company, raising the seed round is always the hardest," he says. "You have no real assets besides your big idea and your smile. In the early days, there are always people who do not believe in the vision and say it will never happen. But I try to take their feedback in a constructive manner and use it to tune and improve my pitch. It is important to stay focused and driven to reach the goal. Creating a category is a lot of work, with ups and downs, but it is very gratifying when the market recognizes the vision and acknowledges the leadership. Of course, it's always a celebration when the first contracts come in." Ben shares.
Ben realized that all his hard work had paid off when they signed theirmfirst major commercial contract with an OEM – Daimler. It was a real milestone moment for him. "Otonomo had been working on the partnership for so long, and receiving that contract really legitimized us as a business," he says. "In addition, Daimler agreed to a public announcement to which the industry really responded well." It's not hard to keep him driven, but Ben feels a huge sense of commitment and responsibility to investors and employees. " All these people have given me their trust, and I am passionate about delivering for them. Things are going well now. We are really starting to take off and build a repeatable business model. It's exciting." he adds.
Amidst his roles and responsibilities at Otonomo, Ben has learned to maintain a good work like and personal life balance. Ben believes that balance Is a hard thing to achieve, and we all do the best we can. " Life is a marathon, not a sprint. I have found that since we all have smartphones and connectivity everywhere, the boundaries between work and home are blurry – everyone I know experiences this. I take calls all the time, but I also keep sacred time sacred. We have rituals at home: in the morning and at night and when I am home, my family knows that they can count on me. When I travel, and I see something that my kids would really like, I pick up little gifts for them so they know I am thinking of them. We go on holidays as a family. When my older boys need extra dad time, I treat them to one-on-one time for a sports game or quick trip," Ben shares.
The Future of a Visionary Team
To be a successful entrepreneur, Ben believes that Step One is to have a Vision. Step Two is to be able to communicate it to people so they can see it, support it, and build the scaffolding for you to achieve it. It is important to see any obstacle as a chance to grow and keep pushing through the early stage when the business is first crystalizing. He thinks it is critical to hire talented people you trust, who are experts in their domain, and for whom you can set the course and let them run. Communication is the most strategic asset; it is critical for success across every facet of your life.
Even though Otonomo is entering its fifth year in business with so much accomplished, Ben still thinks the best is yet to come. They are on a big and meaningful journey at Otonomo – to build a giant company that does good with car data. The world is changing very fast, and Otonomo is driving along with it.