Marin Zoricic: Transforming the used cars business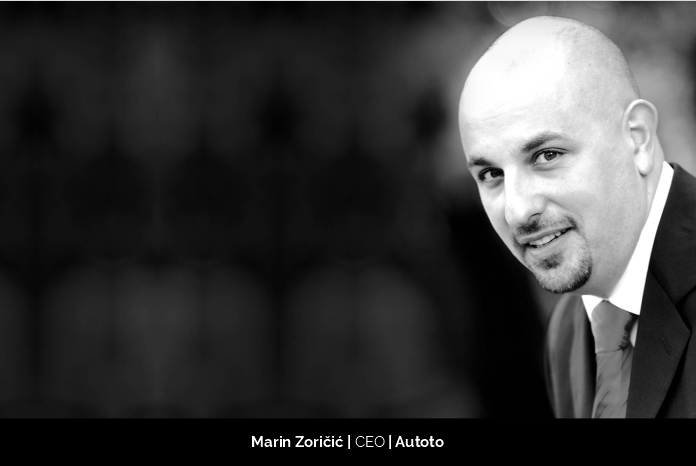 Childhood fascinations can convert into dreams if you really believe in their beauty. One such leader was Marin Zoricic, CEO of AUTOTO who had always loved to play with toy cars, sea, and sailboats as a little boy. Now that he is living an unexpected life, he plays and works at the same time to enjoy his work in the automotive industry.
His journey commenced with building everything from scratch. He never thought that one call would change his life forever and help him lead a successful venture. "One day, I got a phone call and offer to build something from the scratch, and I knew immediately that my whole world is about to change. I have got open hands and clear paper to draw whatever I think will work in the used car business. They gave me an opportunity to pick name, colors, web page, business model – literary everything was given to me along with great responsibility." he adds.
Comprehensive Services of AUTOTO
Being a part of Grand Automotive Group, he states, "We have four main pillars of procurement – we buy cars on market using auction sites all over EU, we give buyback for short period like for rentals and we give buyback for long term period like for companies, private customers, etc. and then service/demo cars and trade-ins represent the fourth pillar."
Not only this, Marin is dealing in wholesale expansions as well as retail sales in Serbia, Monte Negro, North Macedonia, Kosovo, Albania, but also Hungary, Slovakia, and the Czech Republic.
However, building this business was quite hard. As each colleague is different in terms of working habits, family, private goals, problems, happiness, etc., it is essential to create a systematic machinery that will help in achieving goals. He states, "Nothing is carved in stone, so we talk a lot, discuss and we doubt everything in order to reconsider some old paths because we learned that sentence "Because we do it like this for ages…" is the first step towards going down."
Marin puts emphasis on building a H2H (human2human) business model rather than a B2C or B2B. He further adds, "Everybody can participate in any conversation because I need all perspectives, different PROs, and CONs but the main goal that we achieve – the company doesn't belong to our owners in Israel, the company really belongs to all of us. We become virtual shareholders and we all think about the company as our baby."
What makes AUTOTO Stand out of the crowd
Keeping eyes just onto the key competitors is not enough, Marin believes in taking into consideration competitors from other industries as well to undertake different approaches and enhance creativity.
He says, "I can just dream of Carvana business model from US where everything is online, but when you take a look at location where we are and what are customer habits, possibilities and needs, it is clear that we have to create some other paths to stay in front of our competitors. Doing copy-paste is not right path so I leave that to others."
He realizes the importance of building trust and confidence of a customer. Thus, there are certain steps to be taken into consideration to reshape how people view it. Therefore, he adds, "We check cars when they enter on the stock, we take care of them while they are waiting for their new owner, and we check them before new owner take them to their new home. We learn a lot about new models, new features, because we do not sell just one brand – we sell all of them, so we have to know many different things. By listening to our customers and giving them clear and concise answers on their questions we are in fact reducing fear and tension (what if they try to sell me some crap?) on the other hand, we are boosting confidence." In this way, the customers know that Marin and his team are not selling a piece of scrap but also reducing their fear of getting into scams.
Long-term Vision of AUTOTO
Being a professional, young and passionate team, Marin wants to spread the business in Croatia and nearby region. Further, he is planning to help Hyundai and Ford importers and then, shift the focus to assist Nissan import in Central Europe (Hungary, Slovakia and Czech Republic).
His partnership with Taavura Holdings is enabling them to cover eastern and central Europe easily. However, reaching more and more customers is still an issue. So, he adds, "The only logical solution in our vision is to bring those dealerships into AUTOTO network, give them web page where they can sell their stock, marketing for that web page and their stock, but also give them access to our stock and suddenly they become big used car dealers since they have all stock accessible with just small investment from their side."
Leading AUTOTO As a Passionate CEO
His previous job made him learn a lot about how to be professional in everything that he did. At the time of leaving that company, many colleagues left and joined him. He proudly shares, "Yes, we work together in AUTOTO, and many more of them are waiting for new position and roles to be opened so they can join in. before leaving, I got one simple metal plate with sign – Everybody have boss, but only we have friend and role model. That is my greatest achievement."
He strongly abides by the rule – either we succeed, or we learn. Thus, no one is afraid of trying under his leadership. Moreover, he believes, "Lion is king of the jungle, but you can also find him in the circus. Crown can fall easily, so be careful." Thus, everyone at his company gets equal opportunity to grow as no one is perfect and improve from the existing mistakes and give their best in the future. He makes it a point to encourage each and every employee to try and even if they fail, there are always some great lessons learnt for life.