Q & A With Constangy Partner Kimberly Talley
On How She Found Optimal Success and Career Satisfaction in BigLaw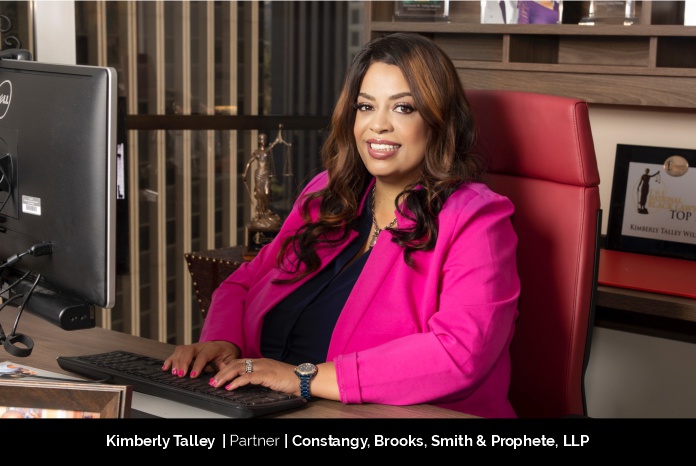 Kimberly Talley is a partner in the Los Angeles office of Constangy, Brooks, Smith & Prophete, LLP, a prominent national labor and employment firm based in Atlanta. In her practice, she represents national employers in "bet-the-company" and other high stakes employment litigation matters, with potential exposures in the eight and nine figures. She believes that Constangy has given her the opportunity to be the most successful she has ever been in her 30-year career practicing law because of its unique culture and leadership's commitment to diversity, equity, and inclusion. As a leader herself within the firm, she is committed to making the practice of law a positive experience for all attorneys, especially women and attorneys of color, who for many years have left the practice of law because of the challenges they experienced in large national law firms (BigLaw).
In a recent Q & A interview with Kimberly, she shares with Beyond Exclamation! Magazine her story, including her vision for Constangy and advice to aspiring young attorneys.
Tell us about Constangy and why you believe it is a special place to practice law.
Constangy is a national, highly ranked, and highly regarded law firm with 29 offices throughout the country focusing on management-side labor and employment defense. We handle almost anything related to the workplace, from daily advice to large and small clients, to exceptionally large complex litigation. I think what distinguishes Constangy from other firms is not as much what we do, but how we do it. Our clients tell us there is a "soul to Constangy" which is evidenced by the camaraderie that exist among the partners. There is a mutual feeling of trust and respect which flows over into our legal practice.
As a woman of color, I wanted to join a law firm that would stand for the values and beliefs which are important to me. I also wanted this career move to be my last. Constangy had just opened its Los Angeles office in February 2016 when I interviewed. After meeting with a number of partners across the firm, I joined the firm as its eighth attorney to help expand the firm's presence in California. In addition to the incredibly talented colleagues that I would be working with on my cases, the primary reason that I joined Constangy was because of the firm's deep commitment to diversity, equity, and inclusion ("DEI") issues. I know a lot of firms talk about the importance of DEI issues, but as they say, "the proof is in the pudding." Constangy does more than talk, it walks the walk. Don Prophete is one of the first and only African American partners whose name is on the door at a BigLaw firm. When I joined the firm, it was incredible to see so many attorneys-of-color flourishing in their practice. They were the firm's top rainmakers; they were serving as office heads, on the Executive Committee, and thriving in their practice. After my first year at Constangy, my practice grew significantly; before the end of my second year, I was promoted from partner to equity partner; and by my third year, I was serving a two-year term on the Executive Committee (firm management) and serving in other leadership positions. This has also been the trajectory of the attorneys-of-color who I have recruited to the firm and who have joined after me both in Los Angeles and across the country. The unique firm culture and unwavering support from firm leadership simply maximizes every attorney's opportunity to have a successful legal practice.
In addition to the firm's commitment to DEI, it is just an overall great place to work. For several consecutive years, the Los Angeles office has been named one of the best places to work in Los Angeles for all companies our size, not just law firms, by the Best Companies Group. Since graduating from Harvard Law School, joining Constangy has been the best decision in my entire career.
What led you into the field of law?
I became a lawyer because I wanted to help people achieve justice. Part of my natural skills and talents are helping people. The way the world works is not perfect. I recognize there are problems and injustices in the world. I also recognize I have excellent ideas and that I am good at advocating for other people and helping them find solutions to their problems. I realized early on in life that the various systems that we work inherently have problems and I can try to do what I can to make things as right as they can be – and for me I wanted to be a lawyer working in the judicial system because that is where I thought I could have the most impact.
Every leader has a unique definition of success. What is your definition and what do you think it takes to help someone succeed?
While success is sometimes measured by financial prosperity and professional recognition and achievement, there are also intangible measures such as career and personal satisfaction, freedom and flexibility, and seeing others around you succeed, including those you have mentored and had some influence over their life. My definition of success lies at the intersection of doing something that I love and feel is within my purpose or calling – like being an attorney, an advocate for my clients – while simultaneously doing something that I can earn a living and sustain me in a real world way.
Mentorship and success go hand and hand. There is so much statistical data that backs that up. In my opinion, it is hard to be successful without mentorship, especially when you have intersectional identity like being a minority and a woman. Having a mentor helps you make fewer bad decisions. It saves you years and years of figuring it out yourself, especially if you have a person who can say "it took me 10 years to figure this out, but I am going to teach you this in an hour." That is what is most important about mentorship — the wisdom that is passed along. It is not just about the people who can introduce you to someone or write you a letter of recommendation, it is really the wisdom that the person can pass down to you – having access to their thinking and experience; that is where a lot of the gold in mentorship really is – and sometimes we can miss that.
When it comes to my personal story, mentorship was extremely important for my success. I had several mentors including those who mentored me informally. I spent 14 years of my career working with my mentor, Naomi Young, first at Gartner & Young and then at Baker & Hostetler. In addition to training me to become a good lawyer and being a role model for me as a highly successful African American woman, she provided me with wisdom and advice on how to navigate a career in BigLaw. She also taught me about business development since she was a leading rainmaker in the firm. One of the firm's clients, T. Warren Jackson, also became an informal mentor while I was an associate and he continued in that role when I became a partner. He helped me refine my litigation skills as a young attorney; he helped me with client development and he also provided me with sound advice on career moves. He also mentored me when I expanded my practice from single-plaintiff work to class action wage and hour matters.
Even today as an equity partner and mentor to others, I still have mentors. Over 25 years later, I still have active relationships with both of my mentors Naomi and Warren and continue to seek them out for wisdom and advice. Don Prophete, whose name is on the firm masthead, provides mentorship to me and many others in helping us grow as leaders and with client development.
How would you describe your leadership style and what attributes do you think are important for an effective leader?
I would say that in all I do, both in my personal and work life, I try to be kind to others. It's a tenant of my Christian faith: "be kind to one another." This simple principle by which I live my life has spilled over to how I practice law and my leadership style. By leading with kindness, I do not mean just being friendly towards others. Rather, I mean demonstrating genuine concern for the well-being of others; showing them respect and compassion and simply being considerate of others. These may not sound like the customary attributes that lead to success for an attorney practicing in BigLaw, but they have helped me tremendously in my career both in my practice of law and in my role as a leader. Kindness does not mean weakness, nor does it diminish others' respect for you. Rather, I have found that when you are authentically kind to others and you are approachable, this produces mutual trust, loyalty, dependability, and motivates everyone to want to do their best for you and the organization.
I think honesty (trustworthiness) and loyalty are the most important attributes of a highly effective leader. I have seen these two attributes in all of the great leaders that I have come across in my career, including within Constangy.
A highly effective leader is also patient and will invest in his or her team/employees. This includes investing time and resources in underperforming but loyal and dedicated employees through both training, coaching, and mentorship as well as motivation and inspiration. It is easy to want to focus one's resources on a top performing employee who will make his or her way through the ranks and receive promotion; however, it takes a truly great leader to take an underperforming or mediocre employee and turn his or her performance around so that the person becomes a top performing employee and has a long-lasting career with the company. That is true leadership.
Challenges make you stronger. What is your take on this? What were the roadblocks that taught you valuable lessons in your professional journey?
In many respects, the challenges that I have faced as an attorney are similar to those faced by my colleagues. As an African American woman, however, there were additional obstacles that I have had to face. One of the biggest challenges I have had to deal with is finding my voice in the workplace. On the one hand, it is and has always been very important for me to speak up when I have a strong opinion about an issue. I place a high value on being able to have open and frank discussions with my colleagues and partners. On the other hand, during the course of my career, I have noticed that there can be a double standard for women of color who speak up in the workplace and are assertive. We are sometimes perceived as combative or "too aggressive," especially if we disagree with or want to change the status quo. The challenge for me was whether to allow myself to succumb to the negative stereotypes and be quieter when the work environment was such that it was risky for me speak up.
I am thankful for my mentors, two highly successful African American attorneys, who modeled for me the best way to deal with this challenge. They instilled in me the importance of allowing my voice to be heard no matter the consequences. In my journey, I am thankful for my mentors and for having found a firm like Constangy, where I can have an opinion that is not only valued, but I express myself authentically without the fear of being perceived in a negative manner.
In terms of professional challenges in general, my belief is that "pressure creates diamonds." I can look back on every challenge that I have faced in my career, and I know that I have become a better and stronger person after these experiences. These trials and tribulations made me stronger and more resilient. They taught me to believe in myself and to know that I will get through whatever adversity I face. Challenges can teach you so much depending on your perspective. Some people go through hardships and let themselves become victims or they are only able to focus on the hurt. It is true that challenges may hurt you, but I think it is important to do everything you can as an individual to turn every hardship you face into lessons; that is the only way they can turn into blessings. I think that challenges build a person's character and make one stronger, but you must be open to navigating the hurt or the frustration and recognize what you can learn from the situation.
How do you ensure a culture of integrity at a company such as Constangy?
I would say that you ensure a culture of integrity first by modeling it yourself and within senior leadership before you ask it of others. You cannot expect anyone else to do something you do not do, especially if you help form the culture. If you have that power and you are not modeling it yourself, it is unreasonable to expect it from other people, especially folks with less power than you.
In addition to having senior management model it from a personal standpoint, it is important for organizations to offer incentives to encourage these important values. Just like businesses offer incentives for certain things– in the legal field, bringing in clients is rewarded, hard work is rewarded – organizations have to offer incentives for things like creating a culture of integrity or otherwise reinforcing company values. Sometimes an organization will value money over integrity, and you can see that reflected in promotions and compensation. If you look at what incentives an organization is offering to its people, that shows where the organization's values are.
What is the significance of innovative ideas in the company and how do you stay abreast with the growing competition in the industry?
I know that the concept of "innovative ideas" has become such a buzz phrase these days. Based upon everything that I have read, innovation is the implementation of new, unique, or creative ideas that add value to a company and its clients. In the legal field, it is important for a law firm to be on the cutting edge of our profession. This may include coming up with legal strategies on how to defend our cases, finding unique ways to generate more business, finding ways to attract and retain the best talent, finding the best ways to reduce legal spend for our clients, or dealing with solutions for whatever challenges come the firm's way. In order to stay ahead of the competition, any business must be open to new and fresh ideas. What may have allowed a law firm to be successful in the past may not work in today's environment. Senior leadership must ensure that there is a constant flow of innovative ideas.
I think what can create a culture of innovation is creating an environment where everyone in the firm feels like they can suggest ideas. I also think it is important to have an environment where it is not just senior leadership offering solutions. In other words, the best way to get innovation is to allow everyone in the room (people who have all different backgrounds and experiences, who are all looking at the same situation from different perspectives and paradigms), have a voice. Shared opportunities to offer ideas (and I do not necessarily mean shared decision-making power) allows for ideas that are new, fresh, different, and functional. Companies who harness this are innovating in our world simply based on the way that they structure their organizations. When you can nail innovation and innovative thinking and democratize it, you will not have to worry about competition because (a) you will be doing things so specific to your organization folks will only be able to steal your ideas; and (b) when you are really pinpointing innovation, you naturally are a leader in the field. Bottom line, when you have diversity in who you allow brainstorming –from interns to senior leadership or in the legal field, from associates to partners, you do not have to worry about the competition because the company itself is in the forefront spearheading innovation in their fields.
What is your message to aspiring young attorneys?
Having worked at several great law firms over my 30-year career, I would have two general types of advice for young attorneys, one relating on how to be successful in a law firm setting and one about how to choose a law firm. Because my career has been solely in the law firm setting, I will focus on advice to young attorneys who want to be successful at a law firm.
First, I would tell them that it takes a lot of hard work, time, and dedication to be successful at a law firm. This will require a lot of personal sacrifice. They must be both patient and productive so that when their time comes, they are ready to receive the promotion or partnership.
I would also start teaching young associates about the business side of the profession early in their career. It is a given that an associate's work-product must be stellar, but excellent work alone may not always be enough to make an associate successful at a firm. It is a given that they must be knowledgeable about the case, understand the legal theories, and always be prepared, but they also must ensure all their time is billed correctly and they are meeting their billable hour goals because that is what management is reviewing at the end of the day. In other words, I would tell them that in order to be successful in a law setting firm, they must bring value to a firm and be profitable. For example, as a labor and employment attorney, I tell young associates to make sure they get an opportunity to work on class action cases even if they prefer single plaintiff work or advice and counsel work because the class action work is more profitable to the firm. As they go through the ranks and start to be evaluated for partnership, an associate's productivity is a key factor in determining whether he or she is promoted. I also would tell them to think about business generation early in their career and start forming relationships with individuals who may be a resource for business in the future.
The second piece of advice to young attorneys is for them to search for a law firm that shares their core values and will provide them an environment to maximize their potential for success. Instead of focusing on firms that simply provide prestige and high salaries, they want to find a firm that provides the right "fit."
Having found a firm like Constangy later in my career, my only wish is that I could have joined them sooner (although we did not have a Los Angeles office until the year I joined). I am the happiest and most successful I have ever been in my career and that is directly attributable to the fact that Constangy's work culture and core values are directly aligned with my core values. I have amazing peers who are super talented and help each other succeed. Our leaders lead by example. Constangy is committed to diversity, equity, and inclusion. Finally, the firm empowers a culture of trust, loyalty, positivity, respect, transparency, and open communication. In this environment, an attorney can only thrive and has the best opportunity for success.
Finding the right "fit" is critical. It is almost like being in a relationship. There are certain deal-breakers. If something is important to you but not important to the firm, then maybe you and the firm are not compatible. I would also tell young attorneys to make sure they are working at a firm with a healthy environment and where people enjoy coming to work. Every job has its ups and downs, and no work environment is perfect, but they should work in an environment where they are being treated with respect, their contributions are valued, and where they are progressing in their career development.
There are many great places to work such as Constangy and younger lawyers simply must keep searching until they find the right fit. I would say do not settle or they will regret it.
Tell us what is your vision for Constangy and how do you wish to influence change?
My vision for Constangy is that the firm continues to provide impeccable legal service to our clients and maintain its reputation as a go-to national labor and employment boutique firm, not only in Los Angeles and California but around the country as we continue to expand in other legal markets.
One of the many reasons that I was attracted to Constangy is that the firm's leadership is committed to diversity, equity, and inclusion issues. I am now a member of the firm's DEI Steering Committee and involved in other DEI firm initiatives. As part of the leadership's vision, Constangy rolled out a number of new DEI initiatives last year. One of my favorite DEI groups is the Inward Facing Forum Group where Constangy attorneys across the United States meet and have bi-monthly discussions on various topics relating to racial equity and justice. We have frank and open discussions with one another and also work to come up with solutions on how we can improve our firm and the communities where we live.
Constangy is also committed to the hiring and retention of attorneys of color. Since I have been at the firm, we have been able to attract talented diverse attorneys and cultivate their skills, talents, and interest and they have been incredibly successful at Constangy. My vision for Constangy is that it will be seen as a place for any attorney, especially attorneys of color, to know that they can come and succeed in the practice of labor and employment law at the national level.
I wish to influence change so that everyone at the firm shares these core values on the importance of DEI issues not only with respect to the firm, but with respect to making a change in the world in general.
How do you keep the attorneys on your team and yourself motivated?
The way I keep myself motivated is by continuously pushing myself to become a better person, partner, and leader. The attorneys who help me on my legal matters become motivated when they see me pushing myself to be better. I provide praise on a daily basis for a job well-done, including for big and small accomplishments. I give everyone credit for my success as a partner since we all work as a team.
How do you maintain a balance in your personal and professional life?
This is admittedly something that is hard to do, and I continue to work on perfecting this. I mainly just focus on trying to be a balanced person overall. I am spiritual and my spiritual practice is something that grounds and balances me. When I feel balanced, this seeps into my personal and professional life.
Tell us about some of the recognitions that you have received as a leader and attorney?
In 2019, I was selected by Savoy Magazine as one of the most influential women in corporate America. According to the magazine, we were selected "based upon [our] exemplary record of accomplishments and influence while working to better [our] community and inspire others." This recognition meant a lot to me because it looked at my overall achievements. I am also a Fellow of the American Bar Foundation, an honorary society limited to the top one percent of all attorneys in the United States. I was also honored to become a Fellow of the Litigation Counsel of American-an invitation only trial lawyer honor society consisting of the top one percent of attorneys in the United States. Fellows are invited into the Fellowship after being evaluated for effectiveness in litigation and trial work, along with ethical reputation.
For the last seventeen consecutive years, I have been named a Southern California Super Lawyer in the field of Labor & Employment law, an honor based upon peer recognition limited to the top 5% of attorneys in the state. Since 2009, I have been named one of the Top 50 Women Attorneys in Southern California by the same publication on six occasions. In recent years, I have been named to the National Black Lawyers Top 100 Attorney list.
***
In her personal life, Kimberly enjoys spending time with her husband Mark Wilson and two Chow Chows, Ari and Chloe. She also serves on the board of Center of Hope located in Inglewood, California. Kimberly considers herself an amateur photographer and several of her photos taken of President Barack Obama and First Lady Michelle Obama between 1986 and 1989 while attending Harvard Law School have been featured in an MSNBC documentary and a book about Michelle Obama. She was also a featured author in the American Bar Association's Book, "The Woman Advocate" writing chapter six "Succeeding as a Woman of Color."