Amy Reed: Amassing Optimum Market Saturation with Woofie's featured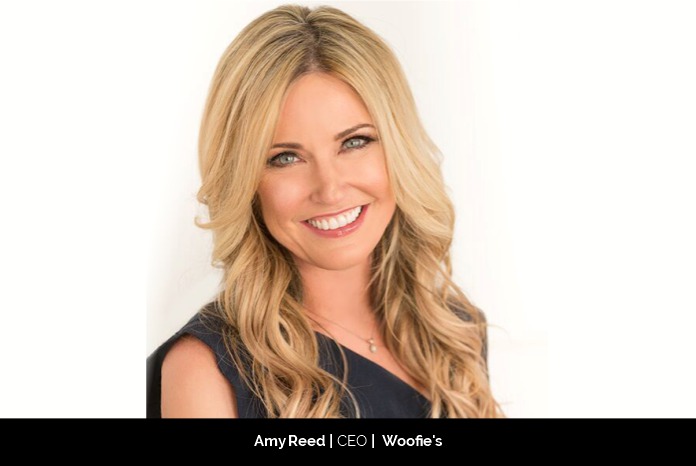 Amy Reed, the CEO, co-founder of Woofie's Pet Ventures in Northern Virginia, has a strong belief that a good and successful leader commences by building an exceptionally strong team. "You need a team that is loyal, shares the same vision, values, and mission.", says Amy. She continues, "We see ourselves as more than just co-workers – we are one cohesive and supportive family". Amy believes that she has found success because she has been able to recruit great people and together, they have created an environment where they all want to stay and build a future.
Two flints to make a fire:
Animals are a window to an individual's soul and they are also the doorway to one's spiritual destiny. Upon seeking the pearl of wisdom that led to the commencement of Woofie's, Amy shares that she and her business partner, Leslie Barron, founded Woofie's back in 2004 when they realized that there was an unmet need for reliable, personalized pet care in their locality. They were accustomed to working full-time and it was very challenging to locate a trustworthy pet sitter and dog walker. They then quit their corporate jobs and transformed their love for animals into a successful pet care company while enjoying what they do every day. Upon referring to the early days of their venture, Amy recalls that "Leslie and I walked our first dog together on day one for 10 dollars, and we continued to grow our team and expand our business, one dog walk at a time".
Amy & Leslie's foremost priority was to provide the very best customer service and soon, Woofie's became the top dog caretaker in their local community. Amy quickly realized that the clients also wanted the experience of an upscale grooming salon for pets, without the hassle of the trip to the salon. So, in 2011, they bought their first van and added mobile grooming to their list of pet care services. Now, their clients have one trusted company for all their pet care needs. Bagging more accolades and business for their venture, in 2018, they began franchising and today Woofie's has three franchise locations and one corporate location in Northern Virginia.
The unison of efficiency:
Anyone can hold the helm when the sea is calm but when the tides widen? These are the signals of boulders that entrepreneurs encounter each moment in their journey. Amy advises us not to fear challenges and suggests approaching them head on. She believes challenges often create opportunities to make changes. Says Amy: "In the very beginning, pet care services was not perceived as a real industry and it was not as respected and appreciated as a real profession. Today it is a $95 billion industry, but it has evolved and we have evolved with it. We started our mobile pet grooming business from scratch, and there were some hurdles along the way because we had no background in grooming. It is such a specialized skill and there is so much demand for professional groomers. We had to build a team of highly skilled groomers, and yet after 7 vans, we still couldn't meet the demand of our customers. For this, we created Woofie's Academy, our in-house professional grooming school. Now, we offer a pool of highly skilled groomers for all of our locations".
The commitment of expansion:
The Woofie's mission is to ensure that every customer experience is an exceptional one. That is the foundation on which Amy and Leslie built their business and their commitment to customer service has never wavered. "Whether we have 5 clients or 10,000 clients – we want to treat each client's pet as if they were our own", says Amy. Woofie's also believes greatly in giving back to the communities. Over the years, they have held fundraising events that have raised tens of thousands of dollars for local charities and animal rescue groups.
Adopting a franchise model has enabled Woofie's to grow their business into different markets but ensure that their mission remains the same. "We are very excited for this journey and bringing Woofie's professional pet care services to the rest of the nation", exclaims Reed.
The consensus change:
A good entrepreneur envisions the pavement of victory. Amy says that by far the best recognition she has received in her professional pursuit is to gain three incredible franchisees who quit their corporate jobs to franchise their own Woofie's:
"My vision is to grow Woofie's throughout the US and beyond. We want to take personalized, professional pet care to a higher level by not allowing it to become commoditized. Our goal is to keep pet care personal, with an extreme focus on customer service. We want each and every Woofie's location to be run by business owners who have a true passion for animals and an unwavering commitment to the highest level of care for them".
In her conclusive pearl of wisdom for aspiring businesswomen, she hints to not give up. Stay focused! "So many people thought we were crazy in the early days, there were so many naysayers. Find your passion, follow it, stay true to it, and shut out all the outside noise. Believe in what you are doing and reach out to others for support. Follow your path and enjoy the journey!", she added.