Jacqueline Hudson: Creating Technology Solutions for the Elite that Deliver Results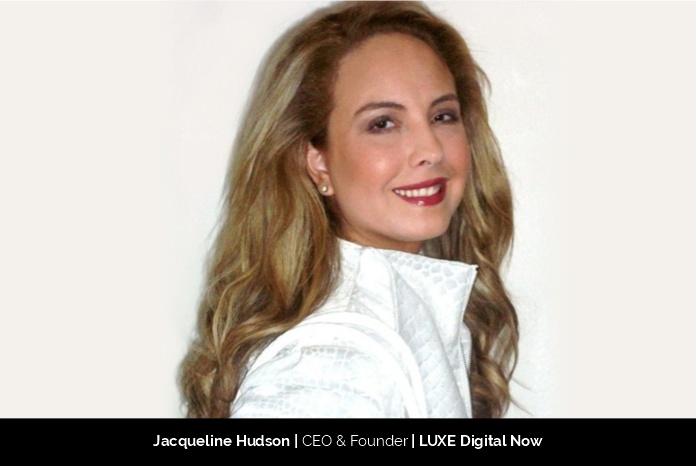 LUXE Digital Now was the inspiration of its founder Jacqueline Hudson, who after obtaining her PgD from the Digital Marketing Institute in Dublin, Ireland launched the company. With a specialization in digital marketing and a deep understanding of the beauty, fashion, and luxury industries, LUXE Digital Now quickly climbed in the ranks in the digital marketing arena, obtaining high-profile global clients. Fast forward three years, the firm is now going global with its headquarters based on the West Coast of the United States and ready to launch globally into the UK and European markets with offices to be opened in London and Milan as well as Tokyo for the Asian region, and Dubai for the middle east.
Devising the best delivery in data, bio-scientific and cosmetic systems
LUXE Digital Now is a digital marketing and technology solutions company that devises the best delivery in data, bio-scientific and cosmetic AR/AI analyses systems. The company's services include artificial intelligence, software and algorithm development, mobile design and applications, data technology solutions and hardware technology development such as the Liquid Beauty AI smart mirrors. Jacqueline says, "LUXE Digital Now is incredibly unique in the fact that we believe very strongly in a universal work culture. Filled with integrity, inclusion, and diversity. Our talent pool of employees is global, and we hire teams from the US, UK, Europe, and Asia."
Led by Jacqueline, LUXE Digital Now is truly innovative in its company structure, cultural and employee diversity as well as the technological solutions that the firm offers. "Our solutions are truly global, and we excel at enterprise level projects. LUXE Digital Now has cultivated an era of change towards leadership in the field. What sets us apart in the industry is the ability to create technology solutions that diversify and enhance a company's overall growth and ability to build strong ROI platforms that produce," shares Jacqueline.
Astonishing the world with innovative technologies
LUXE Digital Now uses three innovations to astonish the world, with its marketing solutions. AiDAS, Premier Jet App and LIQUID BEAUTY AI.
AiDAS (AI Data Technology Solutions): AiDAS is an artificial intelligence cloud program, designed exclusively for global corporations to gain complete autonomy of all their digital marketing, e-commerce and digital technologies data. Patented by the company, the system is designed the system exclusively for C-Level Executives, Marketing Executives, Data Scientists and AiDAS System Administrators, and is the leading AI data analytics control system in the world. The system focuses on all digital marketing needs. But the principal aspect is the management of client's e-commerce business, with key and well managed KPI developmental AI enhanced software structures. AiDAS can showcase both investment and profitability input scaling, with real rich time conversions and predictive rich data analytics for investment purposes.
PREMIER JET APP: Premier Jet is a patented e-commerce mobile application designed by LUXE Digital Now. According to Jacqueline, it is the world's first and foremost widely used Private Charter app and comes in multiple languages. It is available in all kinds on smart-device platforms and is used to search luxury brands with a global mapping system. The app has in-built filters, which help in sorting out the desired destination to shop along with brand names and promotions and organize delivery at ease. Users can register an account via Facebook, Twitter or Google accounts and share products via social accounts. The app is also featured with creating a favorite or a wish list and they can receive app's push notifications preferences in the personal account such as sales, promotions, offers, new arrivals, and collections.
Liquid Beauty AI is company's leading specialty AR/AI system for the retailer in beauty sector with its new 3D augmented reality mirror that simulates cosmetics on a user's face photo-realistically in real-time, with expectations to transform how women shop for cosmetics. It is an augmented reality technology, which expects to make color testing easier by simulating makeup products on a user's face to show what they would look like in real-time and without having to upload a photo. Created by LUXE Digital Now, the technology is also being introduced to standalone retail kiosks equipped with a touchscreen monitor and camera, as well as a mobile application that can be used on tablets at beauty counters or on consumers' own handheld devices. While 2D try-on tech has been increasing in popularity among online and in-store merchants, LIQUID BEAUTY AI in 3D is a naturally progressive step.
Enabling businesses to amplify visibility across the digital space
Professionalism is LUXE Digital Now's middle name; "Top talent at LUXE Digital Now is only the best that will support your project. We enable businesses to amplify visibility across the digital space. We do this through our software platforms and services that help our clients. We create compelling digital presences on websites and social platforms. Our awards and affiliations speak for themselves.
"We innovate, we design and we strategize the best delivery in digital marketing and technology solutions. From building social media campaigns, e-commerce and content management platforms that strengthen businesses. We create campaigns and content that move people. We develop strategies and experiences that elevate brands and engage consumers. We develop branding that exudes the best. We create technologies that execute data and elevate mobile apps. We specialize in the beauty, luxury, fashion and technology industries," shares Jacqueline.
Jacqueline's career started over a decade ago when she was producing high-level projects for major global beauty brands under billion-dollar multi-media companies. It is with that experience she developed the skills necessary to create a global empire with LUXE Digital Now. She considers her greatest achievements to be obtaining my PgD and soon to be Doctor of Technology. Additionally, the technology inventions that she developed in data science and the personalized beauty technology sector are some of her career's other achievements.
Services that Deliver ResultsIGITAL MARKETING: The digital marketing team adds performance to LUXE's name; the team is committed to driving real business growth, from planning to execution and analysis. The team has experts across a number of key marketing channels, including paid search, SEO, social advertising, and email, all of which intersect to create dynamic and trustworthy marketing programs that deliver results.
LDN TECHNOLOGY: LUXE's mission is to create technologies that achieve global business objectives and thrive in an ever-changing digital landscape. Agility and adaptability are key to preparing clients for technological investment. LUXE Digital Now allows clients implement new operational structures and design a responsive, lean and resilient technology ready to thrive no matter how the digital landscape evolves.
CREATIVE STRATEGY: Every forward-thinking brand needs a North Star to guide their evolution. LUXE's brand architecture, positioning, messaging architecture, and design systems are built to grow with the clients over time, so they never have to sacrifice who they are. Through technical and product road-maps, feature and functionality documentation, prototyping, wire-framing and other strategic tools, the team helps clients define the future of their digital operations.
CONTENT MARKETING: LUXE's Content, User Experience and Development teams collaborate throughout the process to ensure useful, usable content is easily created, published, and governed. In addition to developing and implementing a CMS, LUXE's Content & Editorial team works with client's marketing department to create content that is compelling, resilient, extensible, and conversion-oriented. Additionally, the SEO experts, development team and content strategists work together to ensure content across your site answers key user questions authoritatively and is optimized for search.
UX/UI DESIGN & BRANDING: LUXE's design experts produce compelling visual identity systems that establish desired brand attributes but are flexible to evolve over time. The team gives consumers a unified brand experience as they connect with brands they trust across various touch points, today and tomorrow. The design team at LUXE doesn't simply design the requested deliverables. They build design systems that can be extended to communications and experiences throughout company's digital ecosystem, ensuring client's web and mobile presence is consistent and effective.
Dynamic and future driven vision
When asked about her vision for the company, Jacqueline says, "I always find this to be a wonderful question; my vision is truly dynamic and future driven. It is my goal to continue to be an innovator in the beauty technological industry creating both scientific research, and artificial intelligence that will change the face of the globe into a forward-thinking society at a revolutionary change of technological expansion."
Serving as the CEO at LUXE Digital Now, Jacqueline looks after the global management of both staff and client acquisition. Additionally, her role as the leader of the digital firm entails the invention of technology solutions as well as the daily running of the global corporation. "We continue to be inspired to be the best and bring a revolution to the industries that we impact," says Jacqueline.
Even though Jacqueline runs a global corporation, she always makes time for personal care as well as family and friends. According to her, this is an important part of our lives; "it is only up to us to make that time for both our business selves and our personal selves. And within that we find the perfect balance. For inspiring businesswomen, I recommend working extremely hard, but pacing yourself with milestones that help you to excel in your career goals."
Growing exemplary and rapidly through the pandemic
The unexpected pandemic of COVID-19 has hastily shut down the operations and has created horror in the mind of many organizations. However, even during the wake of the viral outbreak LUXE Digital Now has ensured that their services continue to operate. The digital marketing firm has associates from all over the world namely Canada, Mexico, and the USA. As such, each country they complied with moved forward into a virtual office system using Oracle Netsuite. This helped the company's operations continue at a smooth pace and eventually kept every staff member in a safe zone.
LUXE Digital Now's growth is exemplary and growing at a rapid pace. "We expect to go from 25 to 100 employees by January 2021, to over 500 employees globally in Q4 of 2021. LUXE Digital Now will continue to expand globally and open offices around the world, which will in return create job opportunities, and real economic growth and society impact. With offices opening throughout the globe and our technologies being bought my major multi-billion-dollar firms. It is our continued goal to be the purveyor and excel as the best technology driven agency in the world," concludes Jacqueline.