Olga Grudniak: Connector of Science and Business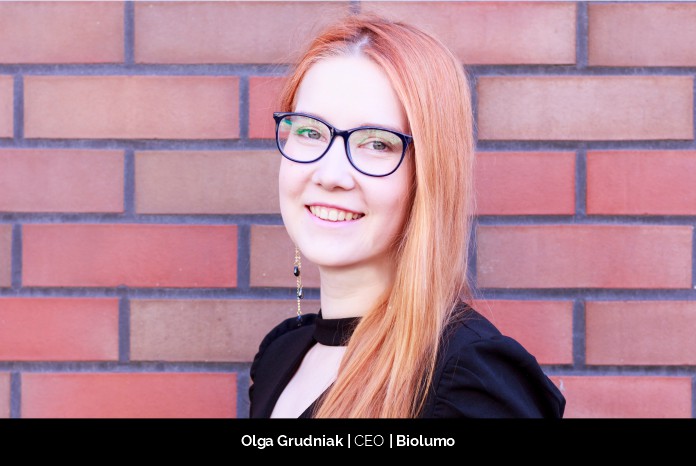 A decade ago, GP experience and intuition was more than enough to prescribe the best antibiotics for patients. However, in the last ten years, antibiotic resistance has increased substantially. The same antibiotic can work differently for two patients suffering from the same disease. Antibiogram is a commonly used method, which specifies the minimal inhibitory concentration (MIC) of an antibiotic. However, it is expensive (€12,5 in Poland, €100 in Germany) and time-consuming (over 2 days). Countries like France, Denmark, Switzerland, and Germany have already made efforts to combat antimicrobial resistance by establishing a law for mandatory testing before prescribing an antibiotic. As an ideology, this regulation is more than great, but it has one major problem. In order to work properly, it needs to be quick and cheap enough to be used for every patient regardless of their health condition.
Helping doctors prescribe proper antibiotics
Enters Biolumo – a MedTech company set out to help doctors prescribe proper antibiotics. Right now, general practitioners are prescribing 74% of antibiotics, yet every solution that might help them prescribe a right antibiotic is beyond their reach. As a result, they have to guess and statistically there is only 50% of chances they guess right. That is why the Biolumo team decided to provide them with a device that is fast enough to test every patient, affordable for doctors and patients, and in the long run also for governments / healthcare system. The idea came from the company's mentor from the previous project. He asked Wojciech if there is any solution that can quickly determine if his son got the right antibiotic. The founders researched the topic and came to the conclusion that there are no such devices wildly available on the market. And there it was, calling to take a decision that would change the landscape of prescribing antibiotics. Before any hurdle could take place, the foundations stone of Biolumo was laid down.
A young & innovative scientist leading the way
Olga Grudniak is leading this innovative team to a remarkable height. Her career path, however, has changed a lot in the past 6 years. She started off wanting to become a cardiovascular surgeon and for 2 years, she was studying all the time. "Always in the books," she recalls. "In high school, I signed for a team competition made by MIT called iGEM. The goal was to promote synthetic biology by, for example, inventing a way to degrade plastic or create bacteria which produce electricity," Olga adds. "We started our own project trying to make a new protein that can be used for treating infections with multidrug-resistant Staphylococcus aureus. A big part of the competition was to raise fund from sponsor to travel to the US and present the project. To do that, we met with Wojciech Giżowski – currently VP and COO of Biolumo, and Jakub Wysocki – our CMO. They taught us about fundraising and commercialization, as a result, we gave up the competition and focused on developing a new generation drug," Olga shares the story behind the foundation. However, at that point, Ola also gave up the idea of becoming a surgeon and focus on becoming biotechnologist. After 2 years it shifted again as she became, at first, project manager, and then the CEO of Biolumo. This time she did not abandon the idea of becoming a biotechnology specialist, instead she decided to also educate herself about business and economy.
The memorable moments that paved the way
Olga shares that there have been five most memorable moments in her career. First was at the beginning of her career, when she got a VC grant for development of new generation drug for MRSA. The next one was when Biolumo got in the Startupbootcamp acceleration program in Berlin. After 1.5 year of working all day and night on Biolumo, without any financing, Olga and the team finally got to the point that one of the best accelerators in the world was interested in investing their time and money into Biolumo. The latest is, when Biolumo was named the Healthcare Leaders 2018 by the 25 most influential Polish healthcare key opinion leaders. That confirmed the need for Olga's solution and that she can change healthcare for the better. The two most recent events are when Olga was chosen by the Forbes Poland as the best business leader under 25 in Poland and awarded the Businesswoman of the Year as well.
Breaking glass ceiling by transforming science inventions into businesses
Olga says that leading a healthcare startup as a young scientist was the biggest challenge both for her and Biolumo itself. According to her, business is all about the experience. "Investors are often asking if the Wojciech or Jakub is the CEO and they are often surprised when we say it is me. The next question is usually about my experience. I would not lie my business experience started before Biolumo – it is my first company, but I took some knowledge and experience about business from home as my dad is a serial entrepreneur," Olga says. This is very similar situation when it comes to being a young scientist. "I came across a few university professors that would not talk to us because we have no degree yet. Investors are always asking who the Professor behind the idea is and there is none – Marcin, the 21 years old scientist and our CSO, invented the product at the age of 18," she adds.
She also says that being a woman does not make it easier of course. "We came across investors that ignored my existence during meetings or ask Wojciech and Jakub if they do not mind that a woman is a CEO. We were often underestimated. Right now, it is happening less often as we had a lot of success and we established trust points like partnerships with big players on the market. In the beginning though, it was hard to establish ourselves as trustworthy and experienced," Olga shares her experience.
Changing the world for better
When asked whether she has achieved all that she desired, Olga believes it will take her a few years till she achieves her goal – to change the world she lives in for better. Leading Biolumo, as it is working on the device that will help doctors prescribe effective antibiotics which means fewer antibiotic therapies, and putting the brake pedal to antibiotic resistance problem – Olga thinks she can do it, achieve her goal. "Right now, estimations are really terrifying – according to the UK government in just 32 years 10 million people will die annually because of bacterial infections. What is more terrifying, without antibiotics there is no medicine. Surgeries will be too risky to perform, no chance to visit the dentists and no protection for people with a weakened immune system, like HIV positive and cancer patients. Even a scratch can be deadly. Thinking that by developing Biolumo I can give more time for scientist to invent new antibiotics or some other way to treat bacterial infections is the biggest motivation for me to go on," Olga asserts.
At Biolumo, Olga and her team aim to design, test and mass-produce an inexpensive and rapid point-of-care tool that will help GPs select appropriate antibiotics for every patient. Olga believes this will improve mortality rates associated with the improper treatment of bacterial diseases. The precise selection of an antibiotic for infection treatment will also slow down the drug-resistance process. The company has significantly decreased the testing time and have minimized costs. A laboratory is not required and tests can be carried out by personnel without medical training. This is expected to resolve the problem of insufficient funding for patient testing. Moreover, Biolumo has developed the testing apparatus necessary to conduct its test. This includes that necessary equipment and the analytic algorithm that will be a one-time sale to clinics. It also includes the company's proprietary testing cartridges that will be sold on a recurring basis to clinics. Biolumo's objective is to encourage governments around the world to implement mandatory antibiotic selection testing by delivering a viable solution that does not stretch healthcare budgets.
To reach as many doctors as possible
As a CEO of Biolumo, Olga takes care of day to day operations of the company as well as financial projections and company representation. Further, to balance her life, she uses planning and prioritizing. As Olga is still studying, she is trying to take advantage of all breaks between classes and during lectures. When she travels, she also uses the time spent on trains or airplanes to prepare documents or strategies. By 2020, Olga plans to enter the market with her device. The first country will be Poland and then Biolumo will expand to Germany, France, and the UK. Olga wants her device to be wildly accessible in Europe. Her goal is to develop Biolumo as long as it will be possible. In the future, she sees herself as a connector of science and business transforming science inventions into businesses.