Monir Jalili: Empowering Women to Embrace Their Natural Beauty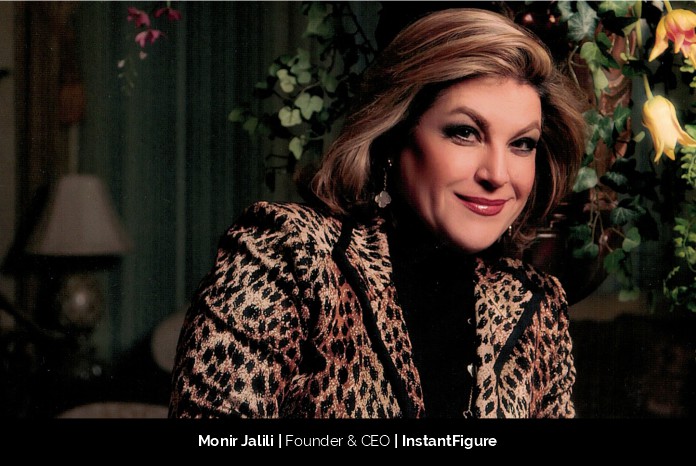 Monir Jalili, Founder, and CEO of InstantFigure Inc. has always been confident that she could do anything she put her mind to and has never let fear of failure hold her back. Monir developed a passion for fashion at a young age and always imagined that she would be involved in fashion in some way. Just as she envisioned, Monir began her career in fashion in 1985 and has since made an impact in the fashion industry and the lives of numerous women by helping them look and feel their best.
Monir has been successful during her time in the fashion industry, and she explains how her success comes through creation and happiness. Monir describes how she must first have the vision to create and must take the risk to turn her vision into a reality while providing happiness to her customers. Most importantly, Monir measures success by the happiness and positive contributions to others, by helping them fulfill their dreams of success.
How it all Started
Monir recalls how much she enjoyed helping her mom make and sew clothes while growing up. She was born and raised in Iran until the age of 16 when Monir's family migrated to the U.S. to live with relatives. After they arrived in the U.S., she continued to design and sew her own clothes using her aunt's sewing machine. When she got older, she married into the fashion business, which allowed her to learn the industry from the ground up. That experience provided her with the knowledge and expertise and paved the way for Monir to fulfill her dream of launching her own business and starting on her entrepreneurial journey.
As a woman, Monir has always desired to look and feel her best and desires to help other women feel the same. She believes that when women feel good about themselves in what they are wearing, it increases their confidence and self-esteem. Before InstantFigure, Monir owned Carabella Collection where she designed, developed, and manufactured women's fashions, including everything from swimwear to evening wear. Carabella purchased A.B.Lambdin and the two companies were acquired in 2006. Monir had a wonderful experience and positive feedback from customers while running Carabella. The customers she worked with motivated and inspired her to create a way to empower women and encourage them to embrace their natural beauty, and from that, Insta Slim and InstantFigure were born.
Monir recalls how in 2007 she noticed there was a void in the men's shapewear market, so she started developing a men's compression line. She worked to develop a 4-way stretch smart fabric that provides maximum support and the ultimate slimming effect. Insta Slim men's slimming solutions was the first shapewear specifically designed for men. Insta Slim filled a void in the men's market and made it more acceptable to talk about benefits of compression wear. InstantFigure was a natural progression from the success of Insta Slim.
InstantFigure is a shapewear company that believes there is beauty behind every curve and offers products including shapewear, activewear, swimwear, tops, bottoms, and more. What makes the product offering of the company unique is the fabric, in which the company states "the magic is in the fabric". Made from a unique nylon/spandex blend, the fabric provides maximum support while helping the customer look slimmer. In addition to enhancing and embracing the body, the products are made of ultra-lightweight, breathable material that is temperature-controlled to keep you warmer in the winter and cooler in the summer. Furthermore, the material helps draw moisture away from the body and prevents odor-causing microbes. The products are shrink-resistant and are proven to maintain shape, color, and elasticity after several hundred washes.
The company was started specifically to address women's desires to feel confident, comfortable, and happy. The mission of the company is to provide customers with styles that instantly flatter and enhance their natural curves. The company continuously strives to improve existing products and create new products to help customers achieve their desired outcomes. The company believes the extra boost of confidence their products can help provide, can help land someone a job, close a big deal, or feel energized during daily activities. The company has and will continue to empower women to embrace their natural curves while feeling good about themselves.
Success does not come without challenges
As with any business owner, Monir is no stranger to challenges. Monir has always strived to have all her products made in the USA, allowing her to keep all jobs within the country. By manufacturing locally, it has allowed her to oversee management and produce high-quality goods and pivot her business as needed. Currently, a major shortage of manufacturing capacity in the U.S., including suppliers and contractors, has made production capabilities more challenging. Additionally, the costs associated with U.S. manufacturing have risen due to tariffs on imported supplies. This increase has impacted the company's overall margins. Having the products made in the U.S. does cost more, which makes it difficult to compete with cheaper imports. However, despite the challenges, the benefit of manufacturing locally has been the quality, fit, and timely delivery. These factors have allowed the company to capture some of the market shares and have a competitive advantage over companies that import.
Market share is another challenge, as shapewear has a small retail footprint with the major players getting the coveted floor space. Although this challenge alone results in many obstacles, Monir has learned how to maneuver around the challenge and has worked with smaller retailers to help grow the brand.
Monir has also had to learn to pivot her marketing plan as marketing strategies have changed tremendously over time. While she admits that staying in front of the customer has become easier due to social media, it is also time-consuming and costs money to keep up with current marketing trends.
Remaining Relevant in a Competitive Industry
The fashion industry continues to change and thrive. Compression garments specifically exploded in popularity when more and more athletes started wearing them under their uniforms. The rise in compression garments has resulted in an increase in sales for the company. At the same time, the fashion industry has embraced online and digital platforms. With ecommerce and social media, combined with more people openly discussing the benefits of shapewear, consumers are purchasing online more frequently and making impulse purchases.
To keep up and stay ahead of the competition, Monir emphasizes remaining up to date on the latest trends, fabrics, and benefits within the industry. Before the COVID-19 Global Pandemic, InstantFigure participated in and attended tradeshows both locally and overseas. The company would also attend conferences on fashion, textiles, and other focus areas to educate and share their knowledge with others, which provided tremendous value to retailers and consumers.
Additionally, the company sees the value of remaining agile, willing to change direction when needed. The company also believes there is benefit in collaborating and working closely with retailers on special projects, as well as expanding its dropship services to retailers. Working with retailers and being willing to collaborate has helped the company remain a top competitor in the market. Monir feels fortunate to have collaborated with well-known companies such as Anheuser-Busch, Coors, Miller, and Disney to produce private label garments.
InstantFigure goes beyond just selling shapewear. Providing education about the health benefits of compression, sets the company apart from most shapewear companies. Monir explains how they understand and promote both the physical and mental health aspects of wearing compression garments, from the boost of confidence customers get when they look and feel their best to the medical benefits of the products.
The life of the Founder and CEO
As Founder and CEO, Monir has a responsibility to employees, customers, and herself by maintaining an honest and transparent company. Monir believes that leading by example is important and communication is key. She is also responsible for developing and implementing business strategies to remain relevant in the market. She ensures that all departments from production, sales, marketing, and operations work together cohesively and work towards a common vision. Monir's favorite part of her role is working as creative director and in product development.
Monir admits that she struggles with her work/life balance. As a small business owner, her work weeks tend to consist of long days. She begins each day with an early morning mediation to help her focus. She arrives early at the office in order to prepare for meetings, calls, and daily operations. Since the start of the global pandemic, she has been connecting more with suppliers and retailers via video and conference calls, so a good portion of her day is spent on calls discussing anything from technology, sales, or marketing. When the day ends for most of her employees, Monir uses that time to create and design.
When Monir is not in the office, she enjoys giving back to the community by doing volunteer work including outreach on behalf of the National Iranian American Council (NIAC). She is also a board member of the Iranian American Community Group (IAC), and is involved with the International Society for Children with Cancer (ISCC), Girls, Inc, and more. During her personal time, she enjoys hosting gatherings, volunteering, and spending time with her family, including her three grandsons.
Looking Ahead at Continued Growth
The fashion industry is always changing and evolving. Many retailers are steering away from the risk of maintaining high inventory levels, closing locations, and moving to a higher online presence. Monir explains how they are fortunate to have embraced drop shipping in 2017 and 2018, long before COVID-19. As more retailers increase their online presence, InstantFigure will continue to grow their online programs to accommodate the new opportunities. The company plans on continuing to embrace digital trends and will expand its social media marketing and collaborations.
The company has a broad market reach and something for almost every retailer, their product category assortments include InstantFigure Ladies Shapewear in regular and curvy sizing, InstantFigure Swimwear (slimming solution swimwear), Insta Slim The Original Men's Slimming Solution in regular and big & tall sizing, ISPro USA Men's Athleticwear, ISPro Tactical Wear for Military and First Responders, InstantRecovery MD medical garments which help aid in post-surgery recovery and injuries, ProDogg anti-anxiety calming shirts for dogs, and LaMonir ladies day to night fashions. Long term, the company will continue to expand its products, and build market awareness for divisions.
Words of Wisdom from Monir
When asked what advice she would provide to aspiring businesswomen, Monir states that focusing on your passion will drive your success. Learn as much as you can about the industry you are involved in. Believe in yourself, never give up, and never accept "no" for an answer. Do not be afraid to seek mentorship and direction from experts. She also emphasizes the importance of working hard and being consistent and always acknowledge those who have helped you on your journey. Be thankful, kind, give back, and help others.